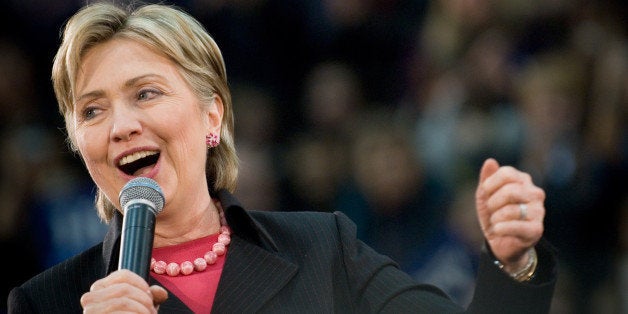 Recently, at a town hall meeting in New Hampshire, Hillary Clinton took a pretty game-changing stand on climate change. She threw her support behind a 100 percent clean energy future, saying, "We need to be moving as quickly as possible to 100 percent clean, renewable energy. We have a long way to go, but that should be our goal and we should do nothing that interferes with or undermines our efforts to reach that goal as soon as it is possible."
Make no mistake -- this is a historic announcement, but I think it makes sense to talk about what this actually means for the climate, the fossil fuel industry, and the upcoming climate conference in Paris. At a very basic level, what this means is the Hillary Clinton is standing with the growing movement around the world demanding a transition to 100 percent clean, renewable energy. The movement has been calling for this transition for years and by so aligning with the movement here she has cast her lot on the right side of history. Hillary should be seen as mainstreaming the climate movement's vision for a new, just energy economy. We hope that this is the beginning of an even more robust conversation about the energy future for our country.
This commitment sends clear signals to industry. When she says that "we should do nothing that interferes with or undermines" these efforts, what she is also saying is that we should be decarbonizing our energy economy. It means a transition away from plans for large fracked gas plants, a phase out of existing coal-fired power plants, and the streamlining of clean energy facilities that are springing up nation-wide. Furthermore, this should send a clear message to industry that the presumptive Democratic nominee for president will fight hard for all the policy mechanisms required to usher in this transition. We've entered a new phase of conversation in our nation's energy future with this statement, and it should lead to a robust dialogue on not whether we will transition to clean energy, but just how fast can we get there.
Clinton's statement should resonate through the negotiation halls in Paris. With this statement, Ms. Clinton provides the Administration with cover to move even more aggressively in their negotiating position at COP 21. Though Clinton is not a sure bet in 2016, she is the front-runner. By establishing 100 percent clean energy as her vision, the Obama Administration could see her announcement as further evidence that she will honor his climate commitment and help to build on his legacy.
We know that 100 percent clean energy is possible. Peer reviewed studies conducted by Greenpeace and WWF have shown that technology developments in clean energy production mean we have the capability to meet global energy demands in our lifetime. The best part about this is that beyond being technologically possible, it's also economically feasible. Engineers at Stanford University have demonstrated how it can be done in each of the 50 states in the U.S. and in 139 countries around the world.
The main hurdle to this energy transition is political. With Clinton's announcement, she is helping to clear this hurdle. With so much news on the topic of climate change being so frightening -- serious problems facing communities all over the world -- this is the good news and political momentum we need moving into the crucial negotiations in Paris.
With the COP21 Paris Climate Conference negotiations in Paris now less than a month away, and Hillary taking this bold stand there's never been a better time to amplify your voice. We need people in every corner of the world to learn about the innovative and game-changing things happening with renewable energy. If you believe that we must act now -- and we must act boldly -- scream about #go100percent on social media. Demand a 100 percent clean energy future, become part of this unstoppable movement, and we will in fact be on the front lines of building a powerful clean energy future for all.
Related
Popular in the Community