Democratic nominee Hillary Clinton gently skewered GOP opponent Donald Trump on Thursday ― and joked about herself ― in a tense joint appearance at a charity dinner that has been a lighthearted presidential campaign tradition.
Both candidates spoke at the Alfred E. Smith Memorial Foundation Dinner, an annual event in New York held by the Archdiocese of New York and attended by major Catholic leaders and donors, as well as influential New Yorkers. Presidential candidates traditionally make funny speeches in election years.
Trump gave a speech that earned several boos from the audience as it seemed to devolve into his standard campaign remarks maligning Clinton.
Clinton followed him, with remarks the audience received more favorably. She was more self-deprecating, as is the tradition, and delivered a few gentle pokes to Trump.
Clinton made fun at her own flaws and campaign controversies, from her use of a private email server, criticisms of her personality and reticence to talk to the press.
"I'm the life of the party of every party I attend ― and I've been to three," she said.
Of her characterization of Trump's supporters as "a basket of deplorables," she told the audience: "I just want to put you all in a basket of adorables."
"You all look so good in your tuxes, or what I call, formal pantsuits," she added.
A few of Clinton's zingers:
"Getting through these three debates with Donald has to count as a miracle."
"Trump looks at the Statue of Liberty and sees a 4."
"I have now stood next to Donald Trump for longer than any of his campaign managers."
"Donald is as healthy as a horse. You know, the one Vladimir Putin rides around on."
"How is Barack going to get past the Muslim ban?"
"Donald thought I used some sort of performance enhancer [during the debates]. Actually I did. It's called preparation."
"Donald will tell us after the benediction whether he accepts this dinner is over. He has to wait and see."
Watch Clinton's remarks in the video above.
During presidential election years, both major party candidates have traditionally appeared at the event, named for Al Smith, the 1928 Democratic presidential nominee ― the first Catholic nominee. Usually held a few weeks before the election, the event allows the candidates a bit of levity before they resume campaigning. They are expected to give comedic speeches and to trade lighthearted barbs about themselves and their opponent.
But this year's dinner came under far different and more tense circumstances. Clinton and Trump spoke just 24 hours after the blistering third presidential debate, in which Trump made the dangerous pronouncement that he may not accept the results of the election if he loses to Clinton, called her "such a nasty woman," and suggested that she should not have been able to run.
The two nominees sat at the same table, with only Cardinal Timothy Dolan, archbishop of New York, sitting between them. They did not make eye contact or acknowledge each other when taking their seats, though they appeared to briefly exchange a few words and shook hands at the end of the dinner.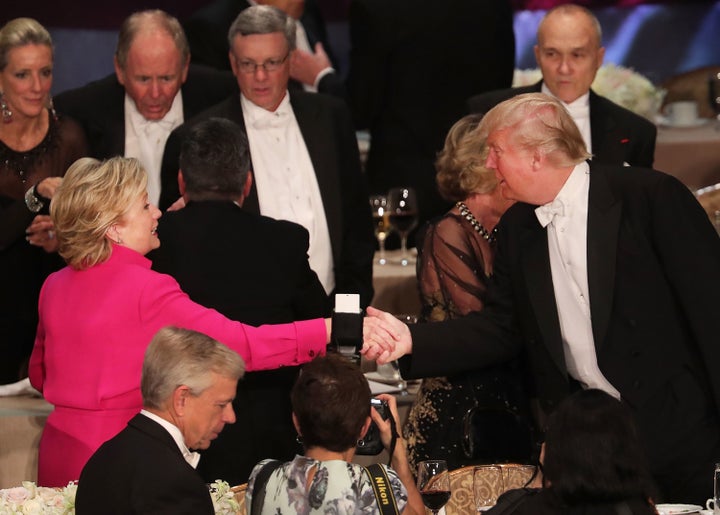 Al Smith IV, the host of the dinner, joked that "we should nominate Cardinal Dolan for the Nobel Peace Prize."
Trump didn't seem to grasp the lighthearted nature of the event, despite having attended it before. His caustic remarks earned boos from the audience.
Trump surrogate Rudy Giuliani, a former New York mayor, didn't take kindly to Clinton's jokes ― a few of which targeted him. Cameras caught him scowling.
"Political opponents can have a little trouble seeing the best in each other. But I have had a few glimpses of this man at his best. And I admire his great skill, energy, and determination," McCain said of Obama. "Whatever the outcome next month, Senator Obama has achieved a great thing for himself and for his country and I congratulate him."
Obama returned the favor, lauding McCain's military service, which included several years as a prisoner of war in Vietnam.
"Don't tell anyone I said so, but our 44th president has many gifts and a beautiful family that would make any man proud," Romney said of Obama. "In our country, you can oppose someone in politics and make a confident case against their policies without any ill will. And that's how it is for me."
Obama was similarly cordial.
"I particularly want to thank Governor Romney for joining me, because I admire him very much as a family man and a loving father, and those are two titles that will always matter more than any political ones," Obama said. "So we may have different political perspectives, but I think ― in fact, I'm certain ― that we share the hope that the next four years will reflect the same decency and the same willingness to come together for a higher purpose that are on display this evening."
Clinton did get serious at the end of her remarks, reminding the audience that the namesake of the dinner, Al Smith, faced prejudice for being Catholic and that many of the dinner's attendees were immigrants or children of immigrants ― an indirect criticism of Trump.
"There is nothing funny about the stakes in this election. In the end, what makes this dinner important are not the jokes we tell, but the legacy we carry forward," Clinton said. "It is often easy to forget how far this country has come, and there are a lot of people in this room tonight who themselves, or their parents or grandparents, came here as immigrants, made a life for yourselves, took advantage of the American dream and the greatest system that has ever been created in the history of world."
Divisive rhetoric, she said, "makes it harder for us to see each other and listen to each other, and certainly a lot harder to love our neighbor as ourselves."
Before You Go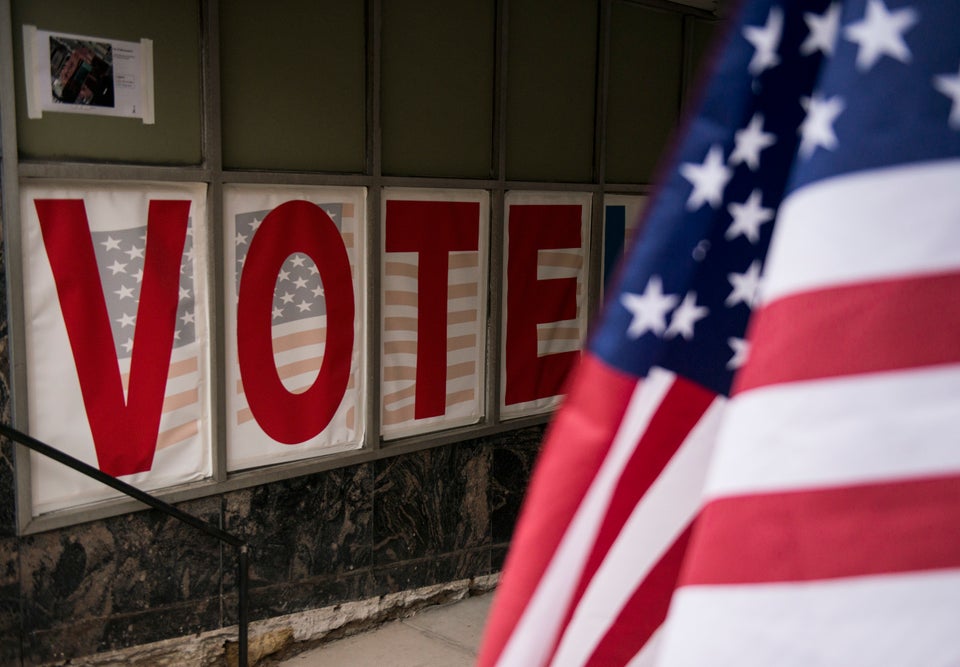 Election 2016
Popular in the Community