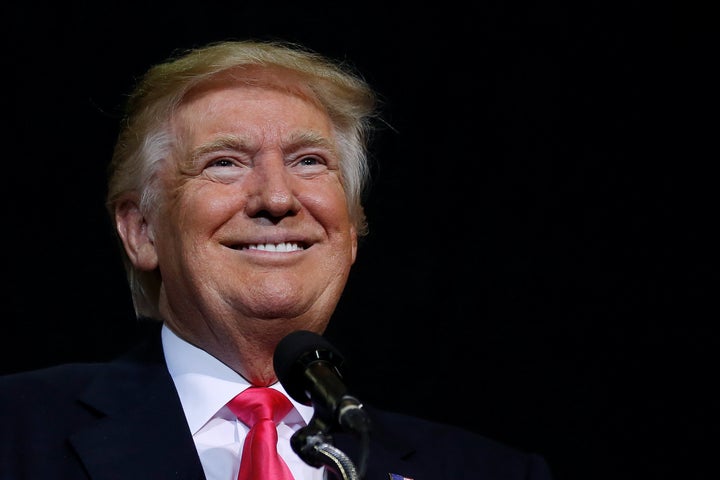 Democratic nominee Hillary Clinton's powerful denunciation Thursday of "alt-right" extremism that she said GOP opponent Donald Trump embraces was cheered by adherents of the political philosophy.
Clinton, linking Trump with white nationalists and a "radical fringe," delivered a blistering attack on what she said was the alt-right's takeover of the Republican Party. In doing so, she cast a spotlight on the obscure movement, thrusting it into mainstream political discussion.
"She is doing the white nationalism movement a great service by bringing attention to our issues to the forefront of political debate," said William Johnson, a leader of the white nationalist American Freedom Party who was selected by Trump as a California delegate during the primary, but later resigned.
Jared Taylor, who helps run white nationalist online magazine American Renaissance, said he and those who share his beliefs "appreciate any publicity Mrs. Clinton gives us."
"We have important things to say and are glad for any opportunity to speak to national audiences," Taylor told HuffPost.
The Daily Stormer, a neo-Nazi website that calls itself "the world's most visited alt-right website," also cheered Clinton's speech.
"Well guys. We've made it," Daily Stormer founder Andrew Anglin wrote. "Hillary Clinton is giving a speech about us today."
Richard Spencer, head of white nationalist think tank National Policy Institute who is credited with coining the term "alternative right," wrote in an online journal that Clinton's speech is "empowering." The Southern Poverty Law Center, which monitors extremist groups, calls National Policy Institute's journal "racist."
Moreover, according to Spencer, it may no longer be accurate to label the extreme right-wing ideology "alternative."
At the Republican National Convention last month, where Trump formally accepted his party's nomination, Spencer declared that alt-right had "taken over" the mainstream right.
Spencer celebrated that sentiment on Twitter Thursday, before Clinton's speech.
American Renaissance defines the alt-right as a "broad dissident movement" that rejects the principle that all people are equal. Race is central to its philosophy. Here's American Renaissance in its own words:
The movement, called different things as it festered on the margins of politics for decades, appears to be gaining a boost during this presidential campaign. Google Trends shows interest in the search term "alt right" as very low from 2004 until about April 2015. Since then, searches for the term have quadrupled.
Clinton's speech also sparked a flood of news articles about the alt-right.
That widespread coverage is a "lottery win" for the extremists, Brian Levin, director for the Center for the Study of Hate and Extremism at California State University, San Bernardino, told HuffPost. While pushing extremism into the mainstream conversation may be unpleasant, he said, it remains critical to show the extremism celebrating Trump's candidacy.
The alt-right, Levin said, is a "cobbled and somewhat amorphous movement that includes a core of bigots has infiltrated part of a mainstream political insurgency." And as its profile rises, it must at the very least be reckoned with, he said.
"The fact that Euro-nationalism and all the horrendous bigotry that is tied to it has not just become an unwelcome visitor at the door of a major political party, but an occupant of the household, is of relevance not only for those partisans trying to defeat Republicans, but to those within the GOP who are alarmed that their presence is antithetical to their principles as well," Levin said.
Popular in the Community