As the 2016 presidential election gets into full swing, we can once again expect women's issues to play a prominent role. However, unlike the 2012 presidential campaign, in which much of the "war on women" rhetoric employed by Democrats hinged on reproductive health politics and the birth control mandate, next year's presidential race will address a broader array of economic concerns for women, at least if Hillary Clinton has a say.
At CAP's Economic Security Conference, Clinton noted that women hold two-thirds of all minimum wage jobs, making federal legislation that raises the minimum wage especially important for women. She also argued that family leave is critical in providing economic security for women, saying:
[W]ithout flexibility or predictability at work, without access to quality, affordable child care, without the ability to take a day off if your child or aging parent is sick, without paid family and medical leave, this woman is really on the brink...

We talk about a glass ceiling. These women don't even have a secure floor under them.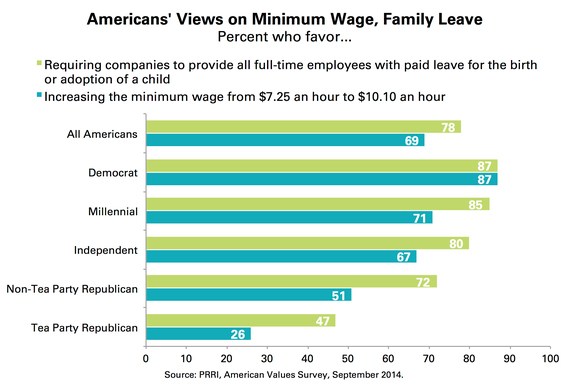 Pursuing work/family balance policies and calling for a federal increase in the minimum wage also makes good sense as a political strategy for Clinton's presidential campaign, given that such measures enjoy broad support among the American public, according to data from the Public Religion Research Institute (PRRI). For instance, PRRI found in last fall's 2014 American Values Survey that almost 80 percent of Americans support paid family leave, and while Democrats support these policies the most, 80 percent of Independents and 72 percent of Republicans who do not affiliate themselves with the Tea Party also support them. Likewise, 69 percent of Americans support an increase in the minimum wage. Only Tea Party Republicans strongly oppose increasing it.
These policies also find tremendous support among millennials, who voted overwhelmingly for Barack Obama in the past two presidential elections and whose support Hillary Clinton will need to win in 2016. Last month's survey of millennials by PRRI shows that this generation remains concerned about pay equity for women: 64 percent of millennials believe that women still do not receive equal pay for work; 62 percent believe discrimination against women is still a problem; and 58 percent agree that women get fewer opportunities for good jobs. While in the Senate, Clinton was a leading sponsor of the Pay Equity Act, which would require employers to prove that any pay disparity between men and women is not on the basis of sex and would prohibit retaliation against employees who share their pay information. Although this legislation has been mired in Congress for years, renewed attention to the women's pay gap since Obama's last ren-election campaign may make this issue particularly appealing for Clinton's presidential campaign and serve her well with women voters.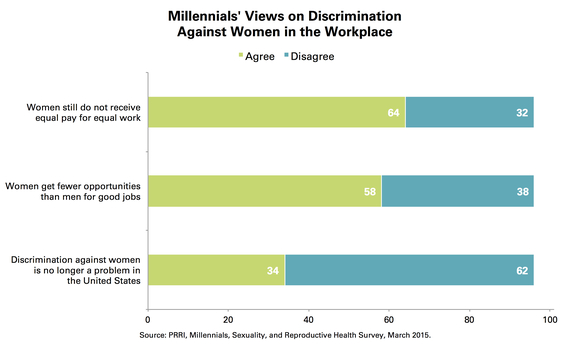 Of course, critics of these policies question whether such policies are indeed effective. Some Democrats -- including Jim Webb, who is considering a challenge to Clinton in the primaries -- may support these measures, but believe they don't do nearly enough to address income inequality or tackle Wall Street reform. Republican critics, not surprisingly, believe such policies only burden businesses with more regulations, sapping job growth. Instead, conservatives believe the free market will eventually correct pay disparity. The Independent Women's Forum, a free market group that examines women's issues, even argues such work/family balance policies may harm women more than help them, by challenging women's ability to negotiate for flexible working schedules and part-time arrangements and even, potentially, make it less attractive for employers to hire women to begin with.
Nonetheless, as public opinion now shows, framing a domestic policy agenda that addresses work/family balance and women's economic security may be a winning strategy for Hillary Clinton, who has made clear she wants to be seen as a champion for American families.
Popular in the Community