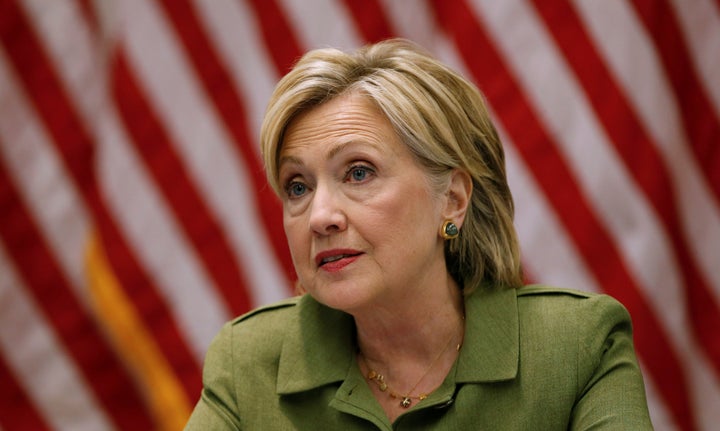 So a couple of Army soldiers thought it was brilliant to spice up a training graphic by adding Hillary Clinton's photograph to a chart warning about the misuse of classified material.
Nobody outside of Fort Leonard Wood, Missouri, would ever see it, they may have thought when they began using it 18 months ago. The graphic showed "insider" security threats: Clinton, National Security Agency whistleblower Edward Snowden, convicted terrorist shooter Nidal Hasan, and court-martialed Army soldier Chelsea Manning.
Possibly not the best idea they ever came up with.
Inevitably, of course, a fuzzy photo of the graphic found its way outside Fort Leonard Wood, where the Army provides basic soldier training and advanced training for military police, and into the civilian world. There, of course, Clinton is the Democratic nominee for president and enmeshed in an election-year scandal over her handling of classified emails when she was secretary of state.
On Sunday, the graphic was published by The Daily Caller. Very soon after that, it caught the attention of Headquarters, Department of the Army, housed in the Pentagon.
On Monday, the graphic was deleted from the training material at Fort Leonard Wood. And by Monday evening, Maj. Thomas Campbell, spokesman for the Army's Training and Doctrine Command, had a terse statement for reporters.
The training material was used to teach "best practices for handling classified material and maintaining operational security," Campbell said in a statement emailed to The Huffington Post. He said the material had not been "reviewed or approved" by the Army and "does not reflect the position of the Army."
No word on the fate of the soldiers who wanted only to make people pay more attention to an otherwise routine training slide ― and succeeded beyond their wildest imaginings.
Calling all HuffPost superfans!
Sign up for membership to become a founding member and help shape HuffPost's next chapter
BEFORE YOU GO