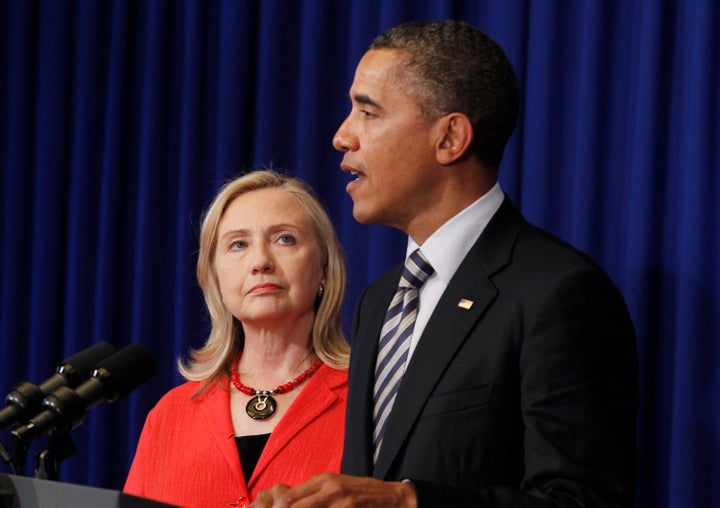 Enjoying a robust and growing gender gap against likely general election opponent Mitt Romney, President Barack Obama will nevertheless be without one of his best assets when it comes to drawing female voters in the fall.
Senior administration officials confirmed on Monday that Secretary of State Hillary Clinton would not be joining the president on the campaign trail, given the explicit need to avoid making her position appear political. It's customary for the Secretary of State to stay off the campaign trail; most recently, Colin Powell avoided campaign events when George W. Bush was running for re-election.
Though Clinton has said she will leave the State Department at the end of Obama's first term, she will still be Secretary of State as he ratchets up his general election campaign against Romney. Clinton's role, of course, requires more than just a deft diplomatic (and often apolitical) touch. It also requires her to travel extensively across the globe.
In the fifth Swing States Poll taken since last fall, Obama leads Romney 51 percent to 42 percent among registered voters, just a month after the president trailed him by two percentage points.

The biggest change came among women under 50. In mid-February, just under half of those voters supported Obama. Now more than six in 10 do, while Romney's support among them has dropped by 14 points, to 30 percent. The president leads him 2-1 in this group.
This gap hasn't just developed organically. The administration has taken calculated steps to both emphasize the president's accomplishments for women and to spotlight some of the more rigid elements of GOP policy on issues like abortion and contraception coverage. That will continue this week as well. The senior administration officials, who briefed reporters about scheduling on condition that they not be quoted, said that the president would be attending a conference on women and the economy this Friday at the White House.
Popular in the Community