WASHINGTON -- The top Democrat on the committee investigating the 2012 terrorist attack in Benghazi, Libya, called out the committee's chair on Sunday for advancing a claim against former Secretary of State Hillary Clinton that the CIA later proved false.
Rep. Trey Gowdy (R-S.C.), the chairman of the House Select Committee on Benghazi, alleged in an Oct. 7 letter that Clinton used her private email account to release the name of a CIA source on Libya. An email sent by adviser Sidney Blumenthal that she then forwarded to a member of her staff reportedly contained the name of that source, which would have suggested that Clinton used her private email server to disseminate classified information.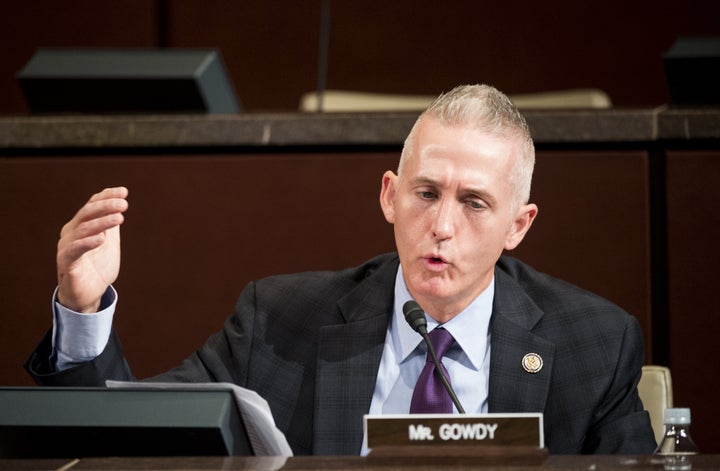 But on Sunday, Rep. Elijah Cummings (D-Md.), the committee's ranking member, revealed that the CIA investigated the email and found that the information was not classified. 
"The CIA yesterday informed both the Republican and Democratic staffs of the Select Committee that they do not consider the information you highlighted in your letter to be classified. Specifically, the CIA confirmed that the State Department consulted with the CIA on this production, the CIA reviewed these documents, and the CIA made no redactions to protect classified information," Cummings said in a letter to Gowdy.
He called Gowdy's claim "irresponsible" and said he owes Clinton "an immediate apology."
Clinton is set to testify before the committee on Thursday. Democrats have continually insisted that the committee's work is political and designed to target Clinton rather than investigate the 2012 terrorist attack in Benghazi, Libya.
"Unfortunately, the standard operating procedure of this Select Committee has become to put out information publicly that is inaccurate and out of context in order to attack Secretary Clinton for political reasons," Cummings said on Sunday.
Gowdy continues to defend the committee's work, even as two Republican lawmakers, including House Majority Leader Rep. Kevin McCarthy (R-Calif.), have suggested that damaging Clinton is the committee's main intent. 
On Sunday, Gowdy denied that the committee is primarily focused on Clinton, telling CBS's "Face the Nation" that anyone who is not on the committee is not authorized to speak about the investigation.
"I have told my own Republican colleagues and friends: 'Shut up talking about things that you don't know anything about.' And unless you are on the committee, you have no idea what we have done, why we've done it," he said.
In response, Cummings, who also appeared on "Face the Nation," disputed Gowdy's account, saying that the committee's investigation is mostly geared toward gathering testimony from members of Clinton's staff. A House Democratic aide told The Huffington Post last week that Gowdy has skipped meetings with intelligence officials familiar with the Benghazi attack and mainly attends the ones featuring Clinton's aides. On Friday, top Clinton aide Huma Abedin fielded the committee's questions for several hours.
"We still have been zeroed in on Hillary Clinton. There is absolutely no doubt about that, and it's very unfortunate," Cummings said.
PHOTO GALLERY
Scenes From 114th Congress And Capitol Hill
Calling all HuffPost superfans!
Sign up for membership to become a founding member and help shape HuffPost's next chapter