Four Americans ― U.S. Ambassador Chris Stevens, information officer Sean Smith, and CIA operatives Glen Doherty and Tyrone Woods ― were killed in the attacks. The House investigation, led by Rep. Trey Gowdy (R-S.C.), lasted more than two years, cost over $7 million and brought little to light that eight previous investigations hadn't. Ultimately, the report concluded, the U.S. government's response to the attacks was bad, but not intentionally so.
The nuts and bolts of the report's conclusions didn't matter much to Republicans in town for their party's convention. What did matter to them were the questions it raised about Clinton's leadership and use of a private email server ― something that wasn't even discussed until the end of the report.
Mary Moon, a Trump supporter from Ohio, didn't care about the amount of money Republicans had spent on the investigation.
"I think she needed to be investigated and I think she needed to be exposed for the things that she's done. And if it takes the resources that they used to cover up stuff, then it's worth using our resources to uncover her stuff," she said. Asked what new information the investigation had brought to light, Moon said it showed systemic government failure.
Republicans spent more than 30 minutes onstage during the first night of the convention talking about Benghazi. Pat Smith, Sean Smith's mother, said during her Monday remarks that she blamed Clinton personally for her son's death and that the presumptive Democratic presidential nominee should be in jail. T-shirts saying "Hillary for prison" are popular apparel among Republicans in town for the convention, and delegates have chanted "lock her up" on the convention floor this week.
Another man, who gave his name only as Mike M., had barely finished hearing a question about the House Benghazi investigation when he said, "What a sham."
"That woman did treasonous acts, she's running her own State Department in parallel with the real State Department, had her own server and she knew the laws. That's why they had their own server. They didn't want anybody to read through what she was doing," he said.
Kyle Klein, who was standing on a busy Cleveland street with a sign displaying the names of the four Benghazi victims, said he felt compelled to come out after hearing Mark Geist and John Tiegen, who were on the security team at the consulate, tell their firsthand account of the Benghazi attacks on the convention stage Monday.
"There's a lot of cover-up and I mean just in her 11 hours of testimony, the facts prove that she did not do her job as secretary of state to protect our ambassador and the people on the ground," he said. He said he wasn't sure why there had been so many investigations.
"That's a question I can't answer, why it should take that many investigations or so much money to investigate," he said.
Tim Selaty said he felt torn about the investigation because it hadn't led to criminal charges against Clinton. Asked what result he wanted from the investigation, Selaty said, "Hillary in handcuffs, of course."
Before You Go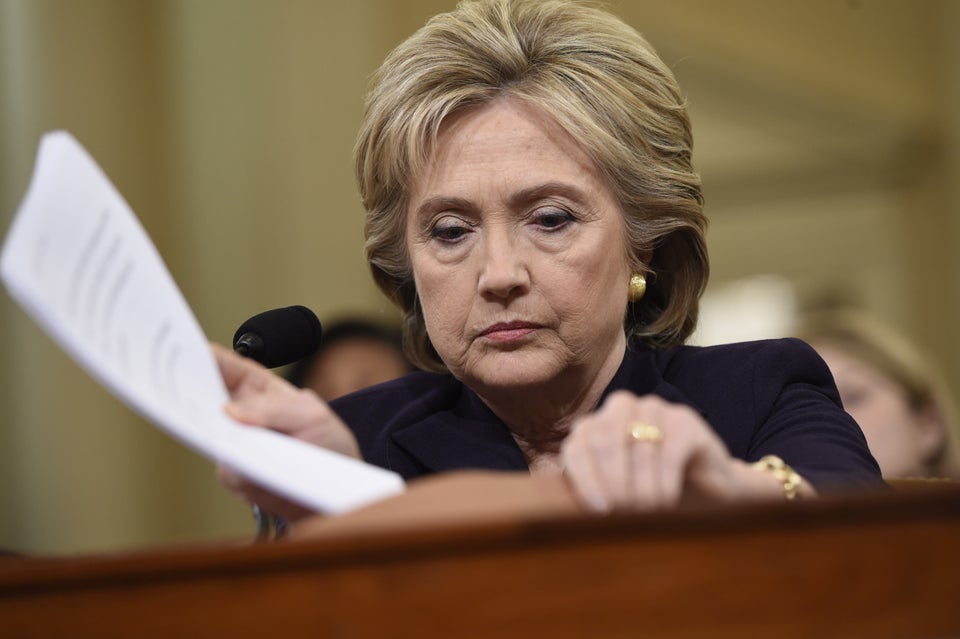 Here Are Hillary Clinton's Many Facial Expressions During Her Benghazi Committee Testimony
Popular in the Community