Former Secretary of State Hillary Clinton declined to take the bait when asked if Sen. Bernie Sanders (I-Vt.) is helping presumptive Republican nominee Donald Trump by continuing his campaign.
"Senator Sanders has every right to finish off his campaign however he chooses," Clinton told Chuck Todd on "Meet the Press" Sunday.
Clinton acknowledged that she faced a similar decision when she ran for president against then-Sen. Barack Obama (D-Ill.) in 2008 and stayed in the race until June.
While she wouldn't go so far as to call on Sanders to suspend his campaign, Clinton made clear that she believed his decision to push forward was less logical than her own past efforts.
"I have far more pledged delegates" in the current race, she said. "It was much closer between me and Senator Obama."
Making clear she considers Sanders nearly out of the running, Clinton said, "I'm going to keep focused on Donald Trump because I will be the nominee. I will be running against Donald Trump in the fall."
Speaking on ABC's "This Week," Sanders acknowledged the "steep uphill fight" he faces in pushing ahead of Clinton, but accused his competitor of "jumping the gun" by declaring herself the party's likely nominee.
Although Clinton is leading Sanders in votes and pledged delegates, polls show Sanders performing better than Clinton against Trump.
It is possible that even the most loyal Sanders supporters would ultimately back Clinton if she were to become the nominee -- just as Republicans coalesced behind Trump after their first- (and second and third) choice candidates dropped out of the race. But there is a growing concern within the Democratic Party that, as the battle between Clinton and Sanders continues, the party will become increasingly divided and less capable of defeating Trump in the general election.
In a defiant move against the party establishment, Sanders on Saturday endorsed the primary challenger of Rep. Debbie Wasserman Schultz (D-Fla.), who heads the Democratic National Committee. Sanders has long accused the DNC of favoring Clinton in the presidential race and said that he would remove Wasserman Schultz if he were to become president.
Before You Go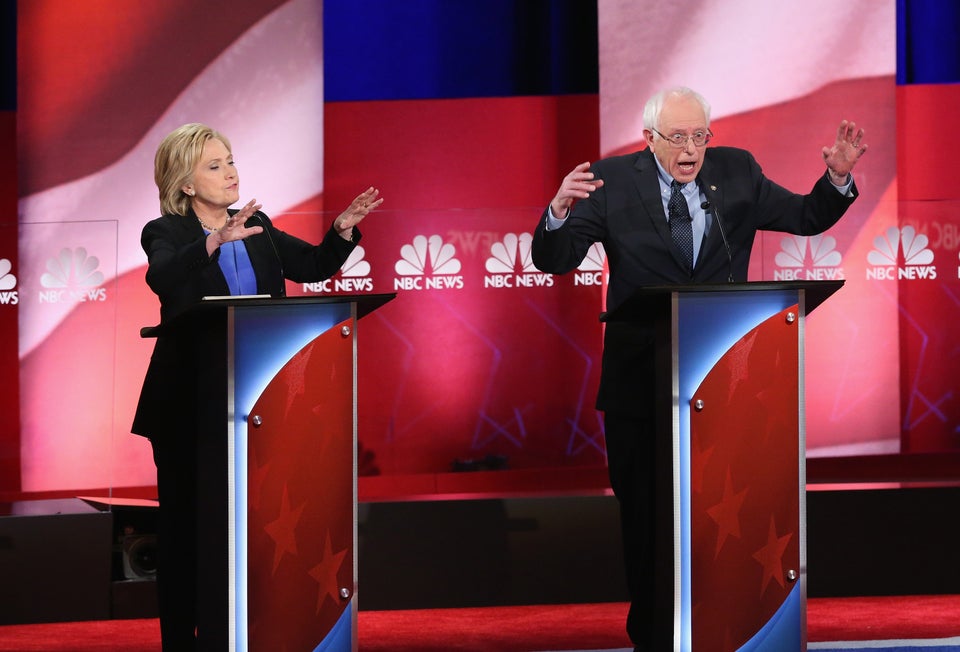 Bernie Sanders And Hillary Clinton Face Off
Popular in the Community