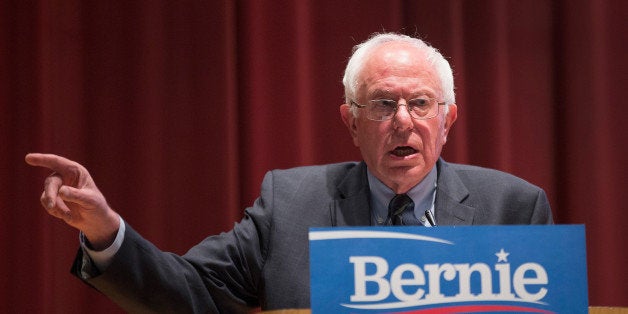 WASHINGTON -- As former Secretary of State Hillary Clinton met with Senate Democrats at their weekly lunch meeting on Tuesday, Sen. Bernie Sanders (I-Vt.), one of her rivals for the Democratic presidential nomination, seized the spotlight to air out where the two differ on contentious issues in the Democratic Party.
While Democrats listened to Clinton's presentation behind closed doors, Sanders strode unannounced to nearby microphones typically used by leadership of both parties and proceeded to gamely "welcome" her back to the Capitol.
"I have known Secretary Clinton for 25 years, since she was first lady. I served with her in the Senate. I like and respect Hillary Clinton," Sanders told reporters. "But there are differences of opinion that we have which should be the basis for a serious discussion."
The senator, who has steadily risen in polls conducted in the early primary states of Iowa and New Hampshire, drew a contrast between himself and Clinton's policy stances. He said he disagreed with his rival on trade agreements like the Trans-Pacific Partnership, which is currently being negotiated between the U.S. and 11 other nations. Clinton has not yet said whether she supports the agreement. On Iraq, Sanders highlighted Clinton's vote to authorize the war. And he argued that Wall Street banks should be broken up in the wake of the recession, a step too far for his opponent.
"I helped lead the effort to stop the deregulation of Wall Street. I believe the biggest banks should be broken up and that Glass-Steagall financial regulations should be reinstated. To the best of my knowledge, she isn't for either one," he said.
Sanders' decision to call out a presidential candidate in a forum generally reserved for Senate business raised questions over whether he violated ethics laws. Officially, Senate guidelines bar its members from using official resources or equipment for the express purpose of aiding their campaigns. Sanders didn't solicit money or votes at his Tuesday press conference, but his remarks were clearly a broadside against his Democratic rival.
The senator, however, rejected the notion that he broke any rules. When a reporter inquired if his remarks were made at a proper forum, Sanders replied, "I'm not campaigning here. You're asking me questions about it." Sanders, however, brought up his disagreements with Clinton on his own.
Moreover, a spokesman for his presidential campaign later emailed reporters a transcript of his remarks, further raising questions as to whether his impromptu press conference was more of a choreographed campaign stunt.
The caucus lunch did threaten to prove a bit awkward for Sanders, who briefly stopped by. Because he caucuses with Senate Democrats, Sanders was present in the room while Clinton laid out her case for why she should be her party's standard-bearer in 2016. But he downplayed any drama, telling reporters that he and the former secretary "said hello."
Sen. Claire McCaskill (D-Mo.), who has already endorsed the former secretary of state and has publicly attacked Sanders as being "too liberal" to be president, also said the encounter was nothing but cordial.
"It was great. He stood with everyone and applauded," she said of Sanders. "We were all grown-ups. We all like each other. We're all in the same party, we all want the same result."
Calling all HuffPost superfans!
Sign up for membership to become a founding member and help shape HuffPost's next chapter
BEFORE YOU GO
PHOTO GALLERY
Bernie Sanders On The Campaign Trail