WASHINGTON -- Hillary Clinton was drowned out by student activists while introducing her criminal justice reform platform in Atlanta on Friday.
According to a transcript of Clinton's remarks released by her campaign, the candidate was interrupted at one point by audience members saying, "Black lives matter."
"And yes, they do," Clinton responded. "Yes, they do. Yes, they do, and I'm going to talk a lot about that in a minute."
The protests appear to be organized in part by historically black colleges in the Atlanta University Center Consortium, which represents Spelman College, Morehouse College, Clark Atlanta University and the Interdenominational Theological Center. The movement calls itself the AUC Shut It Down coalition. An affiliated Twitter account posted a statement Friday afternoon saying, "We charge the administration, law enforcement, and collective student bodies of the Atlanta University Center (AUC) for the multiple offenses committed against black and brown lives."
The account subsequently posted a number of videos with people on the scene. In one video, a man says, "We're not going to allow for Hillary to come here and have a cookie-cutter black conversation and to exploit ... black production for her vote."
Another woman expressed a problem with having "Hillary come in ... to get votes but no one has reached out to the student population [and] asked what their opinions were, what they have issues with."
Rep. John Lewis (D-Ga.) was in attendance, and tried to intervene.
Neither the Shut It Down group nor the Clinton campaign immediately returned requests for comment.
Earlier this month, Clinton sat down with several prominent leaders who advocate for policing and criminal justice reform. She met with DeRay Mckesson, Brittany Packnett, Johnetta Elzie and Samuel Sinyangwe, all of whom are affiliated with Campaign Zero and We the Protesters.
"In the end, I felt heard," Mckesson told HuffPost of the meeting. "It was a tough conversation, and we didn't agree about every approach or everything. But she was willing to be pushed, and it was a candid conversation, and that's important."
The same man who accused Hillary of engaging in a "cookie-cutter black conversation" said that while he trusted Clinton's meetings with the Campaign Zero activists, he doesn't think the candidate appeals to the concerns of the broader black community.
More details on the event via Reuters:
Hillary Clinton promised to sign an order to "ban the box," prohibiting federal employers and contractors from asking about criminal histories at the initial application stage. The change would give job seekers a chance to first prove their qualifications.

"People who have paid their dues to society need to be able to find jobs," Clinton said at a rally at Clark Atlanta University, where she rolled out an "African Americans for Hillary" group and had lunch with a group of black ministers. "We believe in second chances, don't we?" [...]

Clinton was interrupted briefly by protesters from the Black Lives Matter movement, but pressed on with her speech. The protesters were eventually removed.

She promised to back legislation to ban federal, state and local law enforcement from relying on ethnicity when initiating routine investigations, and change sentencing rules so crack and powder cocaine convictions are treated the same.

All of the changes are aimed at laws that Clinton said disproportionately hurt minorities. Currently, those convicted of using crack face far steeper penalties than powder users.

"We're talking about two forms of the same drug," she said. "It makes no sense to treat them differently."

Crack, the smoked "hard" form of cocaine, is cheaper than the usually snorted powder version and is more widespread in lower-income communities. Government data from 2009 showed nearly 80 percent of those convicted of crack cocaine offenses were black. Powder cocaine users tend to be white.

Sanders said he agreed with Clinton's initiative on ending sentencing disparities but any "serious" criminal justice reform should include his proposal to remove marijuana from the list of the most dangerous drugs outlawed by the federal government, a step Clinton has not endorsed.

"We must recognize that blacks are four times more likely than whites to get arrested for marijuana possession, even though the same proportion of blacks and whites use marijuana," Sanders said in a statement.
Samantha Lachman contributed reporting.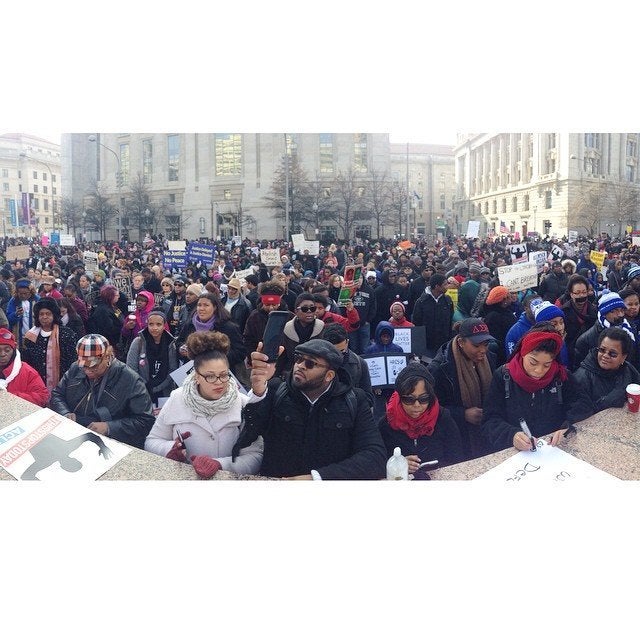 Powerful Black Lives Matter March In Washington
Popular in the Community