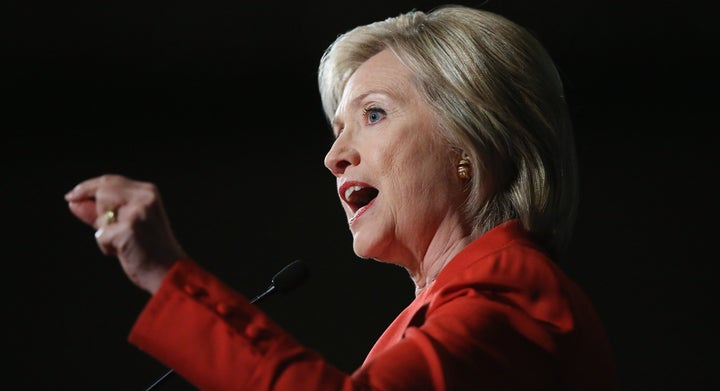 "Racial inequality is not merely a symptom of economic inequality," Clinton said when asked during a Facebook question-and-answer session how she would have responded to the protesters at Netroots Nation, an annual gathering of progressive activists.
While Clinton skipped the conference, her two main challengers for the Democratic nomination, Sen. Bernie Sanders (I-Vt.) and former Maryland Gov. Martin O'Malley, participated in a candidate forum on Saturday that was interrupted by protesters calling for criminal justice reform.
O'Malley was booed by the crowd when he said, "Black lives matter, white lives matter, all lives matter," and later apologized for seeming "insensitive" about police brutality toward the black community.
Sanders grew frustrated with the protesters and attempted to stick to his message of fighting economic injustice.
In Monday's Q&A, Clinton responded to a question about how she would have handled the protesters. Her response: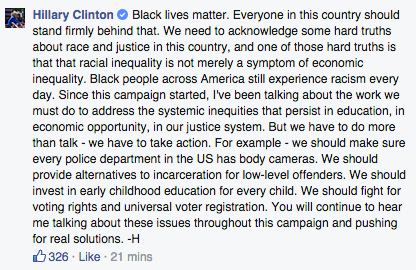 Of course, responding in a Facebook chat is much easier than actually facing down protesters in the moment. In 2009, former President Bill Clinton's appearance at Netroots Nation was also interrupted by a protester, who wanted him to account for his record on gay rights.
In late June, the former secretary of state similarly faced criticism for saying "all lives matter" while speaking at a black church, even though she had said "black lives matter" the previous year.
The phrase "all lives matter" has been interpreted as pushback against "black lives matter," which became a rallying cry after the high-profile police killings of black men in places like Ferguson, Missouri.
Speaking about lessons she learned from her mother, Clinton said, "Her own parents abandoned her. By 14 she was out on her own, working as a housemaid. Years later, when I was old enough to understand, I asked her, 'What kept you going?' Her answer was very simple: Kindness along the way from someone who believed she mattered. All lives matter."
Around the same time, Sanders also said, "Black lives matter. White lives matter. Hispanic lives matter. But these are also not only police matters. They're not only gun control matters. They are significantly economic matters."
"Saying 'all lives matter' causes erasure of the differing disparities each group faces," The Huffington Post's Julia Craven explained last year, noting that police brutality disproportionately affects the black community. "Saying 'all lives matter' is nothing more than you centering and inserting yourself within a very emotional and personal situation without any empathy or respect."
Clinton didn't mention either O'Malley or Sanders in her response, although her line about racial inequality going beyond economic inequality seemed to be a dig at Sanders and his reaction to the protesters.
This story has been updated to include further information about Clinton's and Sanders' remarks in June.
Popular in the Community