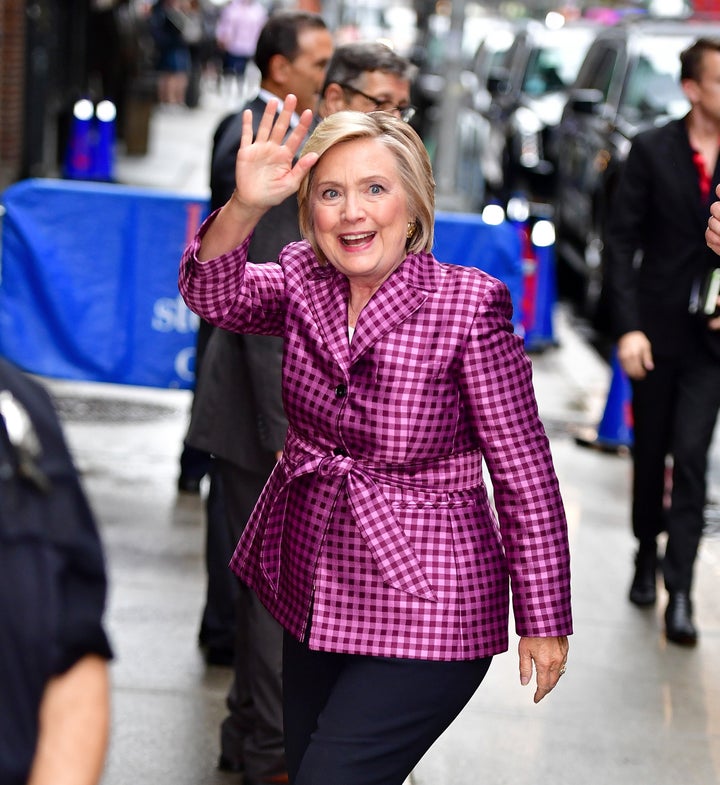 It set off a lot of questions: Who designed this fashionable piece? And did it signal Clinton was turning over a new leaf, style-wise?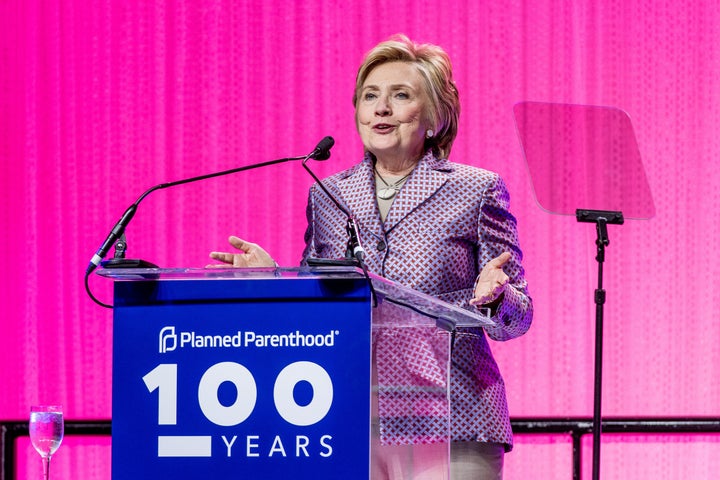 Clothing line Argent, which bills itself as selling "functional workwear with attitude," is the brainchild of Sali Christeson and Eleanor Turner. Christeson began her career in finance and switched gears when she noticed a pocket-sized hole in the market when it came to practical, chic workwear for women; Turner is a designer whose 10-year career in fashion includes work at J. Crew and Tommy Hilfiger.
They met through mutual friends and bonded over a shared frustration with the lack of stylish wardrobe options for women with lots to do and lots to carry. Together, they hoped they could change the conversation about and improve options for a new generation of professional women.
Clinton attended the Professional Women of California Conference in March 2017. Argent held a pop-up show at the conference, and Christeson and Turner saw the opportunity to get on her radar. They wore items from their line that they thought the former secretary of state might like. It worked.
HuffPost chatted with Christeson and Turner about that first meeting, how it changed their lives and what's next for their brand.
What was it like to meet Hillary Clinton?
SC: She came out with this new attitude and amazing energy, and you could feel it. The biggest takeaway for us was like, "Oh my god, she's not stopping. She's ready to go to again." We had chills ― it was incredible. [The 2016 election] was still so raw for everyone. It was healing. She just came out with power. People actually stormed the stage after.
ET: Oh, yeah. And she was so polite, signing and smiling. Meanwhile, Secret Service is coming in like scrambling to get everyone away from her.
Did you just go up to her?
SC: We get herded into a freight elevator, we don't really know what's in store. We got up there so fast. It went from us strategizing what we were going to say in line to us being there in front of her so fast.
That must have been nerve-wracking! Did you always plan to lead with the clothes?
ET: Yes. We knew we had to. We planned our outfits. I wore the blazer she ended up wearing to Planned Parenthood. I knew she might like that one. And I knew Sali would look really streamlined next to me in hunter green and it would just be a good balance of what we offer. [Clinton] was behind this screen, and we just saw people running in, taking a photo and running out. Not even saying anything to her. We were like, "OK, we don't have too much time, so we have to keep it short and impactful."
What did you do when you got to the front of the line?
SC: We literally walked up, holding our blazers open. I said, "I quit my job two years ago at Cisco, she quit her job at J. Crew." El jumped in and was like, "We make pantsuits," and Clinton's jaw just dropped. It was a physical reaction. It's the worst photo I've ever taken because I was talking to her. I was like, "You would wear this? On stage? This is amazing."
"We've experienced sexism from both male and female at every level. We're young, we're female, we're targeting women with our product ― that makes it harder."
ET: Then she started asking a ton of questions. "What is this brand? What is it called? Do we have your contact? How come I didn't know about this sooner?"
SC: We were showing her the functionality of the clothing. El had me rip off my jacket to show her the band in the sleeves we actually filed a patent on.
ET: There's a band in the cuffs of our blouses so when you roll the sleeves up, it stays.
SC: It's surreal. Words come out of your mouth, but I'm not sure which words they were.
SC: We were talking to [Clinton] and she was signaling to her staff that she was interested in staying connected. We were hugging every stranger we saw, and then Huma just popped out of nowhere and talked to us for a few minutes.
EL: She was like, "What are these amazing clothes? Where can I find them?"
SC: It's just been such an obvious gap for so long and not every woman wants to wear a dress. Women like that especially find their power in suiting. So we ran back to our booth and grabbed everything we could in their sizes.
But they did ask for your contact information. Did you think they'd get in touch?
ET: We were like, "Oh my god. We lost our chance." It was pretty deflating. Her staff had said from behind us in line that they were in touch with us and knew where to find us, so we maybe knew they knew how to get in touch. But we were like, how many times have they said that? These are really busy people. How can they even think to follow up?
SC: They did. Her chief of staff/executive assistant/doer of all things called us at 9:30 that night.
And how long after that call did Clinton wear one of the pieces?
ET: It was about a month later. They never confirmed, but we knew there was a chance. We did sort of get a heads up that we should be watching for her at the Planned Parenthood 100th Anniversary Gala. We started following the hashtags, that's when she hit the step-and-repeat wearing the Basketweave Tie Blazer. I was out to dinner in New York and I fell out of my chair. I was just on the floor at Rubirosa.
SC: I did something similar, and I don't normally react this way to things. I was walking down the street in San Francisco and just sort of collapsed. I just fell to my knees.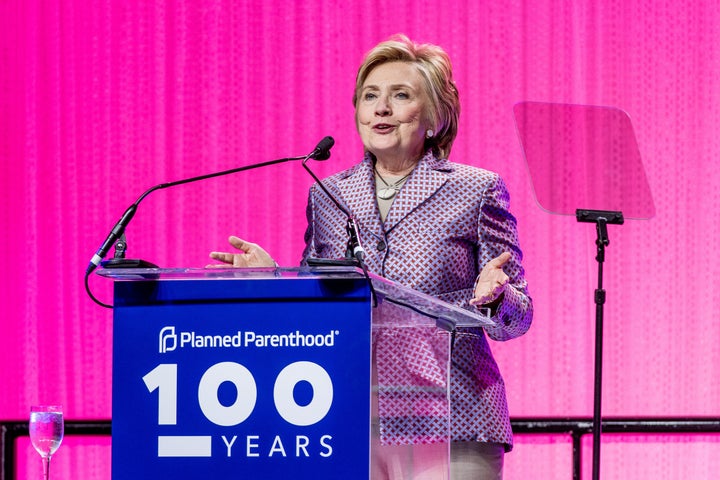 That's such a huge moment for any brand, let alone a start-up still getting its footing. How did it change your lives?
SC: I think when you're building a start-up, something people constantly ask is: How do you stay positive? How do you keep going? That moment was really good for our team, just to validate what we were building. Morale shot up and just hasn't gone back. I feel like there are these little wins that you really latch on to and it keeps you moving forward.
ET: To have someone of that caliber ― who can literally wear whatever they want, whenever they want, choose to wear our stuff ― it gives us a lot of credibility in terms of the quality of the product and just speaking to it.
Sali, you quit your job and left a path you created for 10 years to pursue this clothing line. Were you scared? What advice would you give someone who might be thinking about pursuing their own passion project?
SC: That decade of experience I had working and pursuing my MBA is pretty invaluable in terms of managing up and down, not being above any task, really being able to get your hands dirty and just learning firsthand. Coupling that with experience across a couple of industries, I think that helped improve my chances of actually starting something.
ET: Learning is the biggest thing. I think people want to do this but they don't have some of the key learnings you get from being in the workforce. I worked at Tommy Hilfiger, J. Crew, Tory Burch ― all those companies showed me different facets of the industry and different things that informed my experience at Argent and helped for this company. Get some experience. And then be prepared to be so scrappy.
How were you guys scrappy in the beginning?
SC: We're still scrappy. (laughs) You're going to be disappointed, beat up, let down, question it and be questioned. It's a form of sexism neither of us have every experienced for sure.
SC: The start-up world is like the Wild Wild West, it's not like a protected organization where you have HR. We've experienced sexism from both male and female at every level. We're young, we're female, we're targeting women with our product ― that makes it harder.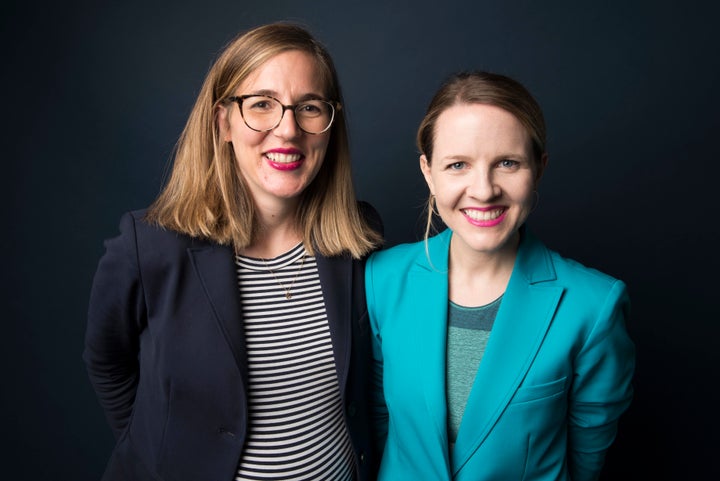 Any specifically bad moments?
ET: We had one potential investor ― we did not take money from him ― tell us that we had just gotten our initial raise because we were just two pretty faces.
What kept you going through moments like that?
ET: Conviction. Knowing this was a problem for women that we could solve and never wavering. People will waver, but you can't.
Your price point is more reasonable compared to some of the other items at, say, Clinton's disposal, but they are a splurge for a young woman starting out in her career. What is the argument for investing in something from Argent?
ET: You're judged by what you wear. Invest in what you wear.
SC: Another piece of it is we've heard from customers who are moving away from fast fashion for environmental purposes. We're offering pieces intended to be in your closet for decades. They're season-less, they're high quality. You don't see this price point for such high-quality pieces. There are studies now that quantify what you're wearing with your bottom line over the course of your career, so the investment is going to pay off. One of my favorite things about Hillary is that she has reworn some of the jackets we've given her within a week. You wear and rewear, and that's such a great example we should be setting. Shifting the mindset to just investing in a couple of staples is important.
This interview has been edited and condensed for clarity.
Argent clothing (which, by the way, can totally also be worn outside of the workplace) can be found at various pop-ups around the country, but you can schedule an appointment with the brand, too. Head to the Argent website to learn more.
Popular in the Community