NEW YORK –- When CNN recently canceled a Hillary Clinton documentary, Charles Ferguson, the film's director, lashed out at the former secretary of state's aides.
Ferguson suggested that longtime Clinton protector Philippe Reines and spokesman Nick Merrill helped torpedo the film project by pressuring the network and potential sources, a criticism that reinforced the press handlers' reputations for message control.
The book, available in February, chronicles Clinton's years as secretary of state, a period that saw her touch down in 112 countries and play a major diplomatic role on the world stage. That's a story Clinton's team would like to help tell -- and one that could be lost as pundits dissect a potential 2016 run already being covered by an emerging Clinton press corps.
Since they were approached by the authors in July 2012, Clinton aides have helped arrange interviews with Clinton colleagues and confidants, and fielded numerous requests through the course of reporting. HuffPost has learned that Clinton herself, also spoke to Parnes and Allen.
"I'm not comfortable discussing specific sources," Allen told HuffPost, "but we are very happy with the access we got."
Reines explained to HuffPost why Clinton's team assisted the two Washington journalists, drawing a sharp contrast between their reporting and the ongoing pundit speculation about her political future.
"They're popping back up as if 2009, 2010, 2011, and 2012 never happened," Reines said of the TV talking-head chorus. "Their Rolodexes are frozen in 2008. So anyone who takes the time to learn about her tenure at State, it's both important and impressive. Because a lot of people can't be bothered."
Reines said that Allen and Parnes "were transparent" about their intentions from the beginning. "It was frankly really refreshing," he said.
"We've been totally up front with Secretary Clinton's folks from the start," Parnes told HuffPost. "They've been helpful in arranging interviews with people close to the secretary who, for various reasons, would not have been accessible otherwise."
Such a seemingly productive relationship between the authors and Clinton's staffers is a departure from clashes surrounding a few books on Clinton published during the 2008 election campaign.
In May 2007, Clinton staffers took aim at books by former Washington Post reporter Carl Bernstein and then-New York Times reporters Jeff Gerth and Don Van Natta. "Is it possible to be quoted yawning?" Reines said at the time, dismissing the two biographies as rehashed news. Another biographer, Sally Bedell Smith, claimed she was targeted by the "Clinton machine."
The relationship between Clinton staffers and the press corps in 2008 was notoriously toxic and rife with gripes about limited access. In the months before the Iowa Caucus, GQ magazine reportedly killed a story about campaign infighting amid pressure.
Of course, Clinton's press handlers can't stop all potentially unflattering coverage of the former secretary of state. But they can help disrupt projects by steering away potential sources.
In the case of HRC -- based on "more than two hundred top-access interviews with Hillary's intimates, colleagues, supporters, and enemies," according to the publisher -– they didn't red-light sources who sought permission to participate.
Parnes and Allen, who used to work together at Politico, were approached by an agent in July 2012 about writing the book. Both Politico and The Hill already have run short, newsy excerpts from the book about President Barack Obama asking Clinton to stay on another year.
Allen's 40-day sojourn working for Rep. Debbie Wasserman Schultz (D-Fla.) may cause some critics to expect the authors to treat Clinton sympathetically. But they are considered by their peers to be fair political reporters who maintain their independence from Clintonworld.
In an email, Parnes stressed that Clinton staffers, while helping arrange some interviews, did not control their reporting.
"As for the level of participation, we spoke to sources they know about and sources they didn't know about," Parnes said. "Sources they like, sources who they don't care for and vice versa."
Parnes added that she and Allen have "been dogged and intense in our reporting and there's going to be some stuff in the book that will cause some heartburn."
Indeed, HRC will cover the terrorist attack on the United States diplomatic facility in Benghazi, Libya, an issue that conservative media will presumably resurrect if Clinton is the 2016 Democratic nominee.
Still, the story of the secretary of state years -- even with Benghazi taken into account -- could benefit a possible presidential candidate by highlighting foreign-policy bona fides.
Clinton was open during the State Department years to having some journalists tag along, including former Time managing editor Rick Stengel, Condé Nast travel writer Kevin Doyle, and the BBC's Kim Ghattas, whose book on the experience covering Clinton came out earlier this year.
While each of Clinton's public events since leaving office in January gets press attention, she has given only one interview. Clinton sat down in September for a New York magazine cover story by Joe Hagan, a contributing editor with a reputation for tough profiles.

Hagan first approached Clinton's aides in May about a piece pegged to the September meeting of the Clinton Global Initiative, according to a source familiar with the matter. Clinton staffers helped set up background interviews with former State Department officials, and in July, agreed to the interview.
The decision to provide access to Clinton wasn't without risks, given that Hagan's previous cover story was an unflattering profile of "Today" show host Matt Lauer. But that doesn't mean Clinton aides will be opening doors to every book or magazine writer.
Clinton aides are not expected to arrange interviews for Daniel Halper, online editor for the conservative Weekly Standard, given assumptions that his forthcoming book will cast Clinton in a negative light. Its current title, per Amazon: Clinton, Inc.: The Audacious Rebuilding of a Political Machine.
Despite a reputation for control and message discipline, Clinton spokesman Nick Merrill insisted to HuffPost that when it came to HRC, staffers didn't coach sources before interviews.
And Reines suggested that by speaking to numerous sources –- some through their assistance, some not -- the book will be more fair to Clinton than most efforts. "Almost every story written about her, everyone relies on the same narrow cast of characters," Reines said.
"If you talk to 200 people and 180 of them don't have an axe to grind and aren't put on the defensive," he said, "you're going to get a much truer, ground-level perspective."
Before You Go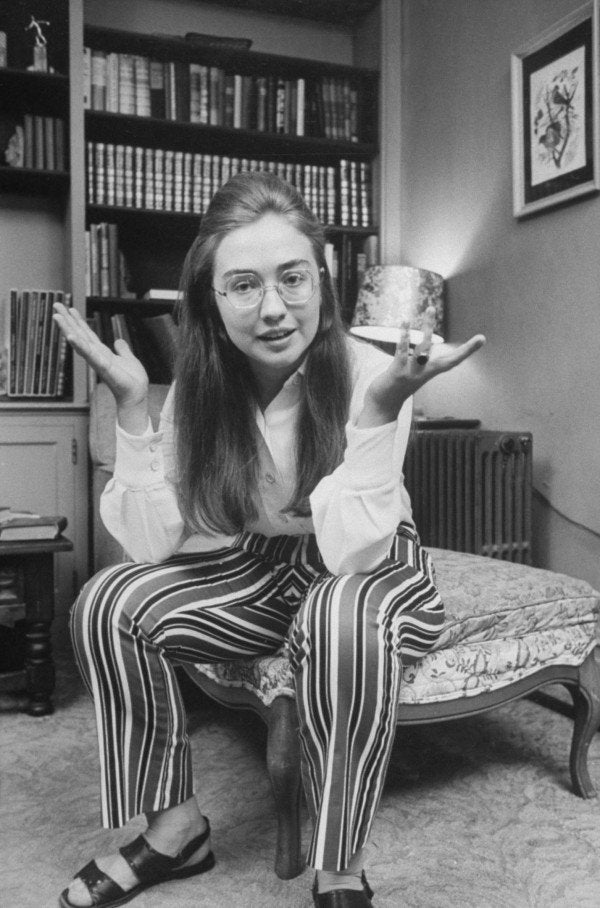 Hillary Clinton's Style Evolution
Popular in the Community