A furious Brett Kavanaugh portrayed himself as a victim in angrily refuting multiple sexual assault allegations against him at a Senate hearing last week, blaming the accusations on an orchestrated effort "on behalf of the Clintons" and others seeking to derail his Supreme Court nomination.
Asked about those claims Tuesday at an ideas festival in Washington hosted by The Atlantic, Hillary Clinton laughed uproariously.
"I mean, really. Yes, it deserves a lot of laughter," she said.
She then joked that such a conspiracy would have taken a lot of work. "It would have had to have happened starting 36 years ago," she said, given that the assault accusation that prompted Thursday's highly charged Senate Judiciary Committee hearing allegedly occurred in the early 1980s.
"That seems a stretch, even for the vast right-wing conspiracy stories about me," she said.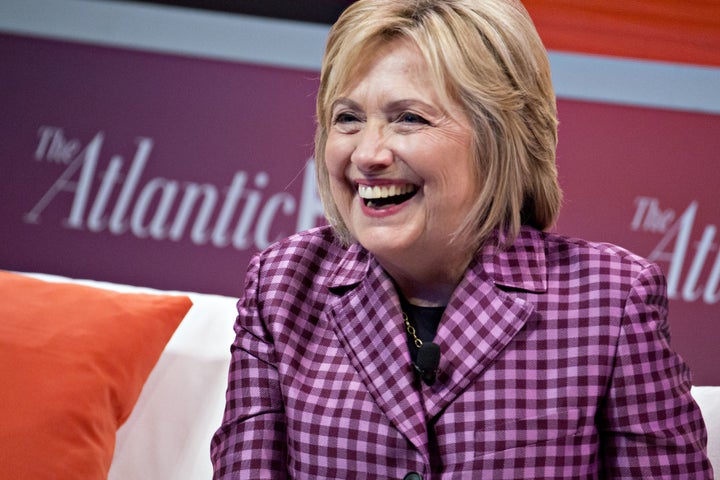 Although Kavanaugh was only thrust into the national spotlight when President Donald Trump tabbed him to fill a Supreme Court vacancy, the nominee long has been known as a foe of Clinton and her husband, former President Bill Clinton. Kavanaugh was one of the more aggressive members of the special counsel team whose investigations led to Bill Clinton's impeachment in the late 1990s.
During her Tuesday appearance, Hillary Clinton praised Christine Blasey Ford for coming forward with her accusation that Kavanaugh sexually assaulted her when they were teenagers, calling her testimony "very credible."
"Why would anybody put themselves through this if they did not believe that they had important information?" Clinton asked.
After Blasey's allegation became public, claims of inappropriate behavior by Kavanaugh during his youth surfaced from two other women.
Clinton, commenting on Kavanaugh's belligerent committee testimony, said that she found it "unconvincing" and "quite out of bounds." The former secretary of state quipped that she would know, "as someone who has testified under difficult circumstances."
"You never were so emotional," moderator Jeffrey Goldberg said.
Goldberg also pressed Clinton on whether Trump, who surprised most political analysts by defeating her in the 2016 White House race, should be considered a racist.
"I think he has thrown his lot in with many people and groups whose stated objective is white nationalism, white supremacy," she said. She cited his widely criticized response to the deadly violence that erupted at last year's white supremacist rally in Charlottesville, Virginia, "as one of the most troubling episodes of this presidency."
"What he's doing is broader," she added, when asked a second time whether Trump is racist. "He has been racist, sexist, Islamophobic, anti-LGBTQ. There's a long list."
Popular in the Community