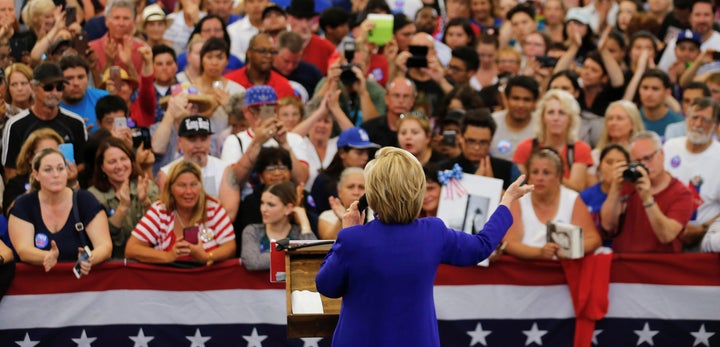 Hillary Clinton won California's Democratic presidential primary on Tuesday, avoiding what would have been an embarrassing loss the day after she had secured enough delegates to become the party's presumptive nominee.
The Associated Press called the state's primary for Clinton early Wednesday. With 94 percent of precincts reporting, Clinton led Sen. Bernie Sanders (I-Vt.) 56 percent to 43 percent. Sanders had vowed earlier in the week to take his campaign all the way to the Democratic convention in Philadelphia this summer.
Recent polls had shown that Sanders had gained on Clinton in California, the nation's most populous state.
Clinton, her daughter Chelsea and her husband, former President Bill Clinton, had campaigned heavily in the Golden State in order to shore up her support. Sanders also spent a significant amount of time there in the hopes of spurring an upset that would give him momentum heading into the convention.
The Associated Press reported Monday that Clinton, who led Sanders among pledged delegates and in the popular vote, had enough support from superdelegates to pass the 2,383 delegates needed to clinch the nomination at the convention. Superdelegates are party leaders, elected officials and others who can back whomever they want.
Sanders spokesman Michael Briggs said the AP's call Monday was a "rush to judgment" and added that the campaign's "job from now until the convention is to convince those superdelegates that Bernie is by far the strongest candidate against Donald Trump." Meanwhile, Clinton campaign manager Robby Mook told supporters in an email that though passing the 2,383 delegate threshold was "an important milestone," it was premature to celebrate, because "Six states are voting, and we want to make sure those voters are heard in this primary."
The competitive nature of California's presidential primary inspired a surge in voter registration. The California secretary of state's office announced that nearly 18 million voters were registered, which is a state record for a primary election.
While Clinton led Sanders among ballots submitted by absentee voters in California, who tend to be older and therefore more likely to support her, Sanders' supporters hoped he could overcome the early deficit as younger voters went to the polls on the day of the primary. They worried that the AP's calling of the race for Clinton on Monday evening would depress turnout among voters who would assume the contest was already over.
Sanders has been making the case that he could still persuade enough superdelegates to switch their allegiances and back him instead of Clinton, with the argument that he'd be a stronger candidate to take on Donald Trump, the GOP's presumptive nominee, in November's general election. However, a sea change in superdelegate support is unlikely.
Clinton's lead among pledged delegates has consistently been larger than the lead then-Sen. Barack Obama of Illinois had over Clinton in the 2008 presidential primary. Clinton won California exactly eight years after she gave her concession speech and endorsed Obama.
The race's final presidential primary is on June 14 in Washington, D.C.
This story has been updated with polling information from Tuesday night's primary.
Before You Go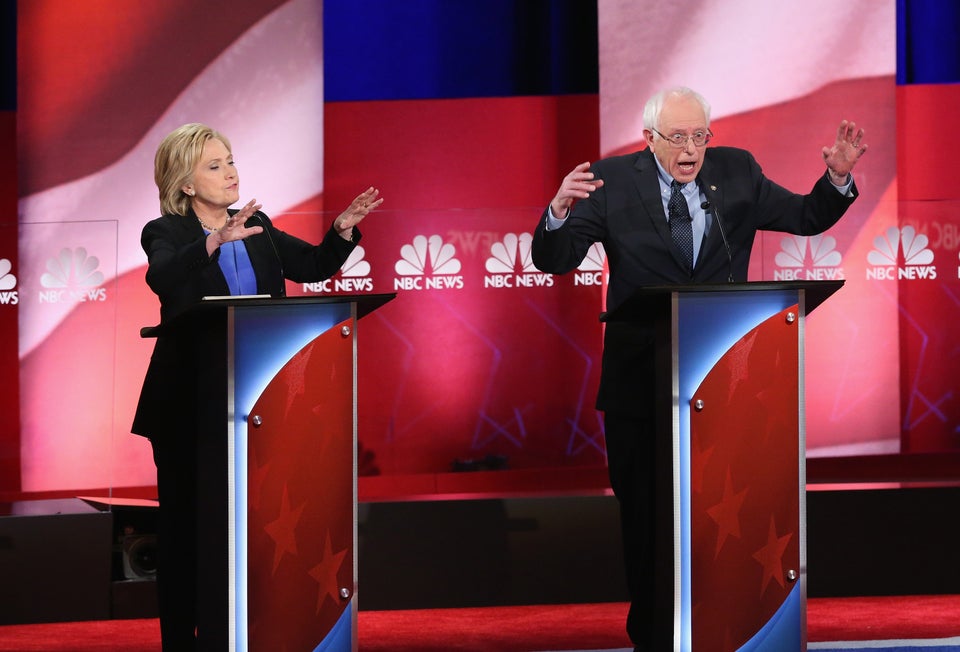 Bernie Sanders And Hillary Clinton Face Off
Popular in the Community