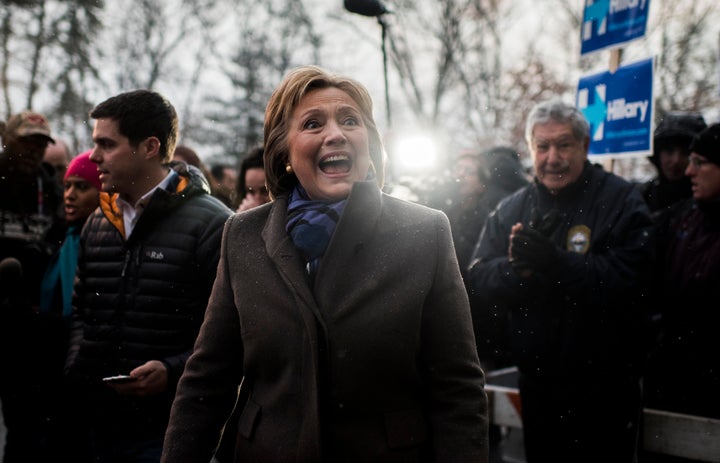 After Republican candidate Marco Rubio spent 45 minutes taking questions from his traveling press corps Wednesday en route to South Carolina, New York Times reporter Amy Chozick noted that Hillary Clinton hasn't done the same in more than two months.
Though Clinton has done several network TV interviews and participated in debates over the past couple months, the lack of accessibility on the campaign trail has been a source of frustration among reporters. Reporters covering Clinton in the run-up to voting in Iowa and New Hampshire frequently discussed the issue, and likely will continue to as the candidate heads to Nevada and South Carolina.
A Clinton spokesman had no immediate comment.
Reporters who've followed Clinton for months may have little to no relationship with the candidate. And the only opportunity they have to ask her questions is when she works the rope line after events, a time when candidates typically shake hands and pose for selfies with supporters.
Given the lack of access, reporters and camera crews routinely rush toward the candidate after she steps off stage, even barreling through supporters in attempts to pose questions that are likely to be ignored.
Clinton has never been as chummy as some candidates with her traveling press corps, and she had little interaction with campaign reporters for long stretches during the 2008 race, too.
Politico's Glenn Thrush recalled Clinton boarding the press bus "for the very first time" on the eve of the 2008 Iowa caucuses with a bag of bagels. "The candidate was smiling, but her eyes said something different -- and so did her feet, which never budged past the white line that separates bus driver from passenger," Thrush wrote. "It is the only time I can ever recall a group of reporters happy to see a major newsmaker depart."
There hasn't been any similar corralling lately, and in fact, the Clinton campaign is far less hostile to reporters than Donald Trump's campaign, which has consistently penned in the press at rallies and uses Secret Service agents to help enforce its restrictions on journalists' movements.
UPDATE: 7:30 p.m. -- Politico's Anne Karni reported Thursday night that Clinton will have a closed-door meeting Tuesday with Rev. Al Shaprton in New York that will be followed by a press conference, the first in more than two months.
Related
Popular in the Community