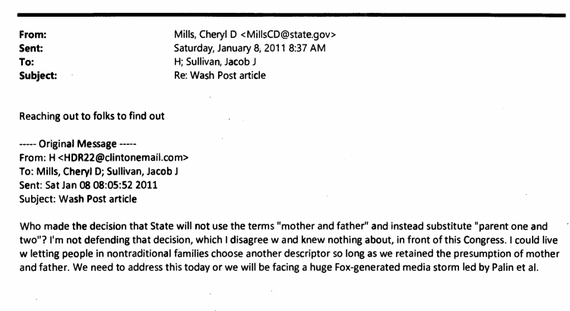 With Hillary Clinton's email indiscretions literally piling up by the day, you may have missed this gem of an email included by Politico as one of eleven "must-reads" from the latest batch. In the message, Clinton gripes to her chief of staff that she was definitely not on board with changes to State Department forms that replaced labels of "Mother" and "Father" with "Parent One" and "Parent Two."
When the change was made back in 2011, the Washington Post declared the move a step forward for queer families, who often do not have one mother and one father at the helm and who thus are left with awkward -- and surely painful -- confusion around how to fill out heteronormative forms. The Post noted that Clinton had been advocating for LGBT rights as Secretary of State, and quotes her tooting her own horn in that respect.
Yet in what she thought was the privacy of this newly-released email, Clinton sounds a lot less like an advocate. Stating that she "is not defending that decision" and did not agree with making the form gender-neutral, Clinton allowed that she "could live [with] letting people in nontraditional families choose a descriptor so long as we retained a presumption of mother and father." The idea that Clinton could barely live with recognition of households that do not have two opposite-sex parents is jarring enough. Even worse is her notion that maintaining heteronormative families as the ideal, and making sure others knew they were second-rate, was somehow doing them a favor.
With the legalization of same-sex marriage clearing the way for adoption in most U.S. states, most LGBTQ people now theoretically enjoy the right to shape their own family. But bias against them will undoubtedly remain for decades. And with nondiscrimination protections absent in many states, the right to have children does not come with a guarantee that there will not be negative consequences for doing so.
What Clinton does not get is that being an advocate, or even simply an ally, means more than begrudgingly taking down the "do not enter" signs on society's institutions. It means actually helping to hold the door open and let people in.
Clinton has never been a leader on LGBTQ rights, but a lot has changed in the many decades that she has been trudging through Washington. The LGBTQ community is no longer begging for scraps, asking our leaders to please tolerate us if it's not too much trouble. We are asking for equal rights, equal respect and equal dignity, and while we will never have that from every American, we surely can secure it in the one we pick to be the democratic nominee for president.
Clinton vowed in the email that, if challenged, she would not stand up to bullies like Sarah Palin nor would she defend the policy change "in front of this Congress." Four years later -- given her record of trying to defend her own actions on Capitol Hill -- maybe we should be glad she isn't the one defending us there. We certainly should not expect her to go on offense for us if she succeeds in her increasingly quixotic quest for the White House.
Popular in the Community