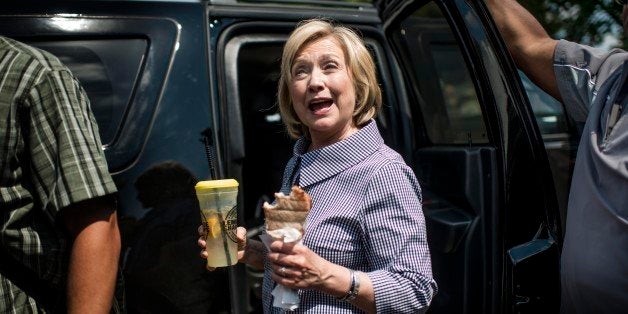 Hillary Clinton ought to be concerned.
Even though the Clinton campaign has certainly been aware of the significant and passionate left-wing populism within the Democratic Party, the campaign has merely underestimated and, for far too long, sidelined the substantial and growing support of Bernie Sanders. The Vermont Senator and self-professed democratic socialist, Sanders has been attracting huge crowds, be it an estimated 28,000 people in Portland, 27,500 in Los Angeles, or the perceived Sanders crowd at the Iowa State Fair that exceeded not only the crowds of Clinton, but also that of Donald Trump.
On Meet The Press, Chuck Todd noted, "I have to say I was both in Clear Lake, watched you there, watched you in Soapbox. You had so many people, the fair stopped. Forget Trump. Forget Hillary Clinton. I think you might have had the biggest crowd yesterday." Added to this, Sanders tops a recent Franklin Pierce/Boston Herald poll, with 44% of the vote, Clinton clocking in at 37%.
Sanders can monopolize and capitalize on such left-wing populism as Sanders has been a far more outspoken leader for progressive causes. His furor against climate change denial, poverty, and the antidemocratic nature of billionaires buying elections is gaining support, particularly in line with reports from The Hill that 2016 election campaign financing could well likely exceed the $5 billion mark.
Beyond that staggering figure is a concern and vehement protest toward the concentration in funding. For 2016, the oil billionaire Koch Brothers have pledged $889 million towards their political organizations, most notably FreedomWorks. This pledge represents more than double the previous $400 million they allocated. This will similarly be the case for Sheldon Adelson, who spent $150 million in the 2012 election cycle.
Moreover, the Clinton campaign struggles to resonate because there is a lack of policy clarity. In July, she refused to offer a position on the Keystone XL pipeline, a political football that has been a significant contention point for the Republicans. Clinton dismissed the question of yes or no to the pipeline by responding, "If it's undecided when I become president, I will answer your question."
Perhaps Clinton would win over or simply strengthen her support among environmentalists if she added specificity to answers about the big environmental questions. Policy specificity is critical as Julian Boggs, Environment America's global warming program director notes, "Bernie Sanders will be loud and bold, and he will be specific. Specificity is always helpful."
Clinton's concerns extend to her campaign finance reform paradox. Responding to a question on Facebook, Clinton condemned excessive campaign financing and the undemocratic Citizens United: "I would consider supporting an amendment among these lines that would prevent the abuse of our political system by excessive amounts of money if there is no other way to deal with the Citizen's United decision." Yet, Clinton's campaign has set a $2 billion fundraising target. That's fine if much of it comes from grassroots supporters so you say, even in spite of a New York Times report in July on presidential candidates' fundraising filings. That report noted that just 19 percent of Clinton campaign contributions were small contributions of $200 or less. In contrast, 80.7 percent of Bernie Sanders' contributions were small donations. The paradox for Clinton is fighting against such concentrated influence while reaping its benefits. That Clinton's campaign contributions are so concentrated ought to be seen as a concern, and is a concern for the very people she's trying to garner support from.
What the Clinton campaign cannot do is solely rely on her status, with her approval rating in decline largely due to criticisms over her time as secretary of state. Upon Clinton's announcement to run for president in April, she expectedly shot to the very top of the polls, largely on namesake and the Clinton brand. Sanders doesn't so much as have the name recognition as Clinton, but the concern for Clinton is that as time passes, the less well-known democratic socialist will finally be able to attract a strong and powerful name recognition.
The Clinton campaign ought to take several steps: Take notice of Bernie Sanders, establish greater policy clarity, work to build a grassroots movement and hope, though it's unlikely that the baggage will be sidelined. Only then can the Clinton campaign successfully address its concerns.
Calling all HuffPost superfans!
Sign up for membership to become a founding member and help shape HuffPost's next chapter