WASHINGTON -- Hillary Clinton secured her sixth union endorsement Tuesday in her bid to be the Democratic nominee for president.
The United Brotherhood of Carpenters and Joiners of America has more than half a million members. In a statement to The Huffington Post, union president Doug McCarron called Clinton "a fighter" who has "consistently fought for our issues on many levels of government."
"We encourage her to continue her efforts regarding long-term and strategic budgeting for our country's infrastructure, implementing secure measures for pension reform, and eradicating the payroll fraud epidemic in our nation's construction industry," McCarron said.
The union cited Clinton's support for collective bargaining rights and Davis-Bacon laws -- which set minimum pay and standards for workers on federal projects -- as well as her opposition to so-called right-to-work laws.
Tom Flynn, director of political and legislative affairs for UBC, told HuffPost the group's decision to endorse Clinton came after multiple conversations with the former secretary of state. Clinton met with McCarron and with UBC's general executive board and department heads, and she did a video conference at their recent convention.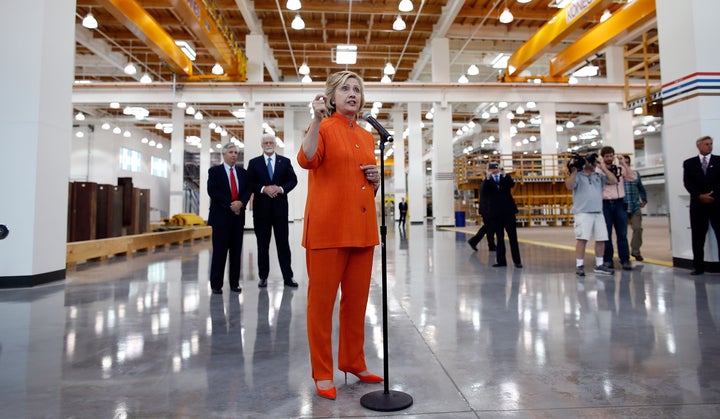 "After the convention... President McCarron convened a meeting with the general executive board, which represents four vice presidents throughout the country," Flynn said Tuesday. "And they made a motion to endorse Hillary."
Flynn said the union examined the "positions and electability of the various candidates" in making its decision. In the 2008 Democratic primary, UBC did not make an endorsement.
"On the very first day in office, I'm going to get to work to reverse the incredible pressures on the working people of America," Clinton said in a statement Tuesday. "We're going to go back to enforcing labor laws. I'm going to make sure that employers are held accountable for wage theft and all the other abuses that they engage in."
Clinton has upset some in the labor community for not coming out strongly enough against the Trans-Pacific Partnership, the mammoth trade deal that unions largely oppose. Sen. Bernie Sanders (I-Vt.), one of Clinton's competitors for the Democratic nomination, meanwhile, is still fighting to convince potential backers that he's electable.
Clinton has also picked up endorsements from the United Union of Roofers, Waterproofers and Allied Workers; the American Federation of Teachers; the International Association of Machinists and Aerospace Workers; the International Union of Bricklayers and Allied Craftworkers; and the United Association of Journeymen and Apprentices of the Plumbing and Pipefitting Industry.
The AFL-CIO labor federation, which is perhaps the most coveted union endorsement, is unlikely to back a candidate during the contested primary.
Popular in the Community