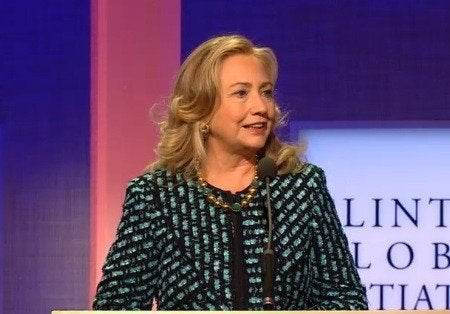 Secretary of State Hillary Clinton offered a strongly-worded message to the rich at the Clinton Global Initiative Monday –- help grow your countries.
The former first lady addressed an audience of leaders in the philanthropy, business and politics sectors on day two of CGI, a three-day conference that aims to tackle the world's most pressing problems. In keeping with this year's theme of "Designing for Impact," an effort to alleviate global poverty and health issues, Clinton urged struggling countries to tax equitably and to lean on the wealthy.
In addition to calling on the affluent, the Secretary of State encouraged moving away from providing aid and into the realm of long-term investments.
In the past, "people needed food, wells and schools to develop. Today, with so many other resources, developmental assistance should play a different role," she said. "We're not only providing aid to people in crisis, we are making strategic investments."
Clinton praised an initiative in Haiti that brought sewing machines to Caracol, the impoverished country's new industrial park, so that the 800 employees of one of Korea's largest garment manufacturers could get to work. Most of those workers are women, she said, and most have never held formal employment before.
While public-private partnerships are key to creating jobs, fostering the fundamental building blocks of struggling countries is a responsibility the wealthy need to take on, Clinton said.
"They don't invest in public schools and public hospitals and other kinds of development internally," Clinton said of the elite. "So, it means for leaders telling powerful people things they don't want to hear. It means being transparent about budgets and revenues and bringing corruption to light."
The Secretary of State gave her take on how to improve the global economy following her husband's remarks. President Bill Clinton shared a number of potential solutions, including calling on Wal-Mart to create jobs in Libya and other troubled countries. This year's speakers will also include President Barack Obama and Republican presidential candidate Mitt Romney, who will offer ways to see through CGI's purpose of creating a "future worth pursuing."
"We must think and act innovatively and be willing to change ourselves," Hillary Clinton said. "We must stay true to our values, otherwise we will lose our way."
Click through the slideshow below to see photos from the Clinton Global Initiative.
PHOTO GALLERY
Clinton Global Initiative
BEFORE YOU GO