NEW YORK -- Lilev Katz has four Hillary Clinton stickers on her purple dress.
She is 7 years old, and she's convinced she just saw the future president give a speech.
"She's gonna be the first woman president, I believe," Lilev said. "And at first when I heard that, the first woman president, I was in shock that this is first woman president ever! In 2016 we haven't had a woman president!"
Her mother, Elissa Swift, brought her to the Brooklyn Navy Yard Tuesday night to witness "history in the making."
"It's an amazing, amazing moment to see the first woman nominated to run for president of the United States," she said.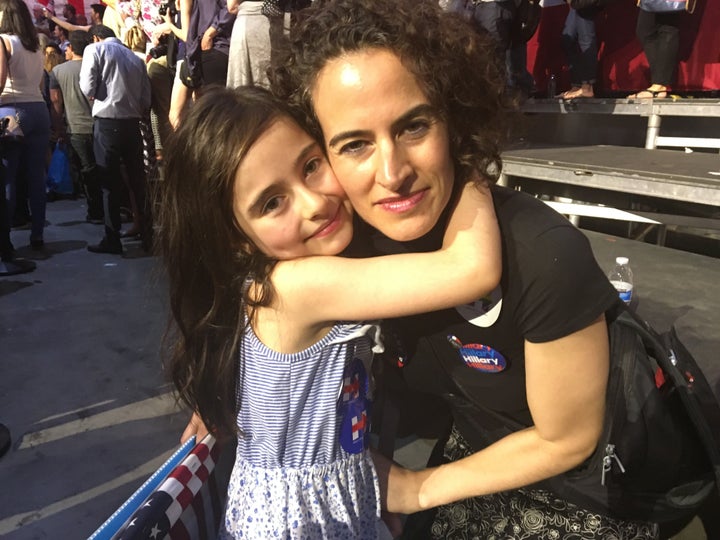 Swift was one of many parents who brought young children to Clinton's speech. One couple standing near the rope line even rocked a baby before Clinton took the stage. The infant appeared unconcerned by the ear-shattering chants of "Madame President" and "Herstory" that erupted throughout the evening.
Many who showed up without their children said they weren't far from their minds.
"I'm standing here, so proud, because my son is in the U.S. Navy -- he's 20 years old," said Mamina Bah, 43, who hails from Sierra Leone. She wore a miniature American flag in her blue head wrap.
"I came from a generation where democracy is just a name," Bah said. "This is what democracy stands for."
Bah said she was worried about presumptive GOP nominee Donald Trump getting elected for personal reasons.
"My son is a Muslim and I don't want Donald Trump to condemn Muslims," she said. "I don't think it's right for Trump to condemn anyone, because the world is getting smaller, the universe is getting smaller, and we all have to live together as one."
Kylin O'Brien, 44, a self-described artist and healer, said Clinton's nomination is especially meaningful to her as the mother of a 17-year-old daughter.
"We live in a gendered society -- sexism is deeply ingrained," O'Brien said. "The most vicious and ugly thing about it is it resides in most people's blind spots. I think a lot of that has come to the surface in this campaign. And yeah, it's been ugly. But she's overcoming it. It's a new era. It's so powerful to be here tonight."
O'Brien walked to the Navy Yard from her Brooklyn home. She fought back tears as she spoke about what Clinton's candidacy meant to her.
"Political people come and go and they're like footnotes in the annals of history," she said. "This is legendary. She's a living legend. I can't believe I'm here."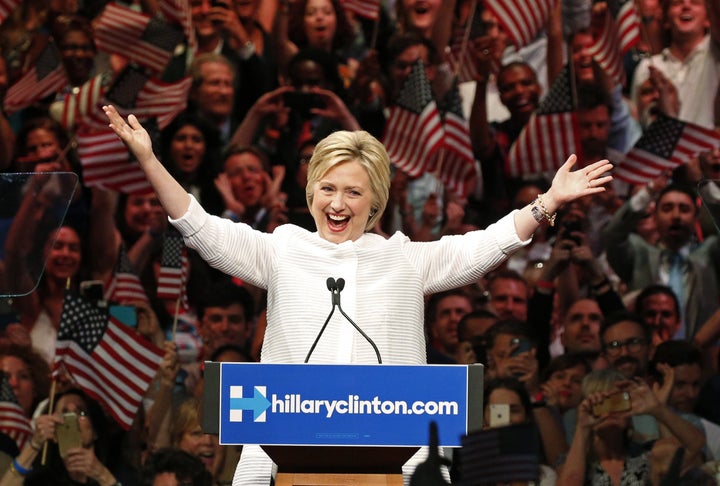 Many at the rally seemed worn out by the bruising primary battle between Clinton and Sen. Bernie Sanders (I-Vt.), and relieved that the process was finally drawing to a close.
"It's been rough. Very rough," said Lynn Hassan, 70. "I think that Bernie Sanders has presented important ideas that have been valuable. But she brings the skill, the experience to the job."
"She not only has the experience, but she's passionate. I think she has a proven record of success," said Luis Salcedo, 35. "And why not see a woman president? I think everyone here would love to see that."
"This is the opportunity for all Democrats to get together," said David Jones-Munoz, 53. "I know there's been divisions among us, but we all need to pull in and get behind the candidate, because we have one to beat, and that's Trump."
Clinton "speaks for all of us. Every color. Every everything," added Jones-Munoz, a hairdresser from the Bronx.
Salcedo said he was "not worried, but concerned," that Trump has a shot at the presidency.
"I think he's very divisive," Salcedo said. "I don't think he's fit to be president. The country is very divided. I think we need somebody who can unite all of us. Trump will not be able to do that."
Trump's racist criticisms of U.S. District Judge Gonzalo Curiel, an American of Mexican heritage who is presiding over a case involving Trump University, were "uncalled for," Salcedo said.
"But honestly, it's not surprising," he added. "Everybody has come out against it, even Republicans. Even Paul Ryan today."
Nina Leeds, 19, a college student from Queens, wore a purple shirt that said "Women's Rights are Human Rights" -- a famous quote from a speech that Clinton gave before Leeds was born.
"When I was little, I would think about being president," Leeds said. "My parents always told me I could be anything I wanted to be, and seeing that a woman can be president is just so inspiring."
Leeds wasn't the only one to admit to feeling emotional about Clinton's rise.
"I'm going to cry my eyes out tonight," O'Brien said. "And then again when she's president."
Calling all HuffPost superfans!
Sign up for membership to become a founding member and help shape HuffPost's next chapter
BEFORE YOU GO