Hillary Clinton Thursday night will be the first woman to accept the presidential nomination of a major U.S. political party, capping a historic week in which Democratic leaders made the case that she is the best person to serve as president.
Clinton's acceptance comes after President Barack Obama on Wednesday painted a resoundingly optimistic picture of the country and said he was passing the baton of leadership to Clinton. Obama also went after GOP nominee Donald Trump, portraying him as uninterested in facts and insulated by a lifetime of not caring about poor people.
In her speech, Clinton will say the U.S. faces a "moment of reckoning."
"Powerful forces are threatening to pull us apart," she says in excerpts of her speech released by her campaign. "Bonds of trust and respect are fraying.  And just as with our founders there are no guarantees. It's truly is up to us. We have to decide whether we're going to work together so we can all rise together."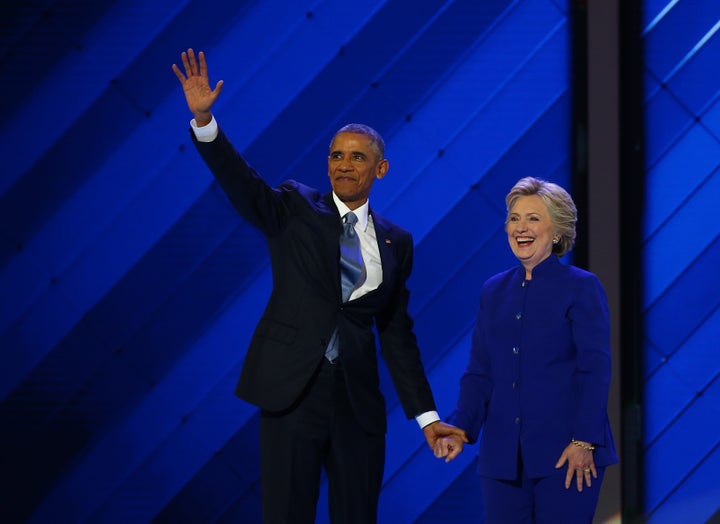 The early star of the convention was first lady Michelle Obama, who gave a moving speech in which she said this election "is about who will have the power to shape our children for the next four or eight years of their lives." Obama noted progress the country has made and said Clinton would take it further.
 "I wake up every morning in a house that was built by slaves. And I watch my daughters, two beautiful and intelligent black young women, playing with their dogs on the White House lawn," Obama said. Because of Clinton, she said, her daughters will "take for granted that a woman can be president of the United States."
DNC delegates nominated Clinton on Tuesday. In his speech that night, former President Bill Clinton detailed their 45-year relationship, starting at Yale Law School in the 1970s, and described some of the ways she had inspired change throughout her career.
 The following day, Trump drew headlines when he said he hoped Russian hackers had personal emails deleted from Hillary Clinton's private email server when she was secretary of state. The comments were widely criticized, even by Republicans, who accused Trump of suggesting that a foreign country intervene in a U.S. election.
Trump's gaffe played right into Wednesday's DNC speakers, who said it shows Trump is unfit to lead the United States.
 Clinton, after her nomination on Tuesday, appeared in a video noting the historic moment.
 "I can't believe we just put the biggest crack in that glass ceiling yet," she said. "And if there are any little girls out there who stayed up late to watch, let me just say I may become the first woman president, but one of you is next."
Thursday night, Clinton will make an even bigger crack.
This article has been updated to include a comment from Clinton's speech.
REAL LIFE. REAL NEWS. REAL VOICES.
Help us tell more of the stories that matter from voices that too often remain unheard.
BEFORE YOU GO
PHOTO GALLERY
Hillary Clinton Style Evolution