Hillary Clinton's presidential campaign will maintain staff in all 50 states during the general election with an eye toward overwhelming Republicans in the fall and rebuilding the Democratic Party's infrastructure thereafter.
The strategy, described to The Huffington Post by Clinton campaign aides, is a continuation of the Ramp Up Grassroots Organizing program that the campaign applied to the Democratic primary. But unlike that approach -- which had the immediate objective of competing with Sen. Bernie Sanders (I-Vt.) in each state contest -- the current one carries risk.
Many states in which Clinton will be employing staff and spending resources will almost assuredly vote against her anyway. She could end up wasting money that is needed to win swing states. But her staffers say the investment is well worth it.
"This is something that needs to happen every presidential cycle. It needs to be sustained. And I think if we continue to do that, we will help build the party long-term," said Marlon Marshall, the Clinton team's director of state campaigns and political engagement. "I truly believe we have a historic candidacy with Secretary Clinton, and we can use this opportunity to bring more people into the party."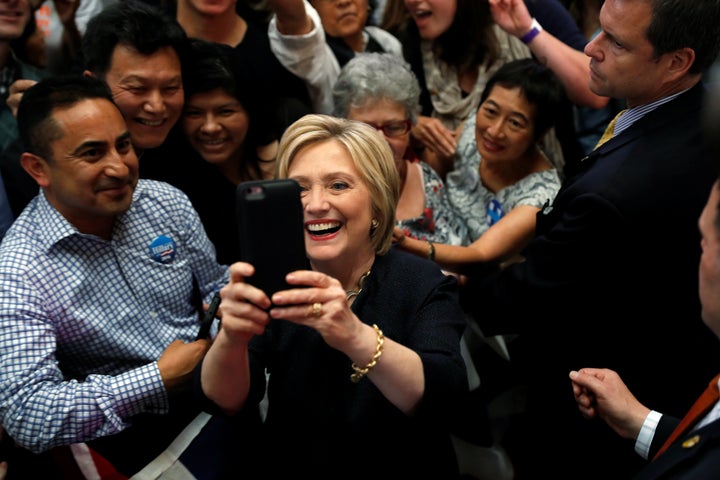 Democrats have long been divided over the efficacy of a 50-state strategy. When he took over the Democratic National Committee following the 2004 election, Howard Dean implemented an across-the-map approach to rebuilding the party, arguing that Democrats could only regain a foothold in lost territory if they put people there. Congressional leadership bristled, arguing that resources were better spent on toss-up races and not unwinnable contests in Mississippi or Alaska.
Amid the celebratory mood following the party's gains in the 2006 election, those tensions spilled out in public. Dean was accused of "Rumsfeldian" incompetence for not capturing even more congressional seats. He and his defenders noted that the party had just taken back the Senate and the House.
Dean stayed on at the DNC. Two years later, he found the ideal vessel for his vision. The presidential candidacy of Sen. Barack Obama (D-Ill.) brought voter excitement, greater turnout and tangible investments in states that aren't traditionally Democratic strongholds. Obama not only won big over Sen. John McCain (R-Ariz.), but Democrats expanded their control of both chambers of Congress.
But that proved to be a high-water mark. Since then, the party has lost control of the House and Senate, 12 governorships and more than 900 state legislative seats. Privately, Democratic officials have grumbled that the only elections Obama concerned himself with were his own. Obama's allies have countered that his grassroots organizing efforts helped produce legislative wins.
Clinton has a different mindset on these matters than the man she's hoping to succeed. It is, in some respects, an extension of her lengthy history in the party, from her time in state government (as first lady of Arkansas) to her role at the White House and her tenure in the Senate. Aides say she recognizes how much thinner the Democratic bench has become over the last seven years -- having seen longtime allies lose their seats -- and wants the trend reversed.
"I think it is important to lay a foundation for the future," said Marshall, who has worked in the Obama administration and pushed Dean's 50-state strategy as an organizing staff member in Kansas in 2005. "State House members are going to be your next folks running for Congress or running for governor, and one of them may be your next president of the United States."
Clinton's approach is also born from a belief that institutions, more than personalities, form the basis for political progress -- that even the most moving rhetoric runs up against the procedural rules of the House and Senate.
"The 50-state strategy worked. It gave us the majorities in the House and the Senate, and then it was abandoned because Obama chose to go with OFA [Organizing For Action], which did not work, and the DNC scaled way back on it," Dean, a supporter of and consultant to Clinton's campaign, told HuffPost. "But I'm very pleased it is going to be rebuilt. I think they totally get that her legacy depends on having a Democratic Congress and that she has to start now."
The Clinton campaign isn't Pollyannaish about how a 50-state strategy will work. No one expects Oklahoma to be overrun with Democrats by November. But as her team and others see it, the benefits to having an expansive staff network are more immediate than flipping control of local chambers.
"From a tactical perspective, this is going to be enormous for the Clinton campaign," said Mitch Stewart, founding partner of 270 Strategies and the battleground states director for the 2012 Obama campaign. He noted that an organizer in a traditionally Republican state could generate a network of volunteers who could be used to get out the vote in critical swing states.
"You are generating capacity," Stewart said. "Even if you have one person in Mississippi, voter contact ramps up the closer you get to the election, like a hockey stick. Let's say that one person has organized 10 phone banks. They will be generating phone calls all day. It won't turn that state blue because one person is there. But that volume will have an impact elsewhere."
Already, Clinton has made moves to put her plan into action. Her campaign has begun overhauling the DNC, with a lingering question of whether she will keep its current chair, Rep. Debbie Wasserman Schultz (D-Fla.), in place.
Her approach has the notable side effect of placating Sanders, who argued this past week that the party "had turned its back on dozens of states in this country," allowing "right-wing politicians to win elections in some states with virtually no opposition."
Clinton enjoys the benefit of having to add relatively few personnel for the general election. Many in-state staffers simply remained in place after their primary or caucus concluded. Their focus will now shift slightly toward organizing general election volunteers, hosting events, mobilizing turnout and registering voters. In time, the hope is, that work will provide the foundation for a President Clinton's governing agenda.
"It can definitely be difficult in a state like Oklahoma to engage in a general election," Nicole McAfee, Clinton's Oklahoma organizer, told HuffPost. "In the primary, it was a little different. But we have some really good volunteers. I want to see Oklahoma and Oklahoma Democrats feel stronger and more engaged in every election. It's a long-term project, but it is an incredibly important one."
Popular in the Community