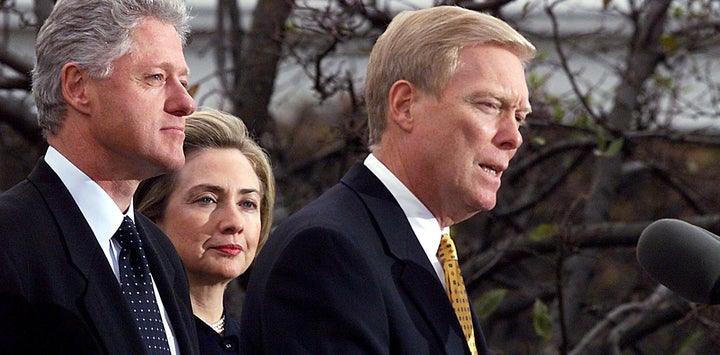 WASHINGTON -- During her trip to the United States in June 2010, Umit Boyner, the head of a Turkish business association, hoped to shed light on U.S.-Turkish relations from a private sector perspective. She spoke at an event sponsored by the Brookings Institution and met with Phillip Gordon, a top State Department official in charge of European and Eurasian affairs.
The meeting didn't come about by luck. Rather, it was the product of old-fashioned revolving-door lobbying, the type that makes clear why big firms pay high prices to put former public officials on their payroll. 
On May 5, 2010, former House Majority Leader Dick Gephardt (D-Mo.), wrote to Clinton's chief of staff, Cheryl Mills, about a possible meeting for Boyner with the secretary of state. After leaving government service, Gephardt had founded his own lobbying shop and also did consulting work for bigger firms. In 2007, The New York Times reported that he was a top lobbyist for Turkey.
"I have been asked by the Turkish Embassy, who I represent, to request a meeting with Secretary Clinton for Mrs. Umit Boyner, a prominent Turkish business woman," wrote Gephardt in his email to Mills. "Such a meeting could be whenever and wherever you determine most convenient for the Secretary -- either in Washington, DC or Turkey."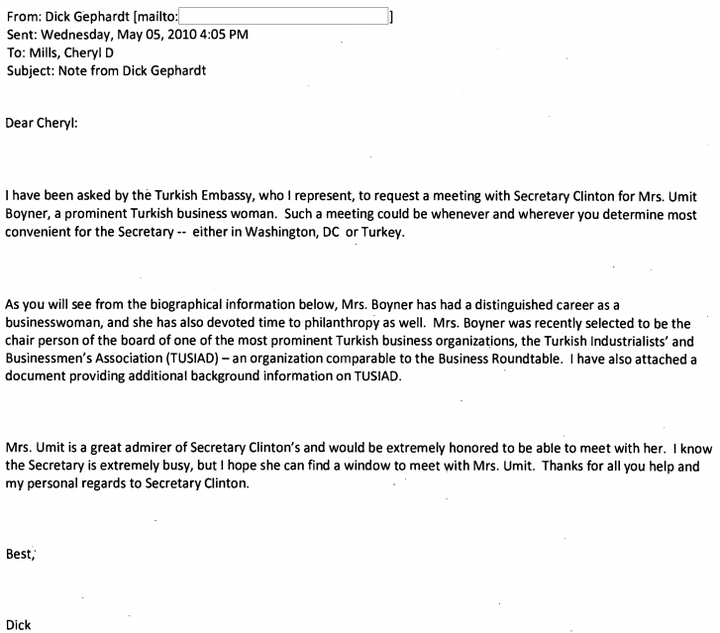 The message was one of the thousands of emails the State Department released Monday night from Clinton's private server, which has been the subject of so much controversy over the past few months. 
Mills forwarded the email to Gordon and Clinton's deputy chief of staff, Jake Sullivan. Gordon replied that he thought the meeting was worth doing: "Recommend she do it. In fact we had arranged for a meeting in March but Ms. Boyner's trip was cancelled. We can send up a new meeting request."
Mills then sent the exchange to Clinton and asked if she was fine with it; she replied, "Ok."
Gephardt's message didn't necessarily change Clinton's agenda, but the high-powered connections made it easier for Boyner to get access.
Gephardt and Clinton haven't always had the closest relationship, however. Historian Taylor Branch quoted Clinton calling Gephardt an "asshole" in his 2010 book, The Clinton Tapes. When someone reminded her that Branch was recording the conversation, she reportedly shrugged and said, "Well, he is." 
Calling all HuffPost superfans!
Sign up for membership to become a founding member and help shape HuffPost's next chapter