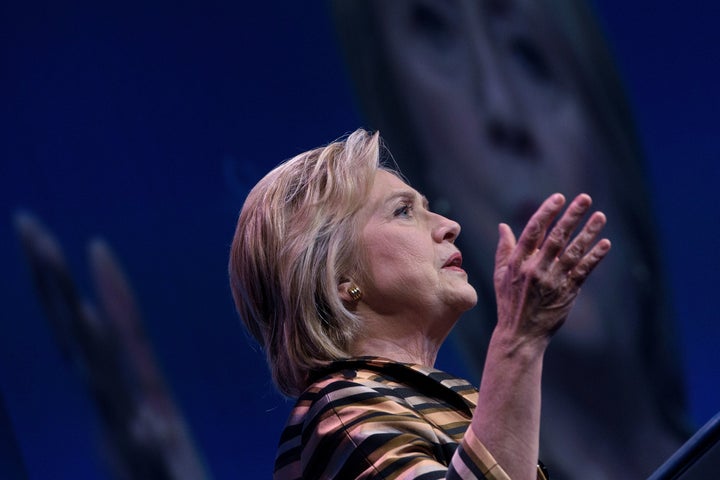 WASHINGTON ― Democratic presidential nominee Hillary Clinton criticized her Republican opponent Donald Trump on Thursday for declining ― again ― to say President Barack Obama was born in the United States.
Trump made the comments to The Washington Post in an article that came out just 20 minutes before Obama, the first black president, took the stage at the Congressional Hispanic Caucus Institute Gala, so Obama may not have seen them.
But Clinton, who spoke next, clearly did.
"He was asked one more time where was President Obama born, and he still wouldn't say Hawaii. He still wouldn't say America," she said to the crowd of mostly Latinos.
"This man wants to be our next president?" she asked. "When will he stop this ugliness, this bigotry? Now, he's tried to reset himself and his campaign many times. This is the best he can do. This is who he is."
Clinton and Obama both spoke at the gala about the need to renounce Trump and his divisive rhetoric. Clinton pointed to not only Trump's latest birther comments, but also his attacks on a pastor in Flint, Michigan, and numerous anti-Latino and anti-immigrant comments.
The goal was to inspire Latinos, who support Clinton over Trump by large margins, to vote for both her and the down-ballot candidates who can help her enact her agenda, including the comprehensive immigration reform that she has promised.
"We need to decide who we are," Clinton said. "If we just sigh and shake our heads and accept this, then what does that tell our kids about who we are? We need to stand up and repudiate this divisive rhetoric. We need to stop him conclusively in November in an election that sends a message that even he can hear."
Obama implored the crowd earlier in the evening to ensure that Trump's brand of politics doesn't win.
"I know there are a lot of folks who have this notion of what the 'real America' looks like. Somehow it only includes a few of us," Obama said. "But who's going to decide who the real America is? Who's to determine that in this nation of immigrants — in a nation where unless you are a Native American, you came here from someplace else — that you have a greater claim than anybody here?"
He got an especially warm reception at an event where he was heckled over immigration just two years earlier. There were boos when he said it was his last time at the event as president, and someone interrupted him by yelling, "I love you," earning them an "I love you, too" from the president. But the biggest applause was for Obama's praise for immigrants.
"It's young people like that that keep me going," Obama said. "Folks who prove that immigrants aren't somehow changing the American character, immigrants are the American character."
The Trump campaign later released a statement saying the Republican nominee believes Obama was born in the United States, while still praising Trump's past questions about the president's citizenship.
Popular in the Community