Speaking at a rally in Reno, Nevada, Clinton focused on Trump's divisive, racist comments, telling voters, "There's no other Donald Trump. This is it."
In her speech, Clinton dug into the Republican nominee's past, noting that during the early years of his business career, his real estate company was sued by the Justice Department for refusing to rent apartments to blacks and Latinos. On their applications, Trump's company would write "C for colored," Clinton said. 
"And let's not forget Trump first gained political prominence leading the charge for the so-called 'birthers,'" Clinton continued. "He promoted the racist lie that President Obama isn't really an American citizen – part of a sustained effort to delegitimize America's first black president."
"It takes a lot of nerve to ask people he's ignored and mistreated for decades, 'What do you have to lose?'" she said. "The answer is everything!"
Despite his supposed concern for minority voters, Trump's campaign has made white supremacists more comfortable in voicing their views, emboldening former Ku Klux Klan leader David Duke to run for Senate. Trump, Clinton said, "traffics in dark conspiracy theories."
"All of this adds up to something we've never seen before," she added. "Of course there's always been a paranoid fringe in our politics, steeped in racial resentment. But it's never had the nominee of a major party stoking it, encouraging it, and giving it a national megaphone ― until now."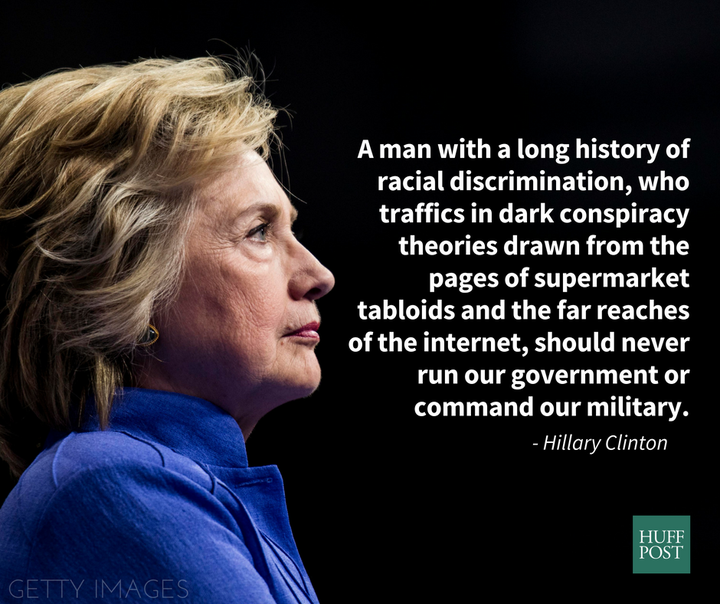 Clinton also tied the racism issue to Trump's new campaign chief executive, Breitbart's Stephen Bannon. Citing the Southern Poverty Law Center, Clinton said the conservative website embraces "ideas on the extremist fringe of the conservative right. Racist ideas. Race-baiting ideas. Anti-Muslim and anti-immigrant ideas ― all key tenets making up an emerging racist ideology known as the 'alt-right.'"
That's short for "alternative right," she noted. Bannon's decision to formally join up with Trump, she said, represents a "landmark achievement for the alt-right."
"A fringe element has effectively taken over the Republican Party," Clinton said. "It's like nothing we've heard before from a nominee for president of the United States."
Responding to the remarks, Trump tried to flip the script on Clinton, accusing her of "pandering to the worst instincts in our society."
REAL LIFE. REAL NEWS. REAL VOICES.
Help us tell more of the stories that matter from voices that too often remain unheard.
BEFORE YOU GO
PHOTO GALLERY
9 Other Absurd Things Donald Trump Has Said About Latinos