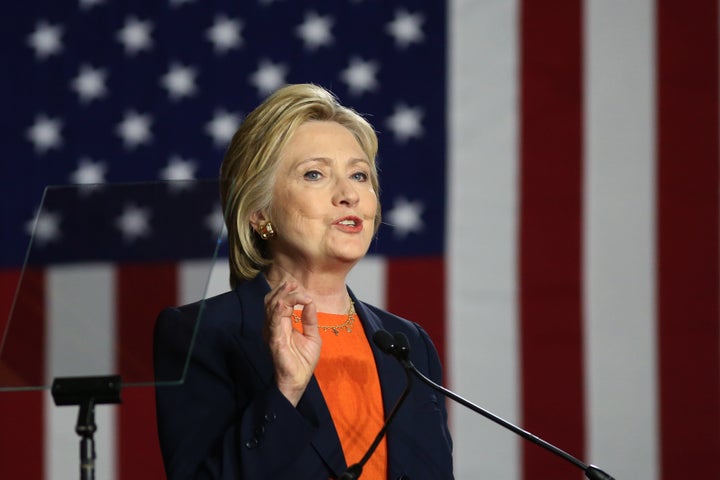 Sen. Bernie Sanders (I-Vt.) headlined a major gathering of Latino elected officials Thursday, hitting his usual talking points of immigration reform, economic issues and education. But what made this year's National Association of Latino Elected and Appointed Officials conference unusual was not what was said but who was missing -- namely, presumptive presidential nominees Hillary Clinton and Donald Trump.
This is the first time in three presidential election cycles that the presumptive nominees from the two major parties haven't shown up to the gathering.
Sen. John McCain (R-Ariz.), former Massachusetts Gov. Mitt Romney (R), and President Barack Obama have all spoken at the NALEO annual conference during their presidential campaigns, and Clinton spoke at the conference last year in Las Vegas. Sanders and Gary Johnson, the Libertarian presidential nominee, addressed this year's NALEO crowd.
The Trump and Clinton campaigns did not return a request for comment on why the candidates didn't attend.
Next month, Clinton is scheduled to address the annual convention for the League of United Latin American Citizens, which is one of the nation's oldest Latino civil rights groups.
"I'm glad [Donald Trump] didn't come," said Jeronimo Saldana, a staffer for the nonprofit Drug Policy Action, which focuses on drug law reform. "But I wish there would've been some acknowledgment [from him] of this conference."
Veronica Lauria, a board member at California's Valle Lindo School District, agreed. "I wouldn't want to be in the same hotel as him," she said.
But not everyone shared their sentiment. Robert Gallegos, a Democratic district council member in Houston, didn't expect Trump to show for the convention, but said he would have respected the effort.
"If he does show I'll give him a little credit," he said. "I'd like to hear his explanation for the rhetoric he's been blasting out there as far as the Latinos and Mexicans ... there's anger, you know."
Clinton's absence, however, shook Hispanic leaders, some of whom saw it as a sign that she might not fight for Latino voters.
"Unfortunately it's disappointing to not see Secretary Clinton here and/or Republican candidate Trump," said Art Fierro, trustee chair for El Paso Community College. "It makes me wonder, are they taking the Latino vote for granted?"
Arturo Vargas, NALEO's executive director, believes that Clinton, who has been accused of pandering to the Hispanic community (or "hispandering"), has now lost an opportunity to genuinely engage with the Latino community. Lauria agrees.
"What would half an hour of her time have taken for her to be here, and show up for Latinos?" Lauria, asked. "Over 1,000 Latinos are here, so what would it have taken for her to be here, or tweet something?"
Frustration with Clinton also spilled over to the Democratic National Committee, with some attendees upset that they aren't getting enough support in down-ballot races.
"The DNC I don't think is doing enough in Texas in regards to getting Democrats elected," Gallegos said. "[If you] put more funding in the Texas Democratic Party to elect down-ballot candidates in November that would be a big step in the right direction, especially in this election when you have Hillary and Donald Trump."
"We're looking at six to seven races where potentially we could pick up seats as Democrats in Texas," Texas state Rep. Justin Rodriguez (D) said. "But now that primaries are behind us, ramping that up in the summer going into the fall is going to be crucial."
Popular in the Community