Just when many Americans would like to wipe their hands of this campaign season, a Spanish company has created bizarre tributes to the presidential candidates.
At least we think it's a tribute, albeit a crappy one.
The public pooper isn't meant to offend. It's supposed to symbolize fertilization, and bring luck and prosperity in the coming year.
In the past, the "caganer" was supposed to be a young peasant dressed in traditional Catalonian garb.
In recent years, the website caganer.com has created dookie-dropping dolls featuring likenesses of popular celebrities from the world of sports, entertainment and politics. 
Trump and Clinton made the cut this year, but company spokesman Marc Alos hasn't flushed out which fecal figurine has sold best.
"At first we sold more 'caganers' of Donald Trump but Hillary Clinton has been catching up and at the moment we also have no idea who will come out on top," he told Reuters.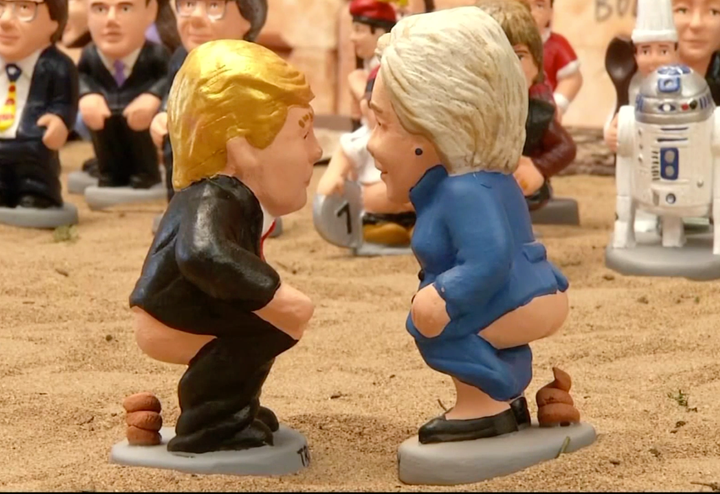 The caganers cost about $18 each, but the Trump one may be a crappier investment than the Clinton one.
Campaign memorabilia expert Jim Warwick, owner of White House Gifts in Washington, D.C., predicts Clinton memorabilia will be very popular in the coming years, regardless of the election outcome.
"Clinton will have way more long-term value than Trump's for the very reason of possibly being the first woman [president], much like the value of Obama's first campaign," Warwick told The Huffington Post. "It will truly be an historic event and anything associated with Hillary will be around for many years, and 100 years from now will be one of the most prized of political memorabilia years."
Jonesing for last-minute election goodies? Check out our presidential swag gallery below.
Reuters contributed to this report.
Calling all HuffPost superfans!
Sign up for membership to become a founding member and help shape HuffPost's next chapter