There's no question that Donald Trump dominated media coverage during the 2016 campaign.
But on Twitter, it was a different story.
Clinton's use of a private email server during her time as secretary of state, and the hackings and subsequent WikiLeaks releases that targeted her campaign and the Democratic Party, dominated Twitter discussions about the presidential election during 2016, according to a study put out by the data and polling firm Echelon Insights. (Echelon was founded and is run by a Republican pollster and a Republican strategist.)
Echelon compiled data from nearly 2 billion tweets about major news stories in 2016, many of which were about the presidential election. They tracked tweets that mentioned candidates as well as those that mentioned election-related controversies. Trump was the candidate mentioned more often, but it was Clinton's issues that took center stage among the controversies.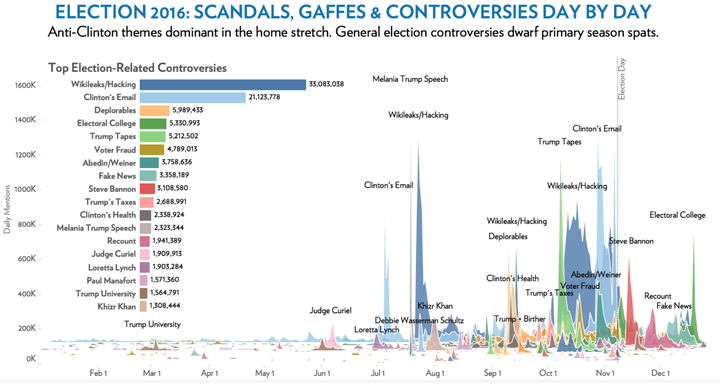 Those two stories stood head and shoulders above the rest: No other single controversy, from either candidate, garnered more than 6 million tweets in 2016. Clinton's remark calling some Trump supporters a "basket of deplorables" nearly got to the 6 million mark, earning it third place among the controversies.
Trump's scandals paled in comparison. The tape of him boasting about sexual assault, for example, earned just 5.2 million tweets, fewer than any of Clinton's top controversies.
What this analysis doesn't tell us, though, is the intent of the tweets. Did Clinton's controversies generate so much attention on Twitter because people were defending her? Or was all the attention negative?
It might not matter. Whether people were criticizing Clinton or defending her, simply keeping those controversies alive likely guaranteed that they'd be on voters' minds all the way through Election Day. There was probably no clearer example of this than FBI director James Comey reviving the private email server issue within days of the election.
Trump's issues, on the other hand, seemed to blow over well before Election Day. That was undoubtedly helpful in his path to victory.
Calling all HuffPost superfans!
Sign up for membership to become a founding member and help shape HuffPost's next chapter