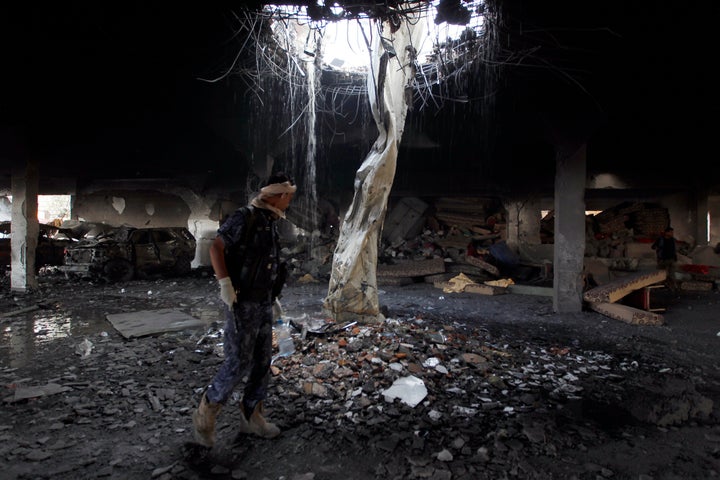 WASHINGTON ― The U.S. is in a shooting war in Yemen, where the American military has spent years vaporizing suspected terrorists in airstrikes and a Saudi-led coalition is busily slaughtering civilians with American refueling and intelligence support.
You wouldn't know it from watching the second presidential debate Sunday night. Even after one of the deadliest attacks of the Saudi campaign — a series of airstrikes on a funeral in Sanaa, Yemen's ancient capital, that killed more than 140 people Saturday — neither Donald Trump nor Hillary Clinton was asked about whether the U.S. should keep aiding an ally that appears to be actively targeting civilians.
Since debate moderators won't ask the presidential candidates about Yemen, we did. But neither campaign answered, and their public statements alone make it impossible to tell whether they would continue President Barack Obama's policy of supporting the Saudi-led coalition's war against the Houthi rebel group that now controls much of the western part of the country, including the capital.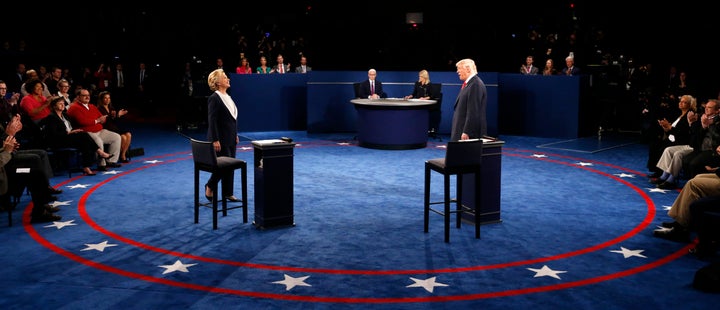 "Shouldn't this be something we're discussing as a country?" asked Adam Baron, a visiting fellow at the European Council on Foreign Relations, who lived in Yemen from 2011 to 2014. "Shouldn't the American people be aware of the fact that the U.S. is a major part of a war in Yemen?"
Because the U.S. isn't directly involved in the Saudi-led fight, there are no U.S. troops on the ground and both sides have committed human rights abuses, Yemen barely registers in the political consciousness of American voters. It's hard to quantify exactly how little the electorate cares about Yemen because pollsters don't even ask about it.
That helps explain why Clinton and Trump have been able to campaign for over a year without ever being made to outline a plan forward in the country.
It's hard to say what Trump would do in Yemen. There's no precedent to refer to, and the one time he talked about Yemen at length was back in January. See if you can make sense of what he said:
"Now they're going into Yemen, and if you look at Yemen, take a look … they're going to get Syria, they're going to get Yemen, unless … trust me, a lot of good things are going to happen if I get in, but let's just sort of leave it the way it is. They get Syria, they get Yemen. Now they didn't want Yemen, but you ever see the border between Yemen and Saudi Arabia? They want Saudi Arabia. So what are they going to have? They're gonna have Iraq, they're gonna have Iran, they're gonna have Iraq, they're gonna have Yemen, they're gonna have Syria, they're gonna have everything!"
If Trump were to become president, he'd likely be off to a rocky start with the kingdom. A former Saudi intelligence chief broke a cardinal rule of diplomacy with foreign allies earlier this year and criticized Trump's proposed Muslim ban at a dinner event. "I just hope you, as American citizens, will make the right choice in November," Prince Turki al Faisal said at the time.
It's possible Trump would try to rebuild relations with officials in Saudi Arabia, where he appears to be pursuing a hotel development project. At the same time, his past comments about ditching NATO allies who don't pay enough for U.S. protection suggest he could also be quick to cut off the Saudis.
Clinton hasn't offered a plan, either. But her record offers some clues about how she might act. She made a historic trip to Yemen as secretary of state in 2011, when she pledged a "balanced approach" to the country ― meaning social and economic support as well as counterterrorism cooperation. This could mean she'd push for the U.S. to play a greater role in ceasefire negotiations between Saudi Arabia and the Houthis.
There's no evidence Clinton would do anything to limit U.S. involvement in Yemen.
"My guess is she'd pick up where the administration left off," said Brian Katulis, a senior fellow at the Center for American Progress, a think tank closely aligned with Clinton.
The Obama administration plans to "review" its support to the Saudis, a spokesman said after Saturday's attack. But there doesn't yet appear to be any consensus about what that review will entail ― or any guarantee that it will take place before Obama leaves office in January. And Obama's decision against using military force in Syria in 2013, his push for the Iran nuclear agreement, and some undiplomatic comments he made about Saudi Arabia in an interview with The Atlantic have already cost him some leverage with the Saudis, Katulis argued.
"The Saudis have felt that they've gotten a particularly cold shoulder [from Obama]," said Jon B. Alterman, a senior vice president at the Center for Strategic & International Studies. "In many ways, the Saudis have responded by giving the cold shoulder."
A Clinton presidency could end up bringing Washington and Riyadh closer together.
Saudi Arabia and its coalition allies have been major donors to the Clinton Foundation. As secretary of state, Clinton was closely involved in securing a $29 billion arms sale to Saudi Arabia. Clinton's campaign chairman John Podesta co-founded a public relations firm in 1988 with his brother Tony that now counts Saudi Arabia as a client. John no longer works with the firm, but Tony, who heads it, is a major contributor to the Clinton campaign. Tony works personally on the $140,000-per-month Saudi contract, The Washington Post reported earlier this year.
Clinton would be better than Obama at managing the personal part of the relationship with the Saudis, Alterman said. "It's about having the Saudis feel that they're going to trust you and take your advice over their better judgment," he said. "And I think we're at a point in the Obama-[King] Salman relationship where that's simply not happening."
A new administration can result in a brief "honeymoon period," Katulis said. It's possible that Clinton could use personal leverage to pressure the Saudis to cease airstrikes against civilian targets in a way that the Obama administration has been unable to. But there's no guarantee that improved relations between the two countries would translate into Riyadh exercising more caution in Yemen. And if heavy civilian casualties resulting from the Saudi-led coalition's airstrikes continue, it's hard to imagine Clinton would be willing to cut off U.S. support.
"If anything, I would see her being more cautious about breaking with the Saudis," Baron said.
In the meantime, the U.S. role in the conflict in Yemen will continue to escalate. After the debate ended Sunday evening, someone in a Houthi-controlled part of the country fired two missiles into the Red Sea. They missed. But their target was a U.S. Navy destroyer.
HUFFPOST READERS: What's happening in your state or district? The Huffington Post wants to know about all the campaign ads, mailers, robocalls, candidate appearances and other interesting campaign news happening by you. Email any tips, videos, audio files or photos to scoops@huffingtonpost.com.
Sign up for the HuffPost Must Reads newsletter. Each Sunday, we will bring you the best original reporting, longform writing and breaking news from The Huffington Post and around the web, plus behind-the-scenes looks at how it's all made. Click here to sign up!
Before You Go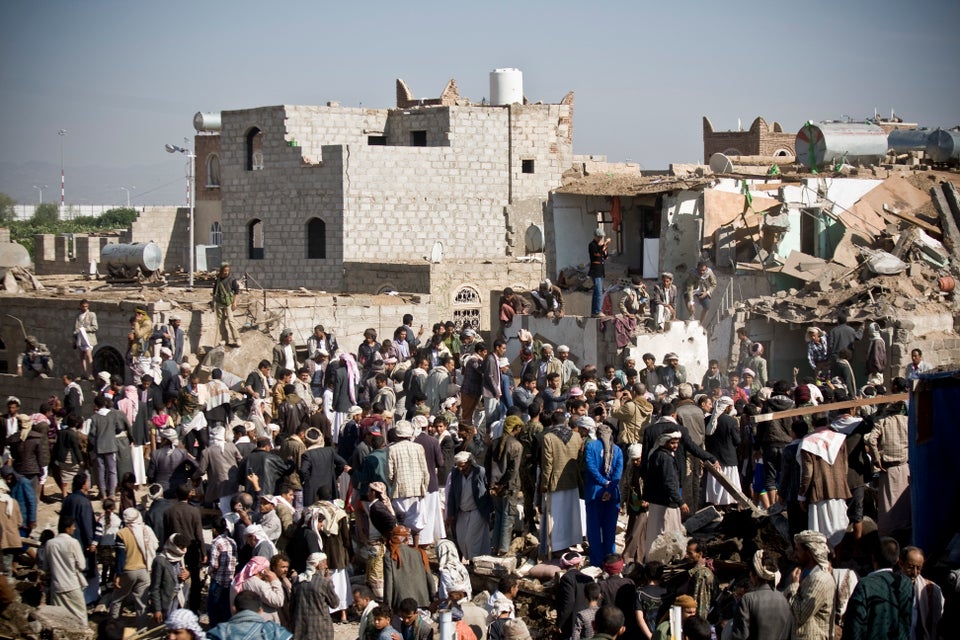 Saudi Airstrikes Yemen
Popular in the Community