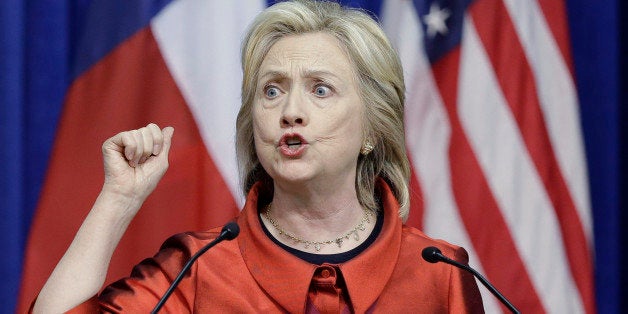 WASHINGTON -- In the nearly three months since announcing her presidential bid, former Secretary of State Hillary Clinton has leaned heavily on her past network of well-heeled donors to help her raise campaign cash quickly.
While the first campaign disclosures won't be filed until July 15, a review of publicly available fundraising events and media reports shows that of the 160 known Clinton donors who have hosted or appeared at fundraisers this year, nearly 60 percent gave to her last presidential campaign. Thirty-seven of her current donors bundled at least $100,000 for that 2008 run.
These past Clinton bundlers are a near-perfect representation of the contemporary Democratic Party donor communities. There are wealthy environmentalists like billionaire Tom Steyer and Esprit clothing founder Susie Tompkins Buell; gay and lesbian donors like Fred Eychaner and Laura Ricketts; trial lawyers Arthur Schechter and Ira Leesfield; Hollywood and music industry movers and shakers like Haim Saban and Clarence Avant; and New York City hedge funders like Marc Lasry, Richard Perry and Blair Effron.
While Clinton's old network has stepped up, few of the 800-plus bundlers who helped President Barack Obama break fundraising records in his 2012 re-election campaign have hosted events for Clinton -- at least so far. The Wall Street Journal suggests that many more top Obama bundlers are signed up to raise money for Clinton. Most of those who have already declared themselves for Clinton are either past Clinton bundlers or gave to her 2008 campaign.
These include Eychaner, a self-described "retired media executive" who first backed Clinton in 2008 before giving to Obama in the general election. In 2012, the wealthy Chicagoan raised over $500,000 for the president's re-election campaign. On May 20, he brought Clinton to his Chicago home for a donor event that was expected to net $250,000.
"Everybody working together needs to make Hillary the next president," Eychaner told Bloomberg ahead of the fundraiser.
David Cohen, the top lobbyist at Comcast and a major Democratic donor, was a $100,000-plus bundler for Clinton's 2008 campaign and a $500,000-plus fundraiser for Obama's re-election. He is set to host a fundraiser in Philadelphia for Clinton later this month.
Billionaires Steyer and Lasry were bundlers for both Clinton's 2008 campaign and Obama's 2012 campaign. This May, they held separate fundraising events for Clinton in San Francisco and New York, respectively.
Jeffrey Katzenberg, one of the top Obama fundraisers in 2012, was listed as a host for Clinton at a Los Angeles fundraiser. He was a donor to her last presidential bid.
"Hillary Clinton is grateful for the support of so many people who are contributing to the campaign because they know she'd be a great president who would fight to make sure the economy of tomorrow works for everyone," Clinton campaign spokesman Josh Schwerin said in an emailed statement. "We have made an effort to cultivate a diverse group of donors and bring new people onto the team. Hosts have been a combination of longtime Clinton supporters, Obama supporters and some who have never gotten involved in Presidential politics before."
There are few known big-money Clinton backers at this point who raised funds for Obama's re-election in 2012 but did not give to or raise money for Clinton's 2008 campaign.
One such donor, Stonyfield Farms owner Gary Hirshberg, will host Clinton for a fundraiser at his New Hampshire home in July, but hasn't forgotten his earlier skepticism about the candidate.
In an email to The Boston Globe, Hirshberg explained that he had "crossed the [R]ubicon" to become a Clinton backer. But, he wrote, "I am still counting on a serious conversation with [Clinton] later this month before I am fully and enthusiastically on board."
While Clinton may not be crossing over into the president's younger and more diverse donor network, she has brought in a few new faces. Actor Tobey Maguire and his wife Jennifer will hold a fundraiser for Clinton at their Los Angeles home on June 19, while 30-year-old Box CEO Aaron Levie has announced his intention to raise money for Clinton in Silicon Valley. Record producer L.A. Reid and his wife Erica, both new to the political money world, hosted Clinton at their New York home for an event in May.
Events in Los Angeles and New York have also brought out or will bring out a number of actors and singers, including Beyonce, Meghan Trainor, Stevie Wonder, Beth Behrs, Tony Bennett, Lady Gaga and Mary-Kate and Ashley Olsen.
But perhaps more notable is the way Clinton has been able to bring in those Democratic Party donors to her last campaign who kept their wallets closed to Obama's re-election. In some cases, the return of these donors and their aversion to some of the policies of the Obama era will probably raise eyebrows within the party's base.
Perry, the New York-based hedge fund manager of Perry Capital and owner of the luxury department store Barneys New York, is a longtime Clinton supporter who backed her 2008 bid. He gave to Obama's general election campaign in 2008, but did not donate to Obama's re-election or to any party committee in 2012.
Instead, Perry provided at least $1 million to The Israel Project, a stridently pro-Israel nonprofit that has been one of the most prominent opponents of the president's negotiations with Iran over the country's nuclear programs. The Israel Project has not only voiced opposition to a potential deal with Iran, but is calling for new sanctions against the country while the negotiations are underway.
For her part, Clinton has voiced support for the nuclear negotiations. Saban, an Israeli-American television producer who in November objected to the Iran deal while sharing a stage with Republican megadonor Sheldon Adelson, has hinted that Clinton is secretly opposed to them.
"I can't reveal to you things that were said behind closed doors," Saban told a reporter in April. "She has an opinion, a very well-defined opinion. And in any case, everything that she thinks and everything she has done and will do will always be for the good of Israel. We don't need to worry about this."
Two of the newly revived Clinton backers actually opposed Obama's re-election. Dr. Eva Andersson-Dubin, the founder of a breast cancer clinic and wife of investor Glenn Dubin, contributed $20,000 to support Obama's Republican opponent Mitt Romney. Lady Lynn Forester de Rothschild backed Republican primary candidate Jon Huntsman and has repeatedly denounced the Obama White House.
De Rothschild, a wealthy investor, was a leading anti-Obama activist among disaffected Clinton supporters after Clinton's 2008 primary loss. She endorsed the Republican candidate John McCain that year. De Rothschild has accused Obama of waging a "class war" and written that his policies are a "radical departure from the principles of the American dream." Clinton is now running to continue or expand those policies.
There is also a whole category of donors who were sidelined during the Obama era but will be reactivated for the Clinton campaign: lobbyists. Steve Elmendorf, a noted Democratic lobbyist and past Clinton donor who could not give to Obama's 2008 or 2012 campaigns, reportedly attended a Clinton fundraiser in the Red Hook neighborhood of Brooklyn in May.
Clinton is also attracting early support from Democratic Party lawmakers and other officeholders. Among those who have already appeared at fundraisers for her are Sens. Barbara Boxer (Calif.), Chris Murphy (Conn.) and Richard Blumenthal (Conn.), Reps. Joe Crowley (N.Y.), Jim Himes (Conn.), Grace Meng (N.Y.), Ted Lieu (Calif.) and Karen Bass (Calif.) and Chicago Mayor Rahm Emanuel.
Calling all HuffPost superfans!
Sign up for membership to become a founding member and help shape HuffPost's next chapter
BEFORE YOU GO
PHOTO GALLERY
Hillary Clinton