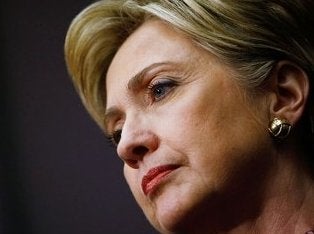 ***UPDATE***
The Clinton campaign issued a statement at around 9pm saying they will be hosting an event to announce her support for Sen. Obama on Saturday, as opposed to Friday:
Senator Clinton will be hosting an event in Washington, DC to thank her supporters and express her support for Senator Obama and party unity. This event will be held on Saturday to accommodate more of Senator Clinton's supporters who want to attend.
Multiple news organizations reported early Wednesday evening that Hillary Clinton is expected to officially suspend her campaign and drop out of the Democratic race on Friday.
Senator Hillary Rodham Clinton is moving to suspend her campaign and endorse Senator Barack Obama on Friday after Democratic members of Congress urged her on Wednesday to leave the race and allow the party to unite around Mr. Obama, according to a senior adviser to Mrs. Clinton.

Mrs. Clinton is likely to make the announcement in New York City, an aide said, although no final venue has been chosen.

Her decision came after a day of telephone conversations with supporters on Capital Hill about what she should do now that Mr. Obama has claimed enough delegates to secure the nomination. Mrs. Clinton had initially said she wanted to wait before making any decision, but her aides said that in conversations, some of her closest supporters said it was urgent that she step aside.
The Wall Street Journal is reporting that the word from the Obama camp is that a joint ticket is unlikely:
Close supporters suggested she would like to be his running mate, on a unity ticket.

But close advisers to Sen. Obama signaled an Obama-Clinton ticket was highly unlikely. People in both camps cited what several called "a deal-breaker" -- Bill Clinton may balk at releasing records of his business dealings and big donors to his presidential library.
Popular in the Community