Clinton, the former secretary of state and first lady, early Thursday posted an op-ed to the website of Too Small To Fail, an advocacy campaign coordinated by former Clinton staffer Ann O'Leary. The campaign, Clinton wrote, will help educate parents and push for more workplace flexibility.
Clinton is framing the expansion of early childhood education as a question of equity, playing off profound "word gaps" between rich and poor children before they even start school. According to this research, by the time they turn four, kids growing up in upper- and middle-class homes hear 30 million more words than tots whose families are on welfare.
"Coming to school without words is like coming to school without food or adequate health care," Clinton wrote. "It makes it harder for kids to develop their creativity and imagination, to learn, excel, and live up to their full potential. It should spur us to action just like child hunger and child poverty." The op-ed accompanies the release of a report Too Small calls a "roadmap" laying out the research behind and campaign for early childhood education improvements.
The op-ed is mostly a rehash of existing ideas on preschool, but may provide insight into a potential Clinton presidential run in 2016.
The article suggests that Clinton may initially be risk-averse, friendly to the business community and the middle class, and support a platform around child welfare issues. Education reform in K-12 schools has become politically fraught, dividing teachers unions, one of which endorsed Clinton during her 2008 presidential run, from Democrats in the Obama administration over issues such as teacher tenure, performance evaluations and school accountability.
But early childhood education is generally less divisive, uniting Democrats, some Republicans and business leaders. In his State of the Union Address this year, President Barack Obama proposed an expensive new preschool program that would use state and federal funding to put more than one million children into new preschool slots.
More recently, New York City Public Advocate Bill de Blasio (D) made a similar plan a major plank of his successful campaign in the Democratic mayoral primary.
Wall Street giant Goldman Sachs is getting in on the early childhood education action, as well. Business leaders have been supportive of the Obama initiative, and Goldman is lending up to $4.6 million to an early childhood education program in Salt Lake City. Goldman's loan, known as a "social impact bond," could ultimately turn a profit. It's also paying social dividends: Lloyd Blankfein, Goldman's CEO, is slated to appear on an early education panel at next week's NBC Education Nation summit.
Few in the early-education community expect Congress to adopt the Obama plan. U.S. Secretary of Education Arne Duncan has travelled the country in search of a Republican governor to become the face of the program, to no avail.
Clinton did not mention Obama's idea by name in her piece. "I have been an advocate for early childhood development for my entire adult life, ever since I was a young law student working at the Yale Child Study Center," Clinton wrote. "And the more I learn about the new research in the field, the more I am convinced that this is an issue vital to the future competitiveness of our country, the strength of our families, and the health of our communities. That's why I've made early childhood development a major focus of my new work at the Bill, Hillary & Chelsea Clinton Foundation. "
James Heckman, a Nobel prize-winning economist, has shown that every dollar spent on quality early childhood education yields a 7 percent to 10 percent return on investment. But fewer than half of American children ages 3 and 4 are in a pre-kindergarten program of any kind.
Clinton wrote that Too Small To Fail will conduct a "public action campaign" to educate parents on "having quality interactions with their babies." The campaign will work with the business community to give parents more flexibility.
"The Head Start community is very much engaging parents in various literacy activities and would especially welcome her [Clinton's] outreach to employers of the low-income workforce," said Yasmina Vinci, who leads the National Head Start Association.
O'Leary, a leader of the Too Small To Fail campaign, previously worked as Clinton's senatorial legislative director, and served on President Bill Clinton's White House Domestic Policy Council. She now heads child-focused initiatives at the Next Generation, a San Francisco-based nonpartisan nonprofit that explores child welfare policies.
CORRECTION: This article has been updated to reflect that Next Generation is based in San Francisco.
Before You Go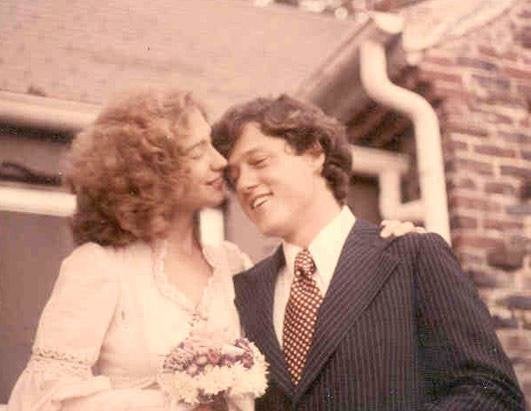 Hillary And Bill Through The Years
Popular in the Community