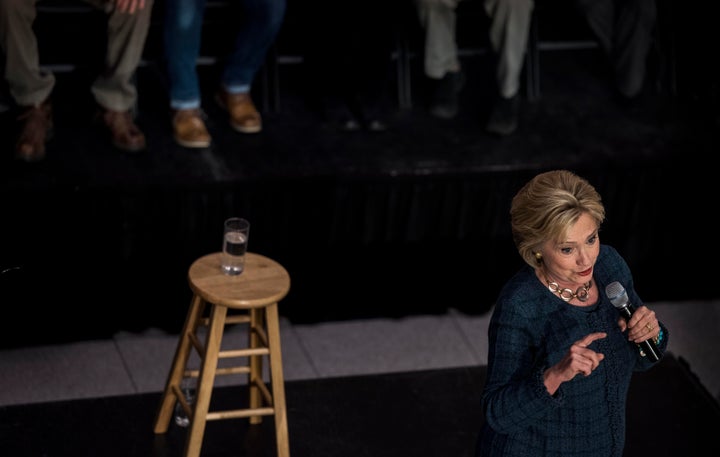 Hillary Clinton may have something of an electability problem.
The problem is not that Democratic voters don't think she's electable. It's that they don't care who's electable.
That's too bad for Clinton, since she's made electability a cornerstone of her campaign. Her ads now running in Iowa and New Hampshire describe her as "the one candidate who can stop" a Republican.
To try to gauge how much Clinton's electability argument is resonating, HuffPost teamed with YouGov to probe the views of Democratic and Democratic-leaning voters. What we found is that only 8 percent say they're backing somebody who isn't their top choice, but whom they see as more electable. Sixty-two percent say they're supporting their favorite candidate regardless of that consideration, while the rest are undecided or don't plan to vote.
"I am absolutely determined that we're going to make sure we have a Democrat to succeed President Obama so we don't let the Republicans rip away the progress we have made together," Clinton told Iowa voters earlier this month. In New Hampshire, she similarly made what Time magazine described as "a pitch for pragmatism, not passion."
The target audience for Clinton's electability argument also seems to be shrinking.
A majority of all Democratic and Democratic-leaning voters -- 54 percent -- now say that Clinton's chief rival, Sen. Bernie Sanders, is in fact electable. And not everybody agrees with Clinton's assessment of her own strength: 83 percent of Democratic and Democratic-leaning voters deem her electable, meaning nearly 1 in 5 think she does not have a chance in the general election. (Most of the latter, presumably, are already in the Sanders camp.)
"[I]f the issue of electability were ever to shift dramatically to Sanders' advantage, this race would quickly and dramatically change," Democratic strategist Steve Kofinis wrote after conducting a focus group of mostly black South Carolina voters, who currently lean heavily toward Clinton.
If Clinton is just an option, rather than the only viable possibility, for the Democratic Party, she needs to worry about attracting passion to go along with the pragmatism.
Last July, HuffPost/YouGov polling found Democratic and Democratic-leaning voters 10 points more likely to be enthusiastic about Clinton than about Sanders, and 28 points more likely to say they'd be at least satisfied to have her as the nominee as to have him.
Clinton hasn't become any less popular since then, but Sanders has caught up, nearly erasing that gap. Seventy-nine percent now say they would be at least satisfied to have Clinton as their candidate, while 73 percent say the same about Sanders. Forty percent would be enthusiastic about a Clinton candidacy, while 42 percent say the same about Sanders.
None of this is fatal news for Clinton. Despite her current struggles in Iowa and New Hampshire, she so far has maintained a significant lead in national polls. Sanders has yet to woo the chunk of minority voters he would need to win in states like South Carolina and Florida. She also faces a primary electorate that, unlike the GOP counterpart, substantially prefers an establishment candidate over an outsider.
Another problem for Sanders is that his support is by far strongest not among Democratic Party members, but among sympathetic independents who may or may not turn out to vote in primaries and caucuses. Democratic-leaning independents are far likelier than Democrats to consider Sanders electable and to express outright enthusiasm about his candidacy. Party members are considerably more positive about Clinton.
The HuffPost/YouGov poll consisted of 1,000 completed interviews conducted Jan. 16-19 among U.S. adults, using a sample selected from YouGov's opt-in online panel to match the demographics and other characteristics of the adult U.S. population.
The Huffington Post has teamed up with YouGov to conduct daily opinion polls.You can learn more about this project and take part in YouGov's nationally representative opinion polling. Data from all HuffPost/YouGov polls can be found here. More details on the polls' methodology are available here.
Most surveys report a margin of error that represents some, but not all, potential survey errors. YouGov's reports include a model-based margin of error, which rests on a specific set of statistical assumptions about the selected sample, rather than the standard methodology for random probability sampling. If these assumptions are wrong, the model-based margin of error may also be inaccurate. Click here for a more detailed explanation of the model-based margin of error.