Democratic presidential candidate Hillary Clinton on Saturday downplayed a federal probe into a private email server that she used while secretary of state and repeated that she did not send or receive materials marked classified on the account.
The Democratic front-runner also said that her email account was not an issue that voters were concerned about.
"I never sent classified material on my email and I never received any that was marked classified. I'm gonna let whatever this inquiry is go forward and we'll await the outcome of it," Clinton told reporters at the Iowa State Fair, where she was endorsed by Tom Harkin, the state's former Democratic senator. "It's not anything people talk to me about as I travel around the country. It is never raised in my town halls, it is never raised in my other meetings with people."
In a HuffPost/YouGov poll in late July, 60 percent of respondents said that Clinton's use of a personal email address was a somewhat serious problem. The same poll found that Republicans were five times more likely to describe Clinton's personal email usage as a very serious problem.
Clinton's comments came after she turned over her personal server and her lawyer handed in a thumb drive with emails that she had already submitted to the State Department. This week, McClatchy also reported that two emails on the server had been found to contain information classified as top secret. The FBI is investigating how such sensitive material wound up on Clinton's server, though Clinton herself is not the target of the investigation, The New York Times reported.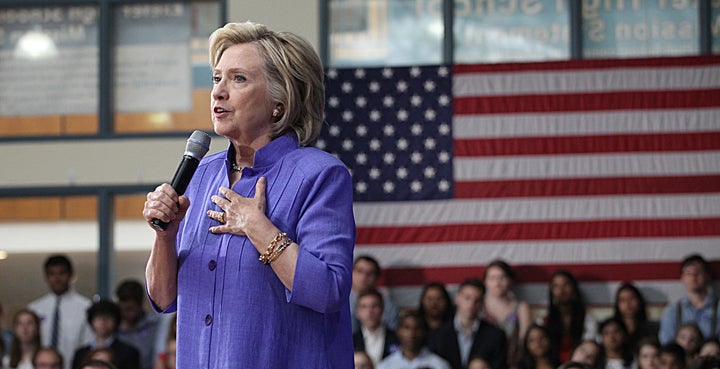 Clinton also said that attacks on her email are partisan and accused Republicans of politicizing the 2012 attack on the U.S. consulate in Benghazi, Libya, that left four dead, including ambassador J. Christopher Stevens.
"I do think if you look at the Republicans in Congress, the ones running for president, there is an unfortunate tendency to try to make partisan a tragedy in Benghazi," she said. "This is the usual partisanisation [sic] of anything that goes on."
The former secretary of state on Friday joked about the investigation, saying how much she loved Snapchat, a picture and video message service that automatically deletes messages.
"I love it, I love it. Those messages disappear all by themselves," she said.
Popular in the Community