WASHINGTON -- Hillary Clinton on Tuesday called for the immediate release of email correspondence sent during her tenure as secretary of state, saying that the email records are "not mine, they're the State Department's."
"Nobody has a bigger interest in getting them released than I do," the presidential contender told reporters during a campaign event in Iowa. She urged State Department officials to "please move as quickly as they possibly can to get them out."
Clinton used a private email account while at the State Department, from which she deleted approximately 30,000 emails that she said were related to personal matters. There are still 55,000 pages of undeleted email records, of which the U.S. State Department has offered to release portions by next January, citing the breadth of material and the sensitive nature of information. However, a federal judge on Monday rejected that request, saying the agency must instead conduct a "rolling production" of the emails.
Clinton also brushed off concerns raised in The New York Times about her correspondence with Sidney Blumenthal, a longtime friend. The two were in communication about Libya while Clinton was at the State Department.
"He's been a friend of mine for a long time," Clinton told reporters Tuesday. "I'm going to keep talking to my old friends, whoever they are."
Clinton's visit to Iowa, where she spoke with local business owners, was her second since announcing her bid for the White House last month. Her campaign has so far restricted her appearances to low-key events focused on single issues, such as access to community college or reforming the immigration system, in an effort to appeal to Democratic primary voters. But the controlled nature of the events has irked Clinton's potential Republican rivals for the presidency, who have criticized her for ignoring the press. The drought ended Tuesday, however, when she walked over to a frenzied huddle of reporters to field several questions.
During her discussion with Iowa business owners, Clinton vowed to ease regulatory burdens on small businesses, rather than on the big Wall Street banks that have thrived in the years since the Great Recession.
"It's not the big banks that require relief from Washington. It's small banks and small businesses," Clinton said. "We should keep regulations where they belong on the big banks while providing relief for small businesses."
The former secretary of state further said that she would cut "unnecessary red tape" and "scrub our federal regulations to find responsible ways" to clear the path for small businesses.
But when she was asked about her position on the Trans-Pacific Partnership -- a major trade pact that the Obama administration is currently negotiating with 11 other countries, and one that has exposed severe fissures within the Democratic Party -- Clinton took a more cautious approach.
"There are questions being raised about this current agreement. It hasn't been fully negotiated yet, so I don't know what the final provisions are yet," she said, adding that she would like to "judge the final agreement."
Before You Go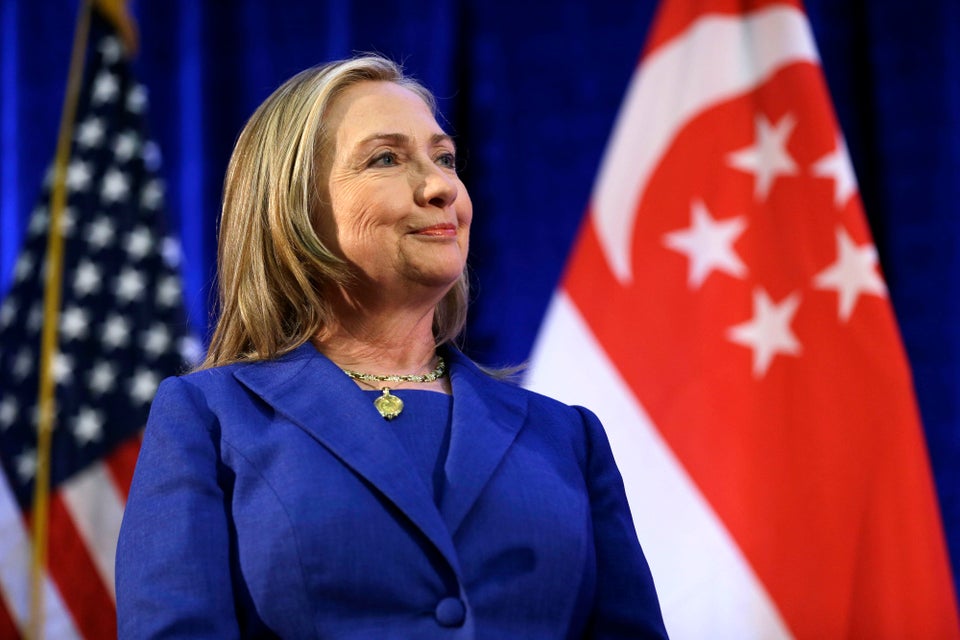 Hillary Clinton
Popular in the Community