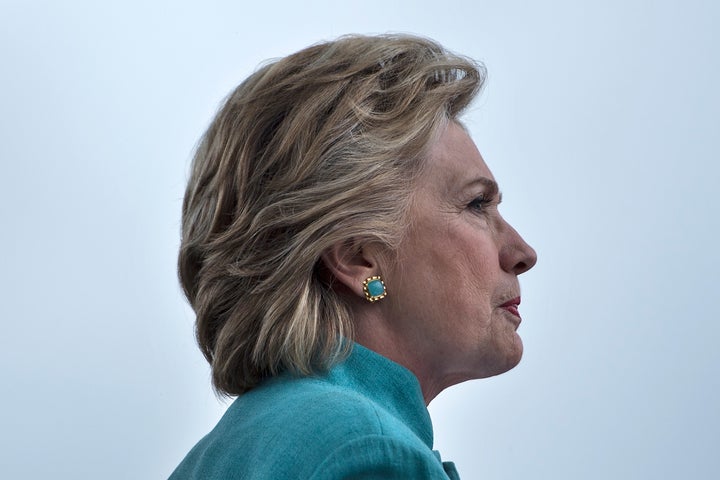 WASHINGTON ― When Ellen Malcolm founded EMILY's List in 1985 to elect more women to office, the idea of a female president was almost unfathomable.
"Voters were just mystified at the idea of a woman running for office," she said. "If a woman ran for Congress, people would ask her, 'Who's doing the grocery shopping? What does your husband think? Who's taking care of the kids? Do you really think you could understand the federal budget?'"
Thirty years later, EMILY's List has helped elect 19 Democratic women to the Senate and 110 to the House of Representatives, 11 female governors, and more than 700 women to state and local offices. It's raised more than $400 million to train "pro-choice" Democratic women to run for office. And, by electing hundreds of competent and successful female leaders, the group slowly warmed American voters to the idea that a woman can run the whole country.
Now, as the founding vision of Malcolm's group is so close to being realized, the emotions are difficult for her to process. Tuesday could mark the culmination of a goal three decades in the making, or a crushing, emotionally wrenching defeat.
"I'm at this stage where I don't want to read any more news. I can't stand it," Malcolm said. "But on the other hand, I can't not read it. I'm just so excited at the prospect of Hillary winning. It's overwhelming."
Two days before the presidential election, the race is much closer than Hillary Clinton's supporters would have hoped ― especially considering that her opponent is a reality TV star who has bragged about grabbing women "by the pussy."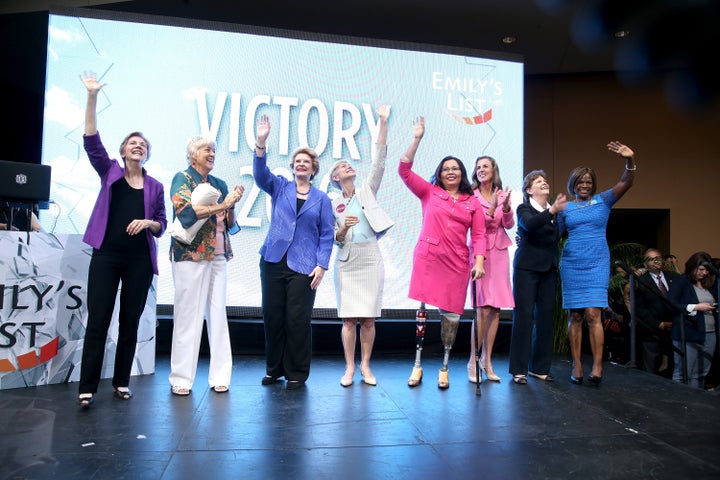 Feminist political operatives expected that these hurdles would have to be cleared; the road to putting a woman in the White House has been long and arduous. When EMILY's List helped elect Barbara Mikulski (Md.) to the Senate in 1986, she was the first Democratic woman that had ever held a Senate seat not previously occupied by her husband. Women have always been more hesitant than men to run for office, not only because of lingering sexism in the public sphere, but because of the financial barriers to running a successful campaign. It takes a lot of money to win a seat in Congress, and women are less confident about their ability to fundraise than men.
That's where EMILY's List comes in. The group holds recruiting sessions in states across the country to motivate and train women to run for office, and then it pours early money into their campaigns. In 1988, women made up only 5 percent of Congress; now, thanks in large part to EMILY's List, they make up nearly 20 percent. And the group has built up a pipeline of women in state and local offices from which it can pull seasoned candidates into bigger House, Senate and now presidential races.
Stephanie Schriock, president of EMILY's List, recognizes Clinton's struggles to excite some voters. But she believes women are just afraid to fully feel their emotions about this historic moment until after Clinton actually wins.
"There is an emotion that's pent up, and I do believe that on Tuesday night, if we do what we need to do and get voters out and elect Hillary president, there is going to be an emotional release by women across this country that is going to be extraordinary," she said. "Even I feel it. I feel like I can't have an emotion yet ― I gotta keep it contained until we get this done. We haven't given women permission to feel this moment, and we've got to do that."
Even if Clinton does win, the celebrations among those who work to elect women to office may be short-lived. Among officials in this community, there is a widely shared concern that a Clinton victory will be downgraded in its significance; that critics will insist Donald Trump's shortcomings were solely to credit for her win.
"There is going to be an emotional release by women across this country that is going to be extraordinary."
For the women who have worked for decades to prepare the public for a female president, this would undervalue not just the historical significance of a Clinton win but the challenges she faced.
"We've spent 30 years seeding this ground, helping it become an environment where voters were going to be OK with voting for a woman," Schriock said. "And we're really, really proud of the campaign she has run. She's put out an incredibly strong vision for this country, centered on economic opportunities for women and families."
As it stands on the doorstep of helping elect the country's first female president, EMILY's List has ramped up its political operations. In October, the group partnered with the progressive PAC Priorities USA on a $20 million digital ad blitz targeting millennial women. And Malcolm, 69, is personally phone banking for Clinton in the final days of the election.
"That's the culture of EMILY's List," she said. "If the bathroom of the campaign office needs to be cleaned, we'll clean the bathroom. Whatever it takes."
Schriock said the energy she's seeing on the ground for Clinton in swing states like New Hampshire, Pennsylvania and North Carolina have her confident that Clinton is going to eke out a victory. She is preparing for her own emotional release at the EMILY's List watch party Tuesday night.
"We're gonna have lots of Kleenex," she said.
Popular in the Community