WASHINGTON -- Hillary Clinton issued perhaps the most pointed critique yet of her 2016 Republican challengers on Wednesday while campaigning in Columbia, South Carolina. Addressing the state's Democratic Women's caucus, the former secretary of state took a veiled shot at several GOP presidential contenders for opposing legislation that would ensure pay equity for men and women.
Though she did not specifically mention their names, Clinton criticized Wisconsin Gov. Scott Walker (R) for calling equal pay a "bogus" issue, Sen. Marco Rubio (R-Fla.) for saying Congress was "wasting time" on the matter and Sen. Rand Paul (R-Ky.) for comparing paycheck fairness to price-setting by the Soviet Union's governing body, the Politburo.
"What century are they living in?" Clinton said, drawing applause from supporters in the audience.
Clinton's pitch to women will be a substantial part of her campaign theme in South Carolina, where she lost the Democratic primary in 2008 to then-Sen. Barack Obama. It will also be key to her national strategy, as she woos the coalition of women, minority and young voters that twice propelled her former rival to the White House.
"This is not a women's issue. This is a family issue and an American economic issue," Clinton said on Wednesday. "I want to get up every single day going to work for you, standing up for you, making a difference for you."
The candidate added another observation to her regular stump speech that was especially well-received by the audience. Presidents-elect, Clinton noted, enter the White House fresh-faced, with color in their hair. But then "they grow grayer and grayer, and by the time they leave, they're as white as the building they live in."
"I may not be the youngest candidate in this race, but I have one big advantage -- I've been coloring my hair for years," Clinton said, drawing laughter from the audience.
Republicans countered by accusing Clinton of hypocrisy on the equal pay issue. Allison Moore, a spokeswoman for the Republican National Committee, pointed to a report that showed a disparity in pay between men and women employed in Clinton's office when she was a U.S. senator from New York. (The report's methodology, however, is disputed by both representatives for Clinton's campaign and a separate analysis by BuzzFeed.
"Hillary Clinton has a habit of contradicting pro-women words with anti-women actions," said Moore. "Clinton now claims to care about equal pay, yet paid women significantly less than men in her own Senate office. The reality is that Hillary Clinton will say anything to benefit herself politically."

Before You Go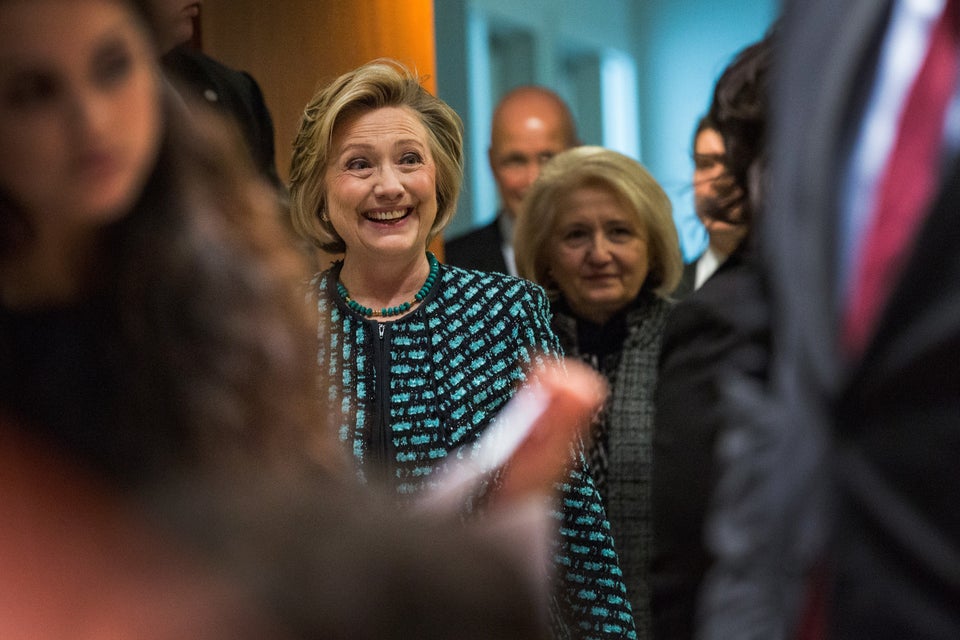 Hillary Clinton
Popular in the Community