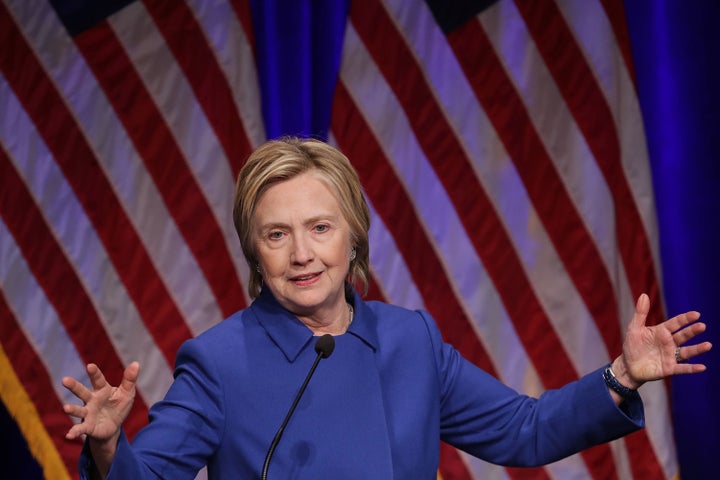 Hillary Clinton said Wednesday that it "makes absolutely no sense" to let funding for the Export-Import Bank expire, drawing a contrast with her chief rival for the Democratic presidential nomination, Sen. Bernie Sanders (I-Vt.), who has called the bank a form of "corporate welfare." 
The government-run bank gives U.S. companies loans to promote their services and products abroad. Earlier this year, progressive Democrats and conservative free-market Republicans joined forces to let funding for the New Deal-era agency expire on July 1. Some recipients of the bank's loans, like Boeing, have since threatened to move their operations overseas. 
The House approved legislation Tuesday that would reopen the bank. The measure will now go to the Senate.
The following day, Clinton said renewing the Ex-Im Bank was a "no-brainer." Speaking at an event in New Hampshire, she said she was relieved the House had voted to reauthorize, and urged the Senate to do the same. 
"For the life of me, I don't understand the arguments" against the bank, Clinton said. "There are people in Washington against it and that makes absolutely no sense."
Those "people in Washington" include Sanders, who was one of 29 senators to vote against reauthorizing the Ex-Im Bank's charter this summer. He said at the time that he voted no because the government's priority should be helping businesses that create jobs in the United States, rather than helping "multi-national companies that are shipping jobs to China and other low-wage countries." 
"At a time when almost every major corporation in this country has shut down plants and outsourced millions of American jobs, we should not be providing corporate welfare to multi-national corporations through the Export-Import Bank," Sanders said. 
The candidate also included a local appeal in her remarks on Wednesday, noting that the bank had supported 2,400 jobs in New Hampshire and facilitated $29 million in exports from businesses based in the state.
Sanders leads Clinton by just over 7 percentage points in New Hampshire, according to HuffPost Pollster. The state holds the first primary in the nation. 
CORRECTION: An earlier version of this article misstated that Clinton was leading Sanders in New Hampshire.
PHOTO GALLERY
Here Are Hillary Clinton's Many Facial Expressions During Her Benghazi Committee Testimony
Calling all HuffPost superfans!
Sign up for membership to become a founding member and help shape HuffPost's next chapter