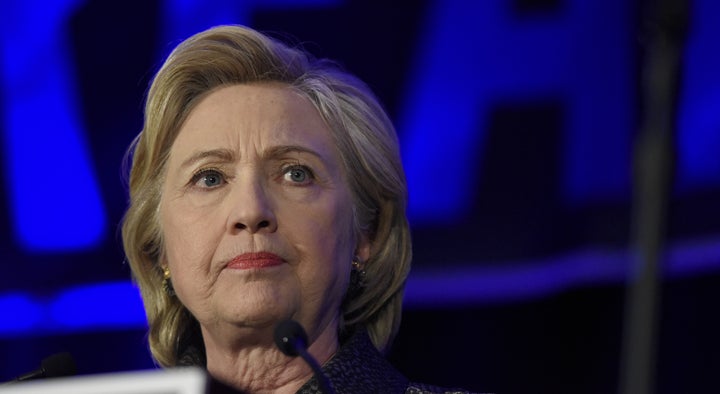 At a campaign stop in Iowa on Wednesday, Democratic presidential front-runner Hillary Clinton claimed to be unaware that she'd ever received campaign contributions from the fossil fuel industry -- even though she has received over $150,000 from oil and gas representatives during the 2016 cycle alone.
When asked by a member of the audience if she would follow Sen. Bernie Sanders (I-Vt.) and former Maryland Gov. Martin O'Malley, her rivals for the Democratic presidential nomination, in rejecting fossil fuel donations, Clinton initially demurred.
"Well, I don't know that I ever have [accepted donations from the fossil fuel industry]," the former secretary of state said. "I'm not exactly one of their favorites."
"Have I?" she went on. "OK, well, I'll check on that. They certainly haven't made that much of an impression on me if I don't even know it."
Clinton has in fact received $159,944 during the 2016 cycle from members of the oil and gas industry, according to the Center for Responsive Politics. That's more than every Republican candidate except Sen. Ted Cruz (R-Texas) and former Florida Gov. Jeb Bush.
HuffPost reported in July that Clinton's biggest campaign bundlers are fossil fuel lobbyists, including lobbyists for Chevron.
Watch Clinton's comments in the video below:
Clinton went on to say that she had a strong record on the environment and that she wants to transition to "clean, renewable energy."
"I am not in favor of drilling off our coasts," she said. "I was out there first, before even the president, saying 'No drilling in the Arctic.' I believe strongly that we need to have a path of transition, so everybody knows where I stand."
"Everybody knows when I was in the Senate, I voted that way," Clinton continued. "I voted against the big energy giveaway bill in 2005. I'm on record. So, you know, individuals who might have some connection to whatever industry, I'm not going to do a litmus test on them."
Clinton added that she wants to build half a billion more solar panels in the United States by 2020, and to be able to power every home with clean energy by 2024.
As the clear Democratic front-runner, Clinton is inherently a major target for corporate donors looking to secure political influence for themselves. And oil and gas donations to Cruz and Bush far outpace those to Clinton. Bush has raised 70 percent more from the sector than Clinton, while Cruz has raised over three times the sum Clinton has. And the donations themselves are not evidence of any quid-pro-quo corruption on Clinton's behalf, or anyone else's.
But Clinton's ties to top fossil fuel donors have raised questions about her commitment to other environmental policies in the past. One of her top "Hillblazer" bundlers -- people who have assembled over $100,000 for Clinton -- is Gordon Giffin, a former lobbyist for TransCanada, the company that spent years urging the U.S. to build the Keystone XL pipeline.
As HuffPost has previously reported, Giffin serves on the board of the Canadian Imperial Bank of Commerce, which invested in the pipeline and paid Clinton $990,000 for speeches in the months before she announced her presidential run.
Clinton refused to take a position on the pipeline for months, only announcing her opposition to the deal in late September, at which point the economic viability of the project had significantly deteriorated.
Zach Carter is a co-host of the HuffPost Politics podcast "So That Happened." Subscribe here, or listen to the latest episode below:
Popular in the Community