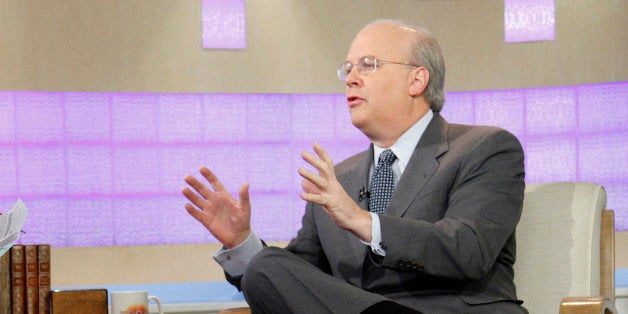 As predicted, Karl Rove's recent remarks about Hillary Clinton's blood clot episode back in December, 2012, has officially become a topic of intense Truther-style speculation on Fox News Channel. You might recall how Rove cleverly speculated that Clinton might've suffered some sort of traumatic brain injury due to the blood clot: "Thirty days in the hospital? And when she reappears, she's wearing glasses that are only for people who have traumatic brain injury? We need to know what's up with that."
He tried to walk it back, but in classic Rove style leaving enough wiggle room to park an elephant. Through that gap, the neo-Birther campaign emerged.
Charles Hurt wrote in The Washington Times:
In any event it was an awkward MRI moment that should have gotten the former first lady checked into a rubber room for further evaluation.

And, if she really wants to be president, the American people have a right to know what the results of that MRI showed.
The "show us the birth certificate" conspiracy theory of the 2016 campaign has begun, this time with medical records. Republican strategist Brad Blakeman carried the crazy-torch on Fox News Channel:
"Hillary has done herself a disservice. When she suffered this illness she was a public servant, she was a secretary of state. She could have ended this by making her records public at that time, then we really wouldn't be talking about it at this time."
Mary Kissel from the Wall Street Journal repeated the same line on the same day -- almost as if they're... organized.
Then, in spite of the fact that Rove initially tried to qualify his remarks about Clinton's brain, here he is on Fox News Channel inextricably tying it to the 2016 campaign:
My other point is, this will be an issue in the 2016 race whether she likes it or not. Every presidential candidate is asked for all of their health records, by the New York Times, they turn them over -- and vice presidential candidates -- they turn them over to a battery of doctors and they examine them in detail.
And finally, last week on Fox News' The Five (because it's on at 5 p.m. and there are five panelists), during a segment pivoting off of Sarah Palin's invoking of Clinton's brain, Botox victim Eric Bolling suggested that to ask about Clinton's brain is "a legitimate question whether there's any lingering damage."
So can you see precisely how they're going to attack Clinton for the next two-and-a-half years (maybe more)? A pair of conspiracy theories. It'll be Brain-Damage-Gate and Benghazi-Gate. When one theory runs out of steam, they'll jump to the other theory, swapping back and forth based on whatever's convenient. If they're not flogging either of those topics, it'll be a journey through the space-time continuum to the jolly old '90s, with all of the Bill Clinton-era conspiracy theories re-emerging like a zombie apocalypse.
The good news is that the GOP and Fox News is playing their hand way too early. Sure, every time Clinton has a gaffe or looks tired, it'll be the brain damage. But with so much lead time, there's a chance the would-be Clinton campaign will be ready to knock it all down, swiftly and in a way that makes Fox News look like the cage of buffoons they are.
Popular in the Community