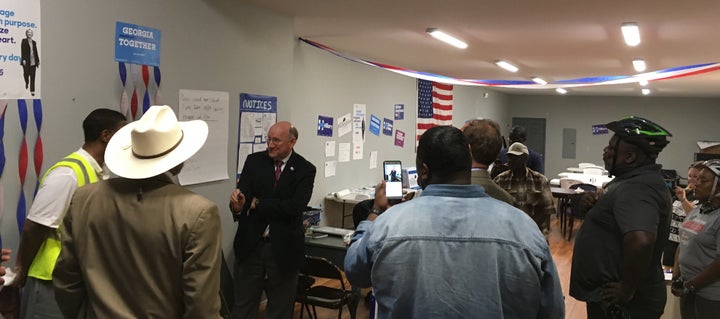 ATLANTA ― For Republicans nervous about an electoral catastrophe next month, Lesley Jones could be a harbinger of doom.
She's 41 years old, has a University of Georgia bachelor's degree, and considers herself a solid Republican. Yet she walked into the Chastain Recreation Center gym in the upscale Buckhead neighborhood this week and cast her presidential ballot for Democrat Hillary Clinton rather than Republican Donald Trump.
"There's been nothing. He's presented me with nothing. And what he has presented me has been so offensive," Jones said, adding that she actually considered supporting Trump back when he first secured the nomination. But she said the more she heard from him, the more disgusted she became. His recorded boast of being able to sexually assault women because of his celebrity was the last straw. "I'm embarrassed to be a Republican and have this nominee."
It would be one thing if Jones, who supported former Florida Gov. Jeb Bush in the Republican primaries, were an anomaly. Unfortunately for Georgia Republicans, she instead represents a key reason why a state won handily by 2012 GOP Mitt Romney is, according to polls, statistically tied just four years later.
Chastain Park is surrounded by streets dotted with mini-mansions on giant lots. The basketball gym is a part of a complex that includes an equestrian center, and the parking lot sports Lexuses, Audis, Mercedeses ― even a bright blue Maserati. Romney won this particular precinct 70 percent to 28 percent in 2012.
Yet on a recent day of early voting there, sentiments like Jones' were hardly unusual.
Another Republican woman who voted for Clinton started laughing when asked what was the matter with Trump. "I'd say just about everything," she said, asking that her name not be used to avoid arguments with friends who still support him.
Iris Regas, 62, called Trump "a wild man" who couldn't be trusted with any real responsibility. She voted for Libertarian Gary Johnson.
While polls bear out that Trump's support has plummeted among college-educated Republican women, he was having trouble with some of Chastain Park's Republican men, as well.
Raymond Hill, a 69-year-old business professor at Emory University, said he voted for Romney in 2012, but went for Johnson this time. "Do I have to explain it to you?" he laughed when asked why.
"He's a misogynist. He's a narcissist. And he's not a Republican," said Republican retiree Jack Hullings, 64, now an official Clinton voter. "I'm not sure I want his hand to be the one hovering over the red button."
"There's been nothing. He's presented me with nothing. And what he has presented me has been so offensive. I'm embarrassed to be a Republican and have this nominee."
Democrats have long dreamed of the time when Georgia's electoral votes would present a serious opportunity for them. African Americans account for 32 percent of the overall population, while Latinos now make up almost 9 percent. Both groups overwhelmingly support Democratic candidates.
Beyond that, Atlanta for generations has been a magnet for college-educated professionals from the South who wanted more opportunities, but didn't want to leave the region. This was particularly true for women, who for decades faced not just fewer options in the smaller cities and towns, but a culture that discouraged them from seeking professional and managerial positions.
Georgia's demographics, in fact, are quite similar to North Carolina's. Just over 28 percent of Georgia adults have at least a bachelor's degree ― barely above the level in North Carolina ― and Georgia's $49,300 median household income is nearly $3,000 higher than North Carolina's. (In contrast to both, the bachelor's degree attainment rate in Alabama is only 23 percent, while the median household income is $43,500.)
Significantly, Georgia's black population share is a full 10 percentage points higher than North Carolina's. In theory, that should make it easier for Democrats to win there.
Instead, though, Georgia Democrats watched then-Sen. Barack Obama's campaign pull its paid staff from their state in September 2008 and send it up the interstate to North Carolina. Obama managed to eke out a 0.5 percentage point win in North Carolina over Republican John McCain, while losing Georgia by 5 points.
In 2012, neither side paid much attention to Georgia, and Romney won it by 8 points ― proof, to state Democrats, that even a small investment could have made a difference.
Four years later, thanks to Trump, Georgia Democrats are getting their wish. The Clinton campaign, working with the Democratic National Committee and the Georgia Democratic Party, has opened 11 field offices, compared with Trump's single office. It sponsored a bus tour last week to coincide with the start of early voting. And, in the most tangible sign that Democrats are serious, the pro-Clinton super PAC Priorities USA Action this week began airing TV ads in the state ― $2 million worth, so far, in Atlanta, Macon and Savannah.
"I like some of the things Hillary is saying. But Donald? He needs some help. Like for his head."
At the Clinton-Kaine office in downtown Macon last week, Georgia Democratic Party Chairman DuBose Porter trumpeted all this new attention at a nightly session of phone-banking.
"We're in a toss-up state now. We have the opportunity to turn Georgia blue this year," Porter told the gathering of a dozen volunteers. "Imagine what we can do in the governor's race in two years. And imagine what we can do two years after that with reapportionment."
John Swint, chairman of the Macon-Bibb County Democrats, said the higher profile and increased staffing could finally allow the state party to reach its potential. "We have the registered voter base in Georgia. Our problem is turning them out," he said.
At least last week, that did not appear to be a problem. Voters in the predominantly African American community stood in long lines, some for hours, to cast their ballots.
Jackie Spradley, 65, saw no reason to wait through the remaining days of the campaign. "My mind is made up," she said as she walked into the restored former railway terminal that now contains county offices. "I like some of the things Hillary is saying. But Donald? He needs some help. Like for his head."
Greg Pope also saw no point in delaying any further. "I've seen enough." The 59-year-old courier lost his own business a decade ago when a major client declared bankruptcy, leaving Pope with $15,000 in unpaid invoices. He said he found Trump's history of not paying contractors deeply offensive. "When I render my services, I want to get paid," he said.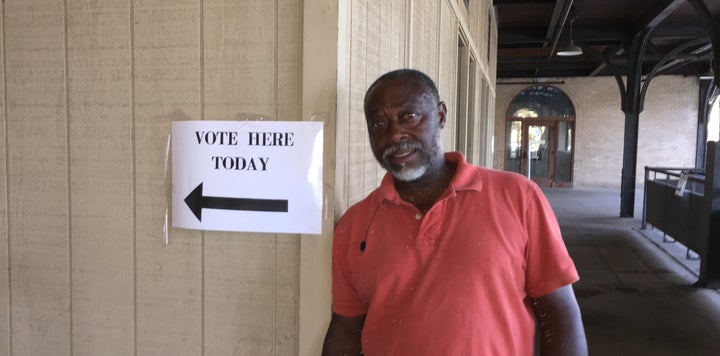 Ninety miles to the north, from his 49-story office balcony overlooking Centennial Olympic Park and Georgia Tech's football stadium, Randy Evans has a somewhat different view. He said he recalls Democrats crowing about their chances in the 2014 governor's contest, too, when challenger Jason Carter appeared to be in a tight race with Republican incumbent Nathan Deal.
"We got to Election Day, and it's not competitive," said Evans, a partner in the Dentons law firm and one of the state's Republican National Committee members. There is a reason, he said, that no Democratic presidential nominee has won the state in two decades. Between Deal's political operation and the Georgia Republican Party, "we have a pretty effective organization for getting the vote out," he said.
As for college-educated Republican women, Evans acknowledged that Trump faces a problem, given his recently revealed remarks and his general history. But Evans said he believed that once in the voting booth, women will consider "what is best for the country" ― which, in his mind, means supporting Trump.
That may wind up happening with most college-educated Republican women ― but it will not be the case for Patricia Martin.
The 74-year-old graduated from the University of Illinois, and then earned an advanced degree from Northwestern. At the Chastain Park voting site last week, she wanted nothing to do with Trump. She said she'd written in the name of former New York City mayor Michael Bloomberg rather than vote for her party's nominee.
"Because he's a piece of junk," Martin said. "I'm an educated old lady, and I'm not voting for him."
CORRECTION: A previous version of this article incorrectly said that Michelle Nunn was the Democratic candidate for Georgia's governorship in 2014; rather, it was Jason Carter. Nunn ran for an open Senate seat that year.
Popular in the Community