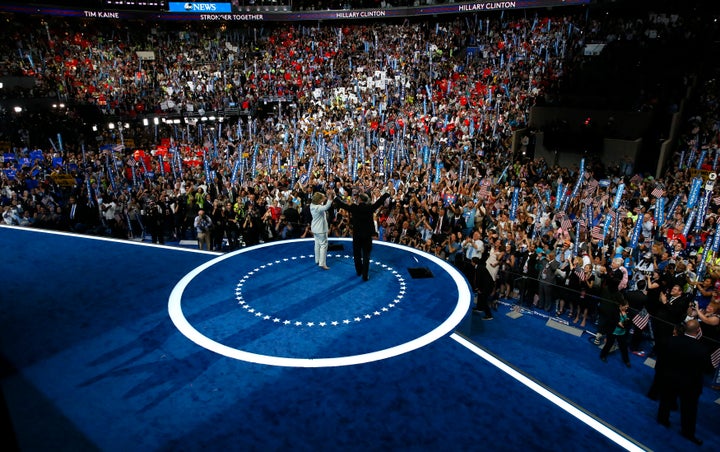 PHILADELPHIA ― A week ago tonight, Hillary Clinton took the stage here and triumphantly accepted the Democratic Party's nomination for president.
As Clinton became the first woman in U.S. history to become a major party's nominee, it was a deeply personal moment for many in the crowd.
Throughout the Wells Fargo Center were other women who saw echoes of their own stories in Clinton, albeit on a heightened scale. They, too, had confronted glass ceilings and social barriers.
They weren't all fans. Some were diehard supporters of Sen. Bernie Sanders (I-Vt.). But the level of empathy and pride they felt as Clinton spoke that evening was tangible as they realized they were witnessing history in the making.
Gloria Goodwin of Jacksonville, North Carolina
I was the first African-American to integrate public schools in Western Carolina. So I understand what breaking barriers means. This was in 1967. Segregation was still in existence. They wanted to select a couple of black students that they thought fit the mold to qualify to go into a white setting, and I was one of them.

My parents were very religious. And my mother and father instilled in me peace and harmony. The first day I walked into that school, a young girl told me 'I hate' the n-word. She knocked me down three flights of stairs.

But you know what? I got up and I dusted myself off. My parents said, 'Look, they can't take your brain, they can't take your mind. And whatever you do, you work hard and be the best you can be.' And today I stand here.

Not only is the ceiling broken ― I'm riding on the chandelier, baby.

Tonight means as much for me as seeing President Barack Obama become the first black president of the United States. I'm 66 years old. I never thought in my lifetime I would see this. My great-grandparents were slaves.
Sharon Krieg of Columbus, Indiana
When I was 16 years old, my very first job was at the Ponderosa Steakhouse. And they only let the guys cook the steaks. And I said, 'I love cooking. I want to be able to cook the steaks.' And they said, 'Oh no, girls can't do that.'

So in order to be able to do that, they said I had to do all these other things. So I washed dishes, cleaned the grill and swept the floors. Did everything I could to cook the steaks at Ponderosa Steakhouse. And I got to cook the steaks. And I cooked the best damn steaks.

I'm here as a Bernie Sanders supporter. The two most emotional moments for me were when Bernie's brother voted for him and when the 102-year-old woman voted for Hillary Clinton. And both of them had me bawling.
Christina Persson of Connersville, Indiana
I went to college, left college. Went to Sweden. Came back. Became a truck driver. And, yeah, that was an interesting field, to say the least. That was the first glass ceiling, entering that predominantly male-dominated field. But then I came back to my hometown, had a child, and I took another job at a county park where the board did not want to hire women. And yet, somehow, I went in and applied for the job and they couldn't turn me down. So I was the first female employee at the Franklin County Park in Indiana.

I look at Hillary. You see all the bad press she gets, and as a Bernie supporter, we have had our tales to tell. But in the end I have to be proud of her, because if she makes the presidency, it is history.

So as a woman, I have to be proud. Although I wish it was Rep. Tulsi Gabbard (D-Hawaii).
Nancy Altemus of Philadelphia, Pennsylvania
My first job was as a consultant for a small firm that did work with the government. We were actually working on a Medicare model cities project, and one of the older consultants said, 'You shouldn't be here. You're taking a man's place in this job.'

I was so astonished. I had never heard anything like that in my life. I liked my work and was qualified for the work. I just was flabbergasted, I didn't know what to say.

I'm six months older than Hillary Clinton, so I feel very aligned with her experience. I'm equally frustrated by women whose paths I think have been made easier, who do not feel the same urgency to make a symbolic and historic change as well as a substantive change.
Joan Kaeding of Oshkosh, Wisconsin
When I first became involved with wanting to become an actual delegate to this convention, just before 1972, the rules were changed to create balance. It didn't just balance it by sex, but by age and ethnic groups. Before then, the competition was among a lot of people who had ties to various organizations within the Democratic Party, and most of those were men.

The rule changes made a difference in bringing women up through the leadership sections of the Democratic Party. I became an alternate delegate for George McGovern in 1972. And this is now my 10th convention.

My favorite one was in San Francisco, when we nominated Geraldine Ferraro to be the vice presidential candidate. We had our delegation right in front and we made up a song that we sang to her: 'Gerry, Gerry, give us your answer do. We're half crazy waiting to vote for you.'
Julia Nelson, mayor of Manning, South Carolina
I'm the first African-American mayor for my city, OK? So that is the best glass ceiling I have. And I didn't realize I was breaking my barrier. It didn't cross my mind until it was brought to my attention after I won.

Tonight is very historic. It says that we are making milestones here in America, to have one president before her, the first African-American male. Now the first female. It just shows that our country is growing.
Vicki Saporta of Washington D.C.
I was the first woman organizer for the Teamsters Union. And I was the first director of organizing for any international union in the country. So I understand what it's like to pave the way for other women and how difficult it can be to be a first ― and how much extra you have to do in order to succeed. It was an all-male world that I was part of for a very long time.
Sally Howard of Myrtle Beach, South Carolina
In the mid-70s, I was appointed to a statewide commission of 10 people in North Carolina. And I was the 'token woman,' we always used to say.

I moved to South Carolina in the mid-80s, and I just thought I knew what good ol' boys were. And in 1992, I became the first woman local party chair. It was a time of male party bosses who felt they were in charge, that this was their territory and they didn't need you. They would meet and I said, 'I'm gonna come meet too.' And it was like, 'Oh no, you don't need to do that.' But I did, and I broke that barrier. I wanted to do my job.

I first met Hillary in '92, before the nomination. Obviously, I'm so ready to see a woman president. But at the same time, she is qualified, prepared and ready to be president, period.
Amanda Terkel contributed reporting.
Quotes have been edited for clarity and style.
Before You Go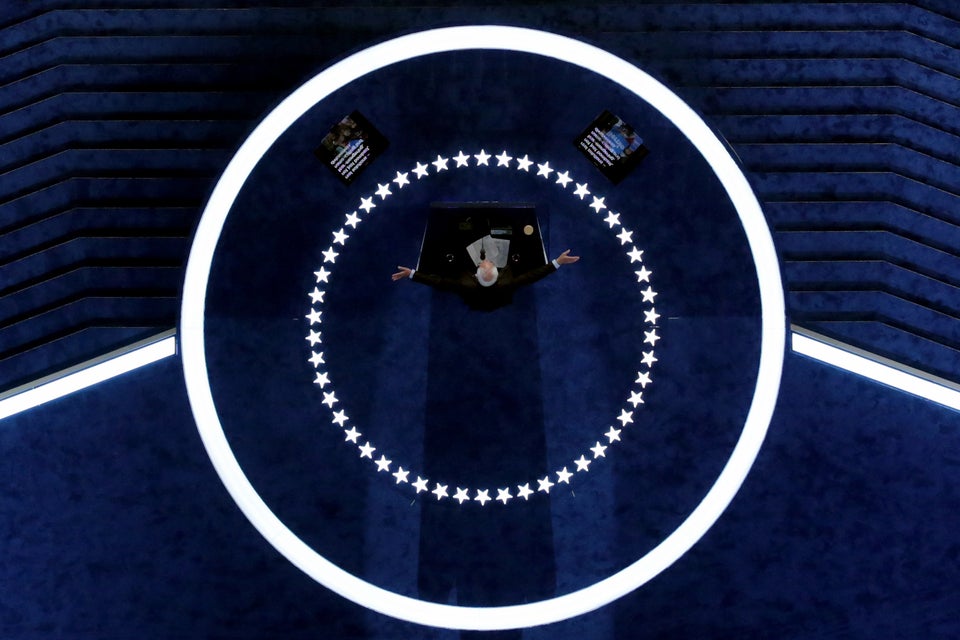 Best Photos From The Democratic National Convention
Popular in the Community