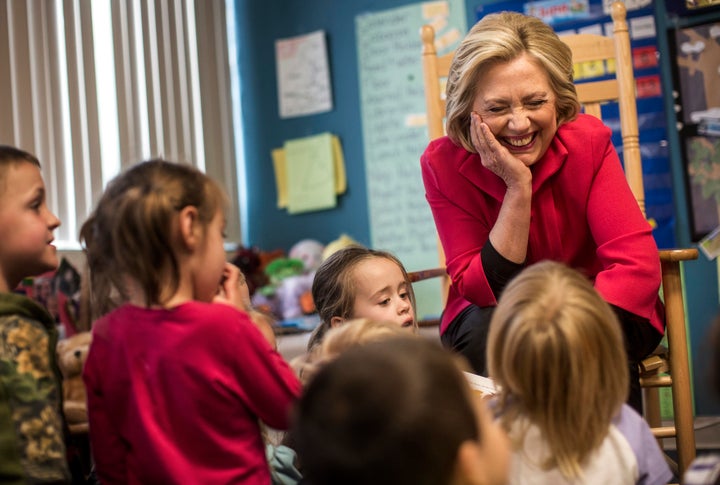 It turns out that even Hillary Clinton endured an awkward stage — or, at the very least, a bad haircut.
In an interview with 11-year-old Marley Dias, published by Elle, Clinton revealed that in high school, she asked her mother if she would take her to a beauty parlor after seeing all the girls at her school with bob haircuts. The result was a disaster.
"Our neighbor recommended a man who had a small shop behind a grocery store, and he got distracted talking to my mother and hacked off a huge chunk of my hair! I was mortified," Clinton wrote. "So I tried to fix it by wearing a fake ponytail to school. And then a friend of mine accidentally pulled it off in front of everyone. Which of course was a nightmare. At the time, I felt like it might have been the worst moment of my life."
"Now that I'm older, I have a little more perspective. But I certainly remember what it was like to be your age and be so worried about what people thought of me," Clinton continued. "And I'm glad I didn't know back then that I had a whole life ahead of me of people commenting on my hair!"
Clinton also spoke about her hair on the campaign trail last year, telling voters they didn't have to worry about her going gray as president. 
"I've been coloring my hair for years," she said. "So, you're not going to see me turn white in the White House."
Marley, the creator of #1000BlackGirlBooks who has dreamed of becoming the first female president herself, contacted Clinton to find out about her favorite books, her best friends and what she was like in middle school. After reading the thoughtful responses from the former first lady, U.S. senator and secretary of state, Marley wrote that she was inspired — and willing to cede the role of America's first female president to Clinton.
"If someone had to do it before I could, I'm happy that it will be her," Marley wrote in an introduction to the interview.
Clinton divulged the three crucial items she'd choose to have on a deserted island: "a phone to FaceTime with my grandkids, some chocolate to snack on, and of course, a really great book."
Marley also touched on the topic of Clinton's demeanor, which many people (most of them men) have criticized as unemotional, sometimes even chiding her for not smiling enough.
"We expect a woman like her to be really serious always, but I want people to understand that she can talk about deep issues and chocolate, and that's okay," Marley wrote. "She's a real person — just like I am, just like my mom is, just like you are."
Clinton is no stranger to such scrutiny and sexism, and she told Marley how to react when people tell you that your dreams are too big.
"Keep striving for your goals, and remember that it's good to be ambitious," Clinton wrote in her email. "There's nothing wrong with knowing what you want and going after it."
Calling all HuffPost superfans!
Sign up for membership to become a founding member and help shape HuffPost's next chapter
BEFORE YOU GO
PHOTO GALLERY
Here Are Hillary Clinton's Many Facial Expressions During Her Benghazi Committee Testimony