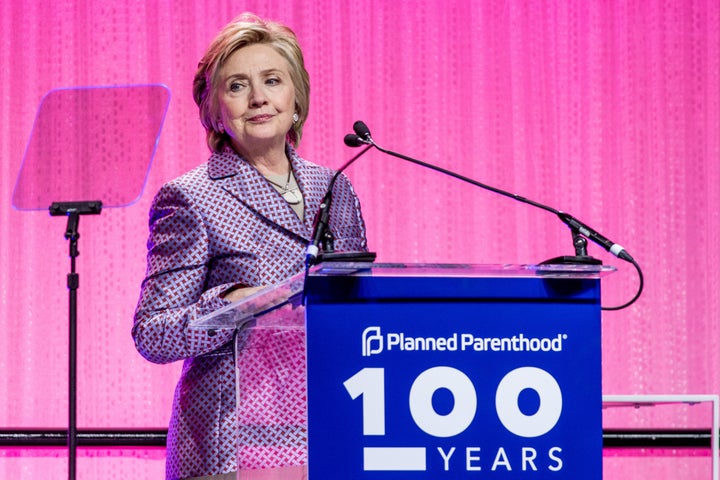 Hillary Clinton can admit The Handmaid's Tale feels a bit more relevant now, too.
In a speech to celebrate Planned Parenthood's 100th anniversary Tuesday night, the former Secretary of State recalled a phrase from Margaret Atwood's dystopian feminist classic. A politely sanitized version, that is.
The protagonist Offred, whose name comes from "of Fred" to indicate her subservience to the commander of her household, is comforted in the novel by a phrase she finds secretly carved in her room: "Nolite te bastardes carborundorum." The book documents life in a new militant theocracy on the grounds of what used to be the United States, where Offred is routinely raped in her role as a surrogate for an elite couple.
From the Latin, she finds an English translation: "Don't let the bastards grind you down."
"To paraphrase Margaret Atwood, 'We can never let them grind us down,'" Clinton said, after recalling her own relationship with the 1985 novel.
"We come tonight to celebrate the last 100 years, the progress that so many generations have fought so hard for," Clinton said at the Planned Parenthood event. "What a time it is to be holding this centennial. Just ask those who've been watching The Handmaid's Tale, a book I read and was captivated by years ago."
She was careful not to raise too many eyebrows.
"Now, I am not suggestion this dystopian future is around the corner," Clinton continued, "but this show has prompted important conversations about women's rights and autonomy. In 'The Handmaid's Tale,' women's rights are gradually, slowly stripped away. As one character says, 'We didn't look up from our phones until it was too late.'"
"It is not too late for us," Clinton assured, so long as supporters of women's rights "keep fighting."
"Progress is never fully won. It has to be renewed generation after generation. We stand on the shoulders of the women and men who came before us, and march alongside young activists who are leading the way forward."
In addition to renewed popularity in libraries and book clubs, The Handmaid's Tale has been recently adapted into a Hulu series starring Elisabeth Moss, which is available through the streaming service now. In light of its debut, a steady stream of writers have drawn parallels between the book and current events; topics surrounding women's rights and health have been thrust into international spotlight as a man who once boasted about sexually assaulting women became America's 45th president.
The author herself has chimed in more than once about her work's lasting importance, stating in a Time interview that she "made nothing up," despite the novel's seemingly unthinkable picture of misogyny.
"The control of women and babies has been a part of every repressive regime in history," Atwood recently told the outlet.
Related
Popular in the Community