MUSCATINE, Iowa -- Democratic presidential candidate Hillary Clinton revealed on Tuesday that she sent most of her Republican rivals a copy of her book Hard Choices so they can learn about her accomplishments as secretary of state.
"I have now sent each of them a copy of my book, Hard Choices," Clinton said as the audience erupted in laughter. "You know, there were so many of them that they could have a book club."
Clinton and her staff came up with the idea shortly after the second Republican debate last month. The books were sent to every Republican presidential candidate except former Virginia Gov. Jim Gilmore. According to a Clinton aide, Gilmore was not included because he was ineligible to participate in CNN's Republican debate.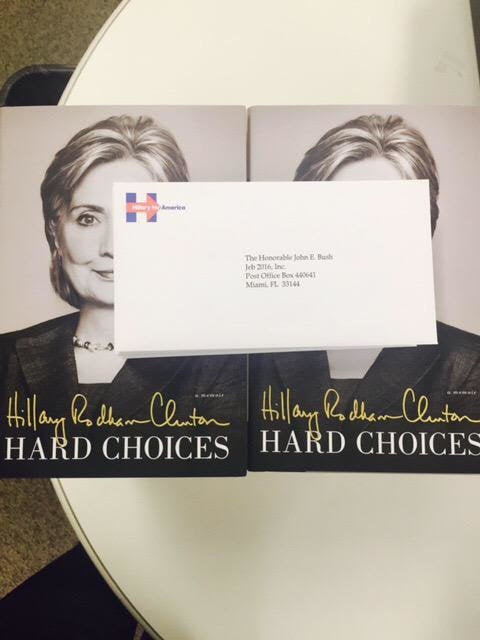 Along with each book, Clinton sent a personalized letter. "I understand that you and your fellow Republican candidates for president were questioning my record of accomplishment at your last debate, so I thought you might enjoy reading my book," the letter read. 
Hard Choices was published in 2014, following Clinton's four-year term as secretary of state. 
Clinton's letter was addressed to each GOP hopeful's formal name:
John E. Bush

Benjamin S. Carson, Sr., M.D.

Christopher J. Christie 

Rafael E. Cruz

Cara C. Fiorina 

Lindsey O. Graham

Michael D. Huckabee

Piyush Jindal

John R. Kasich 

George E. Pataki

Randal H. Paul, M.D.

Marco A. Rubio 

Richard J. Santorum 

Donald J. Trump
Several candidates responded to Clinton. Some, like Sen. Ted Cruz (R-Texas) and Florida Gov. Jeb Bush (R), countered that she should read their books.
Louisiana Gov. Bobby Jindal (R) said on Twitter that he will only read Clinton's book if she watches the Planned Parenthood sting videos, which Republicans have heavily promoted as a means of supporting restrictions on abortions.
Watch Clinton in the clip above.
PHOTO GALLERY
Hillary Clinton
REAL LIFE. REAL NEWS. REAL VOICES.
Help us tell more of the stories that matter from voices that too often remain unheard.