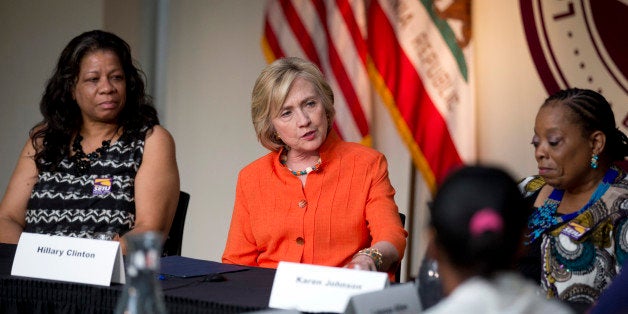 "Stand by us. Walk with us."
That's what Latonya Allen, an Atlanta home care worker, told Hillary Clinton at a roundtable meeting in Los Angeles last week. Latonya's message is one that none of the presidential candidates can afford to ignore but one that very few have even addressed. At a time when 4.5 million Baby Boomers will turn 65 before the election, senior voters and the voters who care for them will work toward 2016 to make the issue of aging with dignity supported by a robust, well paid home care workforce a national political imperative.
Increasing numbers of seniors enter their golden years in need of care and 90 percent of them want to receive that care in the comfort of their own homes. However, nationwide there is only one home care worker for every 9 consumers who wish to receive care in their homes. America is in the midst of a senior care crisis. The demand for home care is exploding, but our long-term care system is not equipped to meet families' needs. There is a significant shortage in the paid workforce that is -- and will be -- available to care for America's seniors as we age.
At a time when home care workers -- and the providers who care for them -- are gearing up to vote, candidates must address the increasing numbers of elders who rely on a quality home care workforce to age with dignity and the dedicated workers who care for them who continue to live without the adequate pay and resources their families need.
Latonya is striving to raise her daughter, who has cerebral palsy, on $9 an hour. She can't afford thousand-dollar-a-plate political fundraisers. Neither can the rest of the women who shared their stories with Clinton last Thursday in Los Angeles. Artheta Peters from Cleveland can't afford shoes for her eight-year-old daughter on a home care worker's wages. Sumer Spika, a provider from Minnesota, has stood in the grocery store with a baby on her hip and a toddler in hand, trying to choose between buying toilet paper or laundry detergent. As these women described their own challenges there was one aspect of their lives on which they reflected with pride and hope -- their work. There is no doubt that home care workers make a positive life-sustaining impact in the lives of the seniors and people with disabilities for whom they provide care.
With median annual wages of just $13,000, and usually no sick, vacation or overtime and few if any benefits, home care workers -- especially women, who make up 90 percent of the workforce -- are relegated to a cycle of living in poverty, fueled by an unbalanced economy where no matter how hard they work, they can't make ends meet for their families. Raising wages in home care is about raising millions of working families out of the shadows living on the brink.
"This movement to give dignity and respect and better pay and benefits and training to home care workers is one of the most important missions that we should take on together," Clinton told Latonya, Artheta and Sumer last week.
Hearing a presidential candidate understand their struggle and the needs of their patients was pivotal for homecare workers across the country. It was also a big moment for older Americans who receive home care too, because they have as much at stake: they're struggling to afford the services they need. Clinton is not the only candidate to talk about home care, but far too many are silently ignoring this national crisis.
What will that mean in 2016?
It's true that home care workers can't purchase their political power at those fancy fundraisers. Instead, they will build it. They will canvass in their communities and talk to friends and neighbors. They have already begun to rally, march and collect petitions to make their voices heard. And they will take every opportunity to speak truth to power.
Over the next 15 months they will continue to join hands with low paid workers across the country who are fighting to raise their wages to $15 an hour and defend their right form a union.
Some 19 million seniors need home care services, and that number is growing. The next president will have to address the care gap: in every state across the country, there are more seniors in need of home care than there are available home care workers.
Add it all up, and you've got two enormous groups of people -- home care workers and the millions of people they care for -- who are paying attention, who are motivated, who are concentrated in swing states like Florida that have large populations of older voters, and who have shown they know how to win.
Latonya Allen issued the challenge: "Stand with us. Walk with us." Are the candidates listening?
Laphonza Butler is the president of SEIU Local 2015.
Calling all HuffPost superfans!
Sign up for membership to become a founding member and help shape HuffPost's next chapter