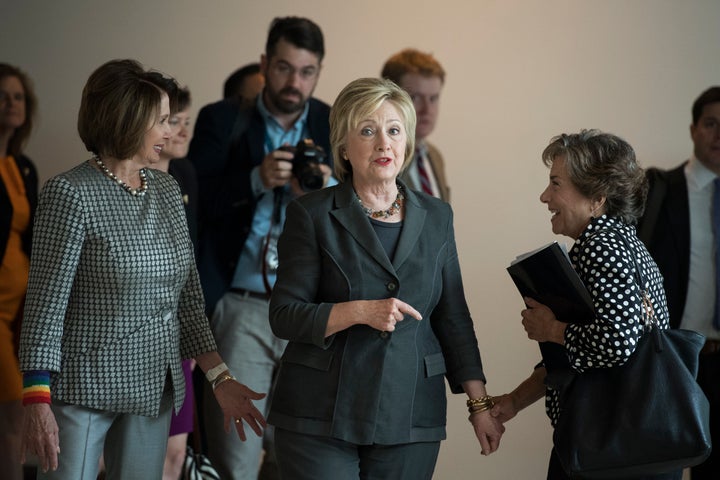 WASHINGTON -- Presumptive Democratic nominee Hillary Clinton made it clear to House Democrats on Wednesday that she has their backs, touting a message of unity and coordination. 
Clinton's primary opponent, Sen. Bernie Sanders (I-Vt.), has yet to formally bow out of the race. Yet Democrats leaving a nearly two-hour discussion with the former secretary of state in the U.S. Capitol did not seem to be worried about division within the party. Instead, it appeared that Clinton had sent a wave of excitement through the caucus, which hasn't held the majority since 2010.
Democrats' numbers in the House have continually fallen since the chamber flipped six years ago. This year more than ever, however, they're hopeful that will change -- thanks, in large part, to presumptive Republican nominee Donald Trump.
"We're going to win this election," Clinton told reporters as she emerged from the meeting beside House Minority Leader Nancy Pelosi (D-Calif.). "We're going to take back the House and the Senate."
Clinton didn't stop to answer any questions from press, but at least a dozen members of Congress told The Huffington Post she thinks the House is within reach. (The chances of that are slim, as Republicans hold their largest majority since 1928.)
"She said that 'I know the difference between having the House and not having the House, and I want the House so I'm going to do everything I can to help,'" Rep. Jim McDermott (D-Wash.) said.
Rep. Gregory Meeks (D-N.Y.) said Clinton reassured them that everyone would come together and that Democrats "were not going to be like Trump."
"She said it's not just about her... it's about all of us," Meeks added.
Clinton talked up her "50-state strategy," promising to campaign across the country.  
"There's tremendous energy in terms of potential in a whole host of races," Rep. Earl Blumenauer (D-Ore.) said.
Clinton spoke briefly, spending the majority of her time taking questions on individual issues in specific districts.
The division between Sanders and Clinton, however, did come up.
Rep. Elijah Cummings (D-Md.), chair of the party's platform drafting committee, said Clinton didn't appear concerned about working with the Vermont senator to ensure that his supporters will ultimately rally behind her.
"We'll be meeting on Friday in St. Louis to try to air out some things -- try to meld the positions of Sen. Clinton and Bernie Sanders," Cummings said of the platform committee. "By the way, that's coming along very good so far, seems as if we will be able to reach an agreement by Saturday afternoon."
Sanders' decision to hold off on backing Clinton hasn't sat well with a number of Democrats in both chambers.
"That is a problem for the party," said Rep. Jim Clyburn (D-S.C.), a member of House Democratic leadership. "I would love to see Mr. Sanders endorse, go all in, and I think he will."
Rep. Steve Israel (D-N.Y) said Clinton called on members to be "closely coordinated." She added that the race can't just be about reacting to Trump, and that 2016 "is going to be a national security election" -- an issue Democrats have struggled with in the past.

Pelosi shared a story from a recent White House reception involving a young boy who stared at a painting of former President Bill Clinton and asked who he was. Another child responded, "That's Hillary's husband."
At another point during the meeting, Democrats erupted in laughter as Rep. Joe Crowley (D-N.Y.) teased Rep. Xavier Becerra of California for bringing Clinton water, according to a Democratic aide. 
"Man, you are working it hard," Crowley told Becerra, alluding to the House Democratic chair's rumored vice presidential ambitions. 
"When Donald Trump comes, Republicans are going to have recruit interns to sit in the seats," Israel said. "In this case Democrats were fighting to be seen, and that's a -- for Democrats the leading indicator in optimism for a presidential candidate is when you sit close, up front to make eye contact and a lot of my colleagues were fighting for up-front seats."
Calling all HuffPost superfans!
Sign up for membership to become a founding member and help shape HuffPost's next chapter