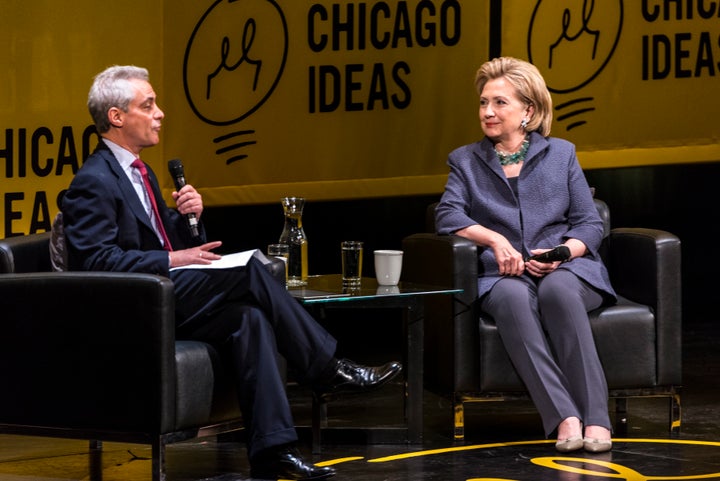 The race between Hillary Clinton and Bernie Sanders has tightened in Illinois' Democratic primary as Sanders' campaign works relentlessly to tie Clinton to Rahm Emanuel, Chicago's deeply unpopular mayor.
The wealth of votes in the Chicago metropolitan area could be key to victory in the state's Tuesday primary. Early voting has already begun, and turnout is reportedly high in the city and surrounding Cook County.
The ties between the mayor and Clinton are long-standing. Emanuel, who endorsed Clinton before she had even announced her 2016 presidential bid, worked as a high-profile adviser to then-President Bill Clinton in the 1990s. He served as President Barack Obama's chief of staff while Hillary Clinton was secretary of state.
But since November, Clinton has sought to distance herself from Emanuel following revelations that city officials worked to withhold dashcam footage that showed a police officer shooting Laquan McDonald 16 times as the teenager walked away. Officer Jason Van Dyke was charged with first-degree murder that same month.
While Clinton expressed confidence in Emanuel in early December, she also called for a federal inquiry into the October 2014 shooting and its aftermath while the mayor was resisting such an investigation. She was cooler to him in January, saying that it was up to the people of Chicago to decide whether he is credibly reforming the city's criminal justice system.
Sanders' campaign, meanwhile, seeks to highlight the Clinton-Emanuel relationship. At a press conference on Saturday, Sanders said that she "proudly lists" the mayor as one of her endorsers. The independent Vermont senator also criticized Emanuel for the Chicago Public Schools money-losing investment deals with financial institutions like Bank of America.
"Based on his disastrous record as mayor of the city of Chicago, I do not want Mayor Emanuel's endorsement if I win the Democratic nomination," Sanders said. "We do not want the support of people who are indebted to Wall Street and big money interests."
Sanders' strategy didn't appear to have worked on Tuesday, at least in Cook County, where Chicago is located; Clinton led Sanders there with 95 percent of precincts reporting.
The Sanders campaign is running a television ad in Illinois featuring Chuy Garcia, the Cook County commissioner who unsuccessfully challenged Emanuel for the mayoral job last year. Another ad features Chicago school principal Troy LaRaviere, who criticizes Clinton by saying, "If you have a presidential candidate who supports someone like our mayor, you have a candidate who's not willing to take on the establishment."
"She believes we need police reform," Bill Clinton said. "We shouldn't have to go through what this community went through, where everybody is waiting around for a video. There's a simple answer to that -- a lot of cities do it. When the video's taken, you don't leave it with the police department; you put it in a neutral place where anybody can get it when they need it."
Assata's Daughters, a volunteer group aimed at empowering black girls, has unfurled banners across the city linking Clinton to Emanuel and to Cook County State's Attorney Anita Alvarez, who is also on the ballot Tuesday. Alvarez may be in danger of losing her job over her response to the McDonald shooting.
Carlos Ramirez-Rosa, a 27-year-old gay Chicago alderman who supports Sanders, told HuffPost that he knocked on dozens of doors this past weekend and found that his constituents, roughly half of whom are Latino, were "overwhelmingly" in favor of the senator.
"The message that Bernie puts out there -- that he will fight for working people, that he's not bought by the corporations, by the super PACs and by the billionaires - that resonates with us here in Chicago because we have a hyper-local example of what happens when you have a corporate Democrat like Rahm Emanuel or Hillary Clinton essentially engaging in pay to play," Ramirez-Rosa said.
On Monday, Sanders visited four of the five states with primaries the next day -- Ohio, North Carolina, Missouri and Illinois. (He omitted Florida, where polls suggest Clinton has a large lead.)
In Illinois, Sanders' campaign hopes that he can repeat his Michigan upset win by appealing to enough African-American and Latino voters. He has struggled so far with racial minorities, leaving Clinton to build up a significant delegate lead by sweeping states in the South.
Clinton's allies in Illinois have worked to highlight Sanders' votes against gun safety measures and his mixed record on immigration reform. Still, communities of color may look to her ties to Emanuel when voting Tuesday.
The Democratic primary is shaping up to be a referendum on the mayor with Alvarez as his proxy, according to Amisha Patel, executive director of the progressive advocacy group Grassroots Collaborative.
But maybe Clinton will serve as a Emanuel proxy, too.
"It's not right that Wall Street banks are getting billions from the city while the mayor is closing schools, while the state is literally forcing homeless shelters to shut down because there isn't a budget," said Patel. "Yet we're continuing to pay the banks every single month on these really rigged deals. All of this is relevant, and the fact that we have a candidate who is speaking out about these issues is powerful and energizing."
Before You Go
#ResignRahm Calls For Mayor Rahm Emanuel's Ouster
Popular in the Community